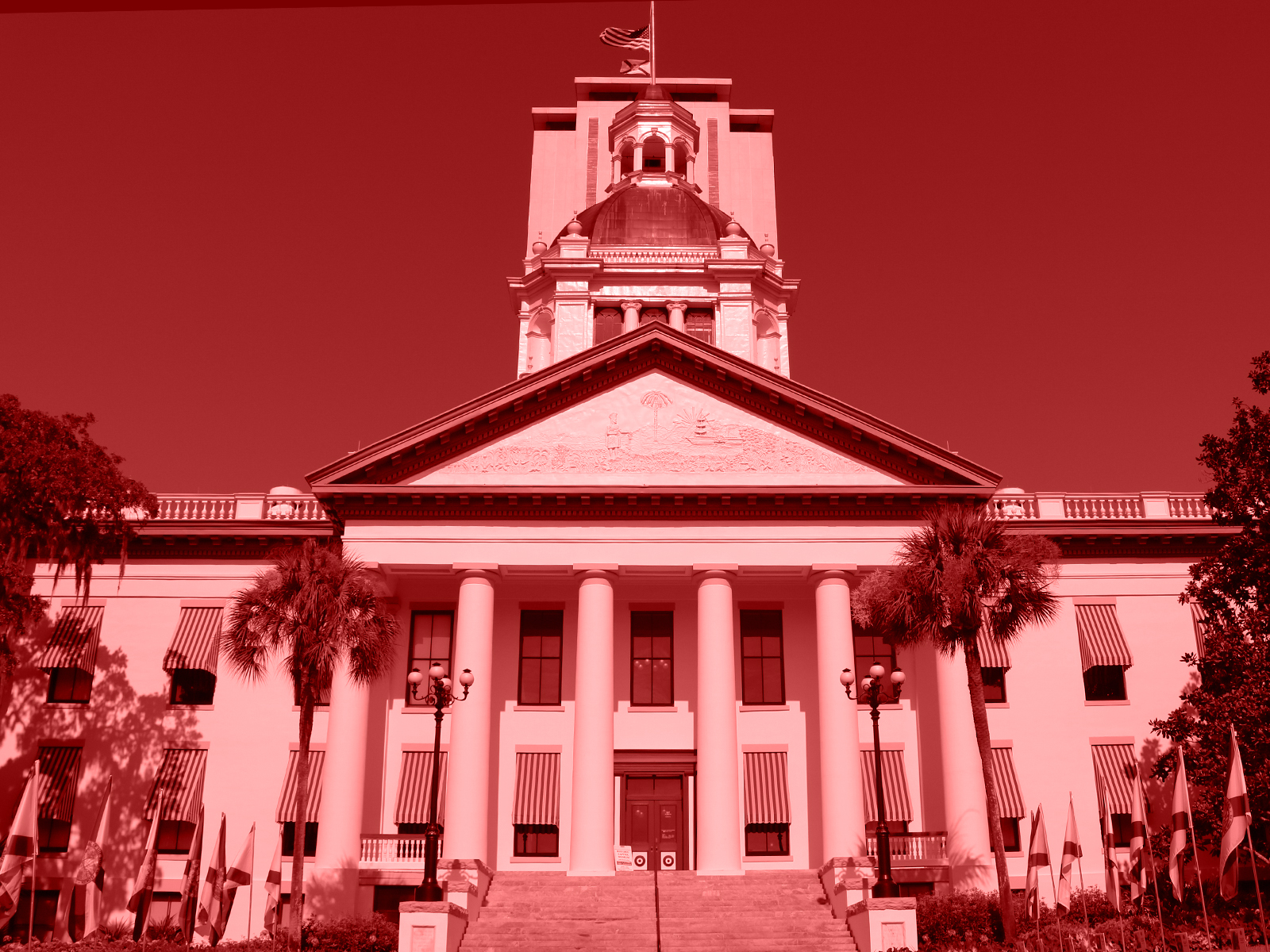 Your nightly review of Session news. It's 'Sixty Days' — right now.
Sixty Days — A prime-time look at the 2019 Legislative Session
The Last 24
Good Tuesday evening. Press Skits is tonight, and we look forward to the big reveal on who in the Press Corps will play Gov. Ron DeSantis. For now, we look back on a day in committees rife with contentious issues such as abortion, voting rights, education funding — and a new judge to replace the retiring Karen Gievers. Retiring? Sixty Days will be working till we're 100. Here's your nightly rundown.
Parents' say: A bill requiring parental consent before a minor receives an abortion advanced through its first House committee.
Ex-cons and ballot boxes: A House bill is causing headaches for advocates of felon voting rights restoration.
Spending for students: The Senate proposed a $1.1 billion increase in K-12 spending, even more than DeSantis.
Order in the court: In his first naming of a state trial court judge, DeSantis elevated Leon County Judge Stephen Everett to Circuit Judge.
Tax cuts: The tax that Floridians pay on mobile phone service and satellite TV would drop 1 percent under a bill cleared Tuesday.
Self-driving: A bill that would streamline the use of autonomous vehicles (AVs) in Florida cleared its second committee.
For the students: A Senate panel approved an expansion of private school vouchers.
Ah-Choo: A bill that would allow pharmacists to test for and treat certain conditions, like flu, moved through a key House panel.
Slimming down government: DeSantis' plan to get rid of the Agency for State Technology and fold its work into the Dep't of Management Services unanimously cleared a House panel.
Roads for Bill: A plan for three mammoth road projects, a priority of Senate President Bill Galvano, got the green light.
Quote of the Day
"The pettiness of some politicians will ultimately be their downfall. With the glaring exception of his complicity in the plan to destroy public education, @GovRonDeSantis is winning." — A tweet by former Tallahassee-area Congresswoman and 2018 Democratic gubernatorial candidate Gwen Graham.

Your Metz Husband Daughton-sponsored question of the day is:
What Florida city is home to one of the two naturally round lakes in the world?
As always, click here to tweet your answer to @MHDFirm. The first person with the correct answer will get a shout-out in tomorrow's 60 Days!
Yesterday, we asked:  Which Florida county is the only metropolitan area in the U.S. encompassing two national parks?
Answer: "Miami-Dade, which is home to Everglades National Park and Biscayne National Park."
Congrats to Lauren Bankert Steif (@laurenbankert), first to tweet the correct answer!
Bill Day's Latest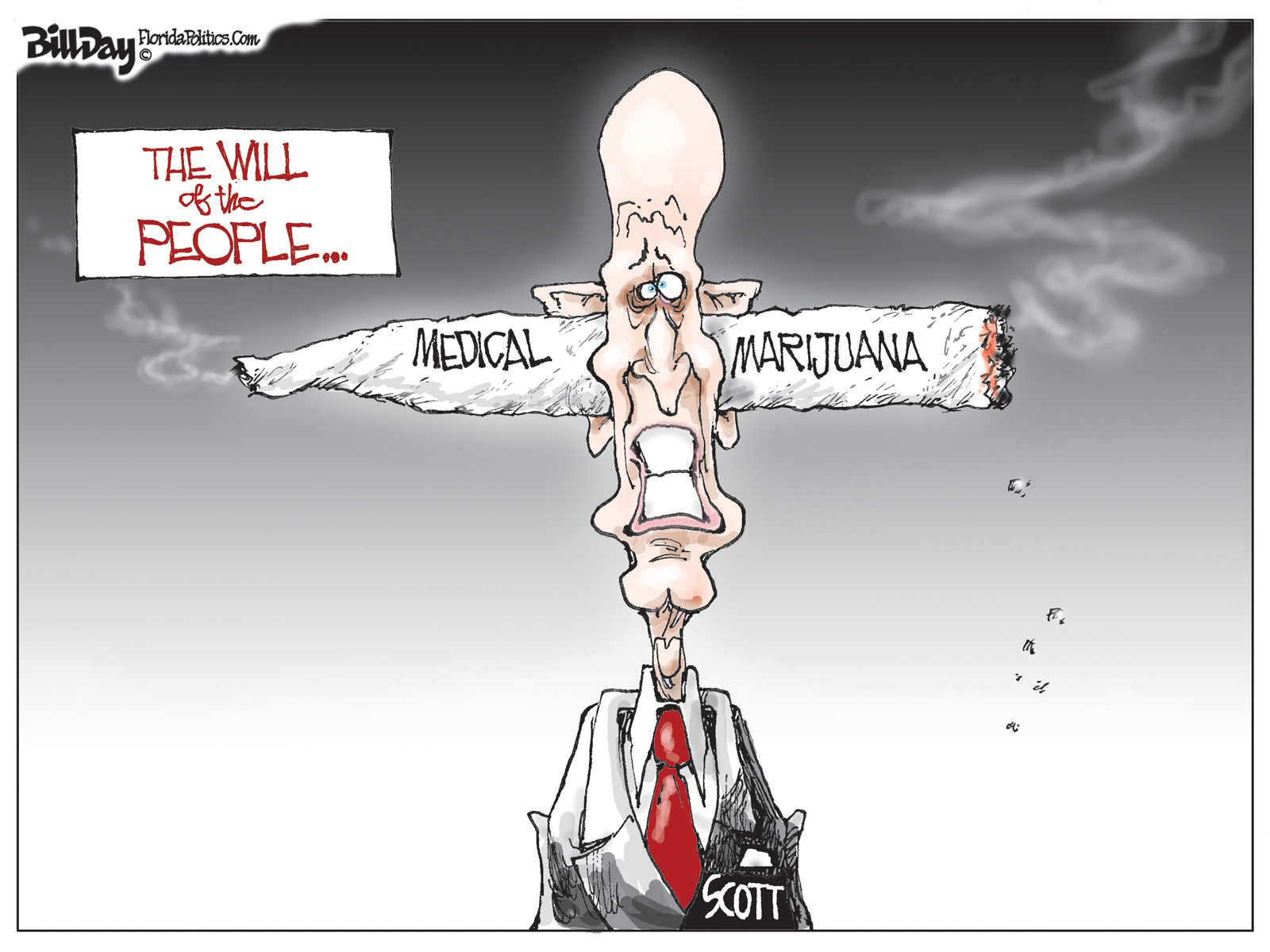 3 Questions
Tuesday was a budget day. So what better time to share an interview with House Appropriations Chair Travis Cummings? The Orange Park Republican recently fielded wide-ranging questions about the spending plan he'll help craft this year. (As usual, answers were edited for clarity and brevity.)
Q: The House has discussed decreasing per capita spending. Does that only apply to reducing per capita spending from general revenue?
Cummings: We're still tying up some loose ends as we start rolling out our budgets, particularly at the subcommittee level. The goal is the entire budget.
Q: Are you writing a budget without assuming immediate federal relief for Hurricane Michael?
Cummings: We're working closely with the Department of Emergency Management with Director [Jared] Moskowitz and trying to get our arms around where the need is and what's available for public assistance and what's not. So I think you'll see a combination of potentially some member projects — we worked closely with our legislators in the Panhandle in the Florida House — so I think you'll see that as well as some dollars that would meet the need as we close out of here.
Q: How do you view money from the Seminole Tribe?
Cummings: As far as it is in relation to the compact, or the ratification of that, we're not counting on that. To me, that's fairly volatile and definitely uncertain. That is not something we're expecting or counting on. But that doesn't mean there won't be progress in Session in that regard. But at this time, we think there's a lot of uncertainty there.

Lobby Up
A circuit court ruled that Halifax Hospital Medical Center didn't have the authority to build another facility.
The public hospital has already broken ground on a new hospital in Deltona, but the court ruled that since the new facility isn't in Halifax's Daytona Beach-based special taxing district. That ruling was handed down despite Halifax's history of serving patients outside of the district's footprint for years.
Halifax is appealing the decision in the Florida Supreme Court, but in the meantime, the health care provider has hired some high-powered lobbyists to help it get a legislative solution. Joining in-house advocates Joni Hunt and Deanna Schaeffer in the lobbying effort are Brian Ballard, Chris Dorworth and William Turbeville of Ballard Partners and Travis Blanton, Jon Johnson and Darrick McGhee of Johnson & Blanton.
The team is pushing for a bill sponsored by state Rep. David Santiago that would clarify Halifax Health's to operate outside of its taxing district. The bill has broad support among the Volusia delegation, but with so many local bills competing for lawmakers' attention, it's no sure thing.
Still, Tuesday brought the measure its first major win: Unanimous approval from the Local, Federal and Veterans Affairs Subcommittee.
Breakthrough Insights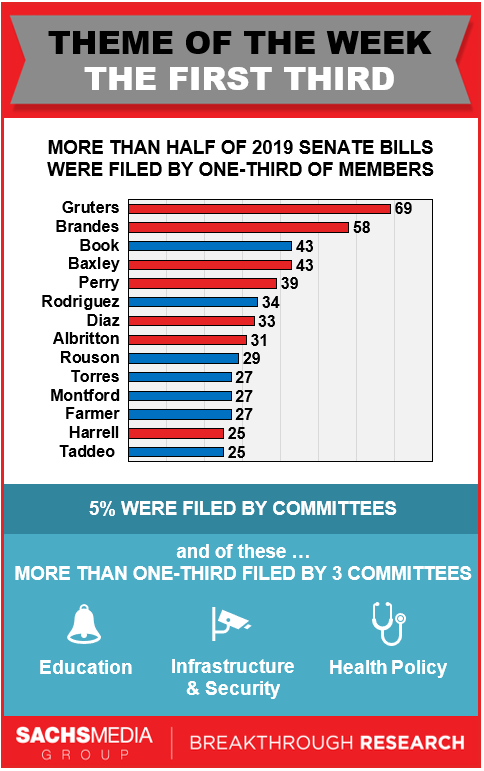 The Next 24
The group Dignity Florida will host a news conference to discuss efforts aimed at helping women and girls who are incarcerated in the state. That's at 10 a.m., 4th-floor Rotunda.
The Senate Education Appropriations Subcommittee will consider a proposal that includes making eligibility changes for the Bright Futures scholarship program. That's at 10 a.m., 412 Knott Building.
The Senate Agriculture, Environment and General Government Appropriations Subcommittee, the Senate Criminal and Civil Justice Appropriations Subcommittee and the Senate Transportation, Tourism and Economic Development Appropriations Subcommittee will review budget issues related to the agencies under their authority.
— 10 a.m., Agriculture, Environment and General Government, 110 Senate Office Building.
— 10 a.m., Criminal and Civil Justice, 37 Senate Office Building.
— 1:30 p.m., Transportation, Tourism and Economic Development, 110 Senate Office Building.
The House will hold a "Tally Talk" program about government actions and their effects on health care markets. That's at 11:30 a.m., Reed Hall, House Office Building.
Legislators and immigrant advocates will hold a news conference to launch the "Drive Together Sunshine State" effort in support of bills to expand driver's license privileges to undocumented immigrants living in Florida. That's at noon, 4th-floor Rotunda.
Sen. Jeff Brandes of St. Petersburg and Rep. Cary Pigman of Sebring, both Republicans, will hold a news conference to discuss bills on Advanced Practice Registered Nurses (APRN) 'autonomous practice.' That's at 12:30 p.m., 4th-floor Rotunda.
The Senate Health and Human Services Appropriations Subcommittee will take up a bill that would make changes involving the state Alzheimer's disease Advisory Committee. That's at 1:30 p.m., 412 Knott Building.
The Senate Finance and Tax Committee will consider a proposal that would place additional restrictions on local impact fees. That's at 1:30 p.m., 401 Senate Office Building.
The House will hold a floor session at 2:30 p.m., House Chamber.
The Senate Community Affairs Committee will take up a proposal that would revamp a requirement about insurers notifying customers that property-insurance policies do not include flood coverage. That's at 4 p.m., 301 Senate Office Building.
The Senate Environment and Natural Resources Committee will consider a bill to create the Florida Red Tide Mitigation and Technology Development Initiative to help prevent and control future red-tide outbreaks. That's at 4 p.m., 37 Senate Office Building.
The Senate Ethics and Elections Committee will take up a proposal that would make it harder to pass constitutional amendments. Under the proposal, two-thirds of voters (or 66.6 percent) would have to approve amendments, up from the current three-fifths, or 60 percent. That's at 4 p.m., 412 Knott Building.
The Senate Infrastructure and Security Committee will take up a school-safety bill that includes allowing trained classroom teachers to carry guns as school "guardians." That's at 4 p.m., 110 Senate Office Building.
Former Democratic candidate for Governor Andrew Gillum is expected to make an announcement during an event in South Florida. Doors open at 5 p.m., Florida Memorial University, Smith Conference Center, 15800 N.W. 42nd Ave., Miami Gardens.