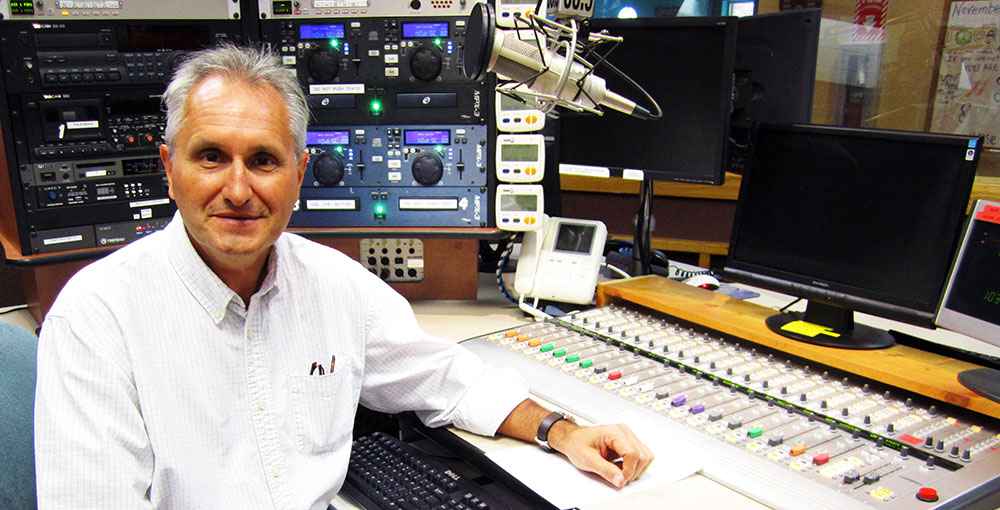 Supporters, many clad in specially made "bring back Rob" T-shirts, packed the station's board room.
More than 150 people came out Monday night to demand WMNF's board of directors reinstate Rob Lorei as the station's news director.
Supporters, many clad in specially made "bring back Rob" T-shirts, packed the station's board room, standing elbow to elbow waiting for their turn to speak.
Public comment lasted for more than two hours.
The board expects to announce its decision on Lorei's fate sometime this week. Under the station's bylaws, the Station Manager has the authority to hire and fire staff. Lorei is appealing his firing to the board of directors.
The sentiments were all similar. Longtime listeners, station supporters and volunteers praised Lorei's on-air presence. They touted is calm demeanor, his ability to inform on all sides of issues and his commitment to the station's core values.
One speaker described Lorei in those ways and then added, if her description sounded familiar, it's because she plagiarized the words directly from the station's mission.
Others criticized the haste for which they believed Lorei was fired last month. After the meeting in which he was terminated, the WMNF veteran and co-founder was given 15-minutes to leave the building and then escorted out.
But mostly supporters appealed to the board's sense of self-preservation, arguing the station simply cannot survive without its leading on-air personality.
"When you have an asset like that, you don't get rid of him," said Jeanne Holton, a former board member and one of the station's first volunteers. "You're not going to get someone with all the contacts here locally. You're not going to get someone who knows the market."
Holton's son, Josh Holton, later spoke calling for Station Manager Craig Kopp to step down.
"As a board member, I voted positively for his reviews, because I wanted to give him the benefit of the doubt. At this time I can no longer make that recommendation … given the completely inappropriate manner in which he has handled this monumentally catastrophic decision, which has hurt our budget, our brand and our reputation," Holton said.
Other speakers called Kopp's leadership toxic and accused him of being a corporatist intervenor whose goal was to strip the station of its roots in favor of a more NPR-like format.
While Kopp took a verbal lashing, not everyone was against him. Former board President Michael "Ktuf" Bagby praised his leadership at the station.
"Craig has had a budget that has been balanced for the past four years, he has added to the station's revenue in the decisions that he's made. We have paid down the mortgage, and he has gotten good reviews for the last four years whether you agree with this decision or not," Bagley said.
Another speaker cautioned the board not to be bullied.
Following the public meeting, the board went into a closed-door executive session in which Lorei had ten minutes to present the case for being reinstated as news director. Because that portion of the meeting was private, it's unclear what his argument was.
However, earlier in the day Lorei posted publicly on Facebook text from the letter he provided the board outlining his case. In it he argued that he has raised millions of dollars for the station over the years and countered Kopp's alleged claims that he was fired for lack of leadership in the newsroom, failure to adequately promote the station and its programs on social media and did not properly train programmers on certain on-air requirements like providing station identification, among other complaints.
His use of social media was the only complaint to which Lorei said he was guilty. But in his letter, he argued other media outlets use professionals trained in social media management and, further, that new studies actually caution against the dangers of rampant social media use.
The board took no vote Monday night, but Lorei posted early Tuesday morning that he was touched by the outpouring of support from the community and encouraged his supporters to continue sending letters and emails to ensure the right course of action.
He wrote that the common line of questioning from the board centered on whether or not the Kopp had the exclusive authority to fire him "even if his reasons aren't valid." He compared that mentality to a "conservative/corporate side."
"Like I said last night- it will take the rest of my life to thank you for supporting me by speaking last night, emailing, petitioning, calling and otherwise challenging this miscarriage of justice," Lorei wrote. "However this turns out- when you see me- remind me of your support, and I'll buy you an adult beverage."