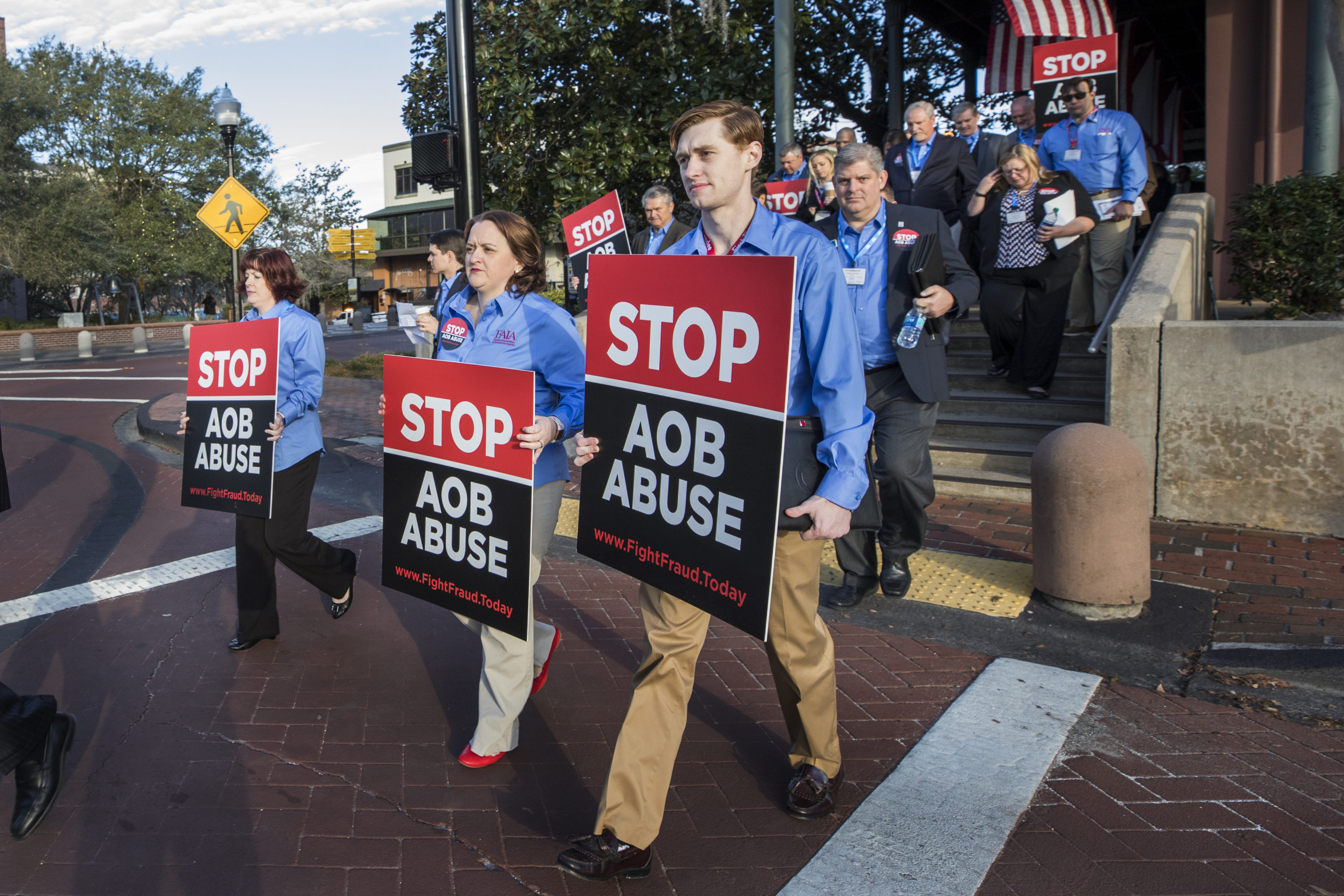 "The insurance carriers themselves are causing most of the problems ... in this so-called crisis."
Reaction continues following passage by the Judiciary Committee of the Senate's one-way attorney fee bill, intended to suck the oxygen out of assignment of benefits-related litigation against insurance carriers.
The Consumer Protection Coalition, an arm of the Florida Chamber of Commerce, praised the vote as a "huge victory for consumers and efforts to protect policyholders from increasing insurance rates.
Restoration Association of Florida spokeswoman Amanda Prater, meanwhile, called the vote "beyond disheartening."
In a written statement, Prater said:
"The insurance carriers themselves are causing most of the problems that have been discussed over the last several years, and nothing in this bill addresses the primary role they are playing in this so-called crisis."
The House Insurance and Banking Subcommittee was to take up its own version of AOB litigation (HB 7065) Tuesday afternoon.
The measure (SB 122), cleared its second committee Monday and is headed for the Rules Committee.
Sponsored by Banking and Insurance Committee chairman Doug Broxson, it would restrict Florida's one-way fee to policyholders only. State law requires carriers to compensate policyholders for lawyer fees to boost their chances against deep-pocketed insurance companies.
Under the Gulf Breeze Republican's bill, contractors pursuing lawsuits under assignment of benefits, or AOB, agreements would do so under the "prevailing party" system — meaning they could recover their attorney fees only if they win in court.
There'd be a $3,000 cap on emergency mitigation of water leaks or mold infestation, and $500 for windscreen replacement. Contractors would need separate contracts to undertake long-term repairs under homeowner policies.
AOBs would have to be in writing, and detail the work to be performed, the cost, and the completion date.
Carriers would be entitled to receive copies of AOBs within three business days. Consumers would retain the right to rescind AOBs within 14 days, or within 30 days if the contractor hasn't done substantial work by that point.
Contractors would be entitled to payment for work performed in that eventuality. They couldn't impose any penalty for rescission, or tack on check-cashing or other fees.
Carriers would be entitled to communicate with policyholders notwithstanding any AOB.
Consumers would still be on the hook for any deductibles and extra work they authorize beyond the repairs themselves. Contractors would be entitled to file liens against unpaid bills.
Contractors who dismiss claims against carriers could be ordered to pay defense fees if they refile any claim.
The bill also contains findings adopting the view of carriers and state regulators that abuse of the one-way fee statute by contractors and trial attorneys has led to a wave of unjustified litigation that forces higher premiums on policyholders.
Contractors, meanwhile, argue that insurers themselves are forcing lawsuits by underpaying, denying, or delaying claims processing.
"The proposed legislation presented only gives insurance companies even greater power to deny homeowner claims and take small independent businesses out of the market," Prater argued.
She cited the $3,000 cap. "The ability to make emergency repairs is crucial for homeowners to prevent further damage to their property," she said.
"If passed, this would be an added hardship to the homeowner at a time when they are at their most vulnerable. It is our experience that over 90 percent of the properties visited would not be able to prevent further damage to their home for more than 30 days," Prater continued.
"Finally, insurance carriers in Florida are outpacing the national average in profits despite the last several active hurricane seasons where they continue to deny and underpay claims. All while lawmakers in Tallahassee are passing legislation to further benefit the billion-dollar insurance industry on the backs of Florida homeowners and small businesses."
However, Edie Ousley, the Chamber's vice president for public affairs, praised the legislation for its "commonsense solutions" to AOB litigation: "We are extremely grateful to Senate committee members for recognizing that the status quo is no longer a viable option and something must be done to stop AOB abuse.
"While this legislation still has a way to go, the Senate committee's support is a significant step, and we look forward to working with Senate and House leadership on reaching commonsense legislation this session."