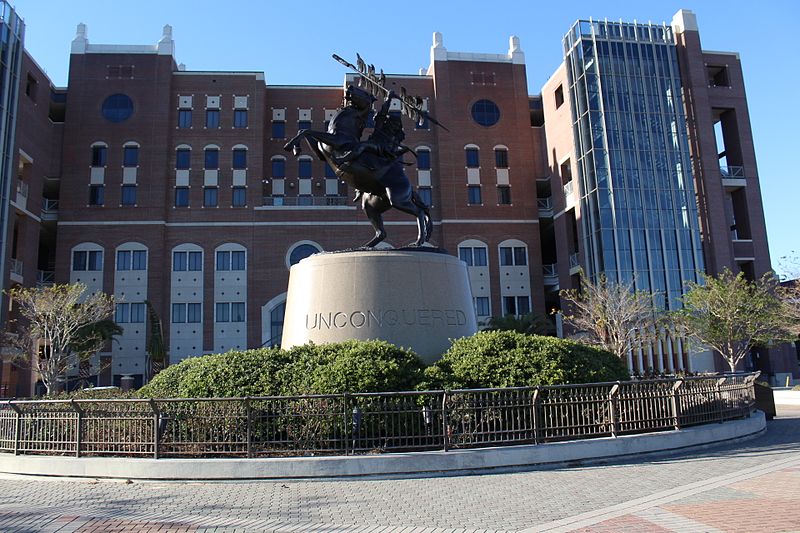 'So they haven't needed all of the money we have given them.'
If Florida's state colleges and universities seem to have large balances of unspent money each year, then they must be getting too much, state Rep. Randy Fine concluded Wednesday in announcing proposed cuts in higher education funding for the next fiscal year budget.
Fine, chair of the House Higher Education Appropriations Subcommittee, laid out his proposal for the committee's budget requests Tuesday to include $135 million being lopped off the overall State University System's operating money for Florida's 12 public universities. That would drop the SUS budget operating budget from just over $5 billion this year to just under $4.9 billion next year.
Together with other cuts proposed for state colleges, Fine announced plans to slice state tax funds by 2 percent from the higher education combined total budgets of about $8 billion.
Those proposed cuts come as his committee also approved a committee bill that reworks how each individual university and college can spend the state money. The bill is being touted as tightening oversight and accountability but allowing more flexible use of various funds.
That was a response to the committee's review of how the University of Central Florida misspent $85 million over the past few years, while other universities and state colleges also appeared to be moving money around inappropriately.
But one bottom line of the UCF investigations and other revelations from other schools was Fine's conclusion that some universities and colleges were able to move cash around because they weren't needing to spend the money for the purposes for which the Legislature had appropriated. Therefore, Fine told the committee Tuesday, they must not need as much as they're getting.
"This is my proposal as being made to the [House] Appropriations Committee," Fine said. "I think the universities have gotten quite a bit of funding over the last few years. And we've seen, as I've said, massive increases in funding carryforward balances. So they haven't needed all of the money we have given them."
Fine specifically proposed a $100 million across-the-board cut to state universities' budgets; another $20 million cut in the state's preeminence program for the state's top four universities [Florida, Florida State, Central Florida and South Florida]; a $10 million cut in the state's "world-class faculty" program; and a $5 million cut in the state's "professional and graduate excellence" program. Fine insisted each of those programs has received "massive increases" in recent years and that his proposed cuts only roll back spending a year or two or less.
"One of the amusing things I find in this whole debate is, 'Our universities are starved for funding!' If that were the case, they wouldn't be sitting on these fund balances," Fine said. "That's all money we've given that has not been spent. So we've been over-appropriating, based on their own spending needs. They've not been spending it all. So we probably ought to give that money to areas outside of our budget where they don't have big carryforward balances, where they actually need additional funding. We don't."
Those budget proposals were preceded by Fine's introduction of PCB HEA 19-01, a bill that does some restructuring of how universities and colleges spend money for their campuses. That bill was unanimously approved by the committee and received bipartisan praise, although there also were some concerns raised by Democrats on the committee, who promised to support the bill overall while seeking a few changes down the line.
Those changes are being pushed as a response to the UCF spending scandal, though no one explicitly cited UCF in discussing the bill Tuesday.
"The kinds of things we saw happen at one of our universities could only happen if the proper internal controls were not in place. And they weren't. And some of the elements of this bill are intended to solve some of that moving forward," Fine said.
Chief among the changes the bill would produce:
— It establishes a new points-based system for the state to draw up priority lists of construction projects eligible for Florida Public Education Capital Outlay funds.
— The new system would encourage the schools to put up some matching money before requesting state money.
— The schools also must present plans and escrow for paying for long-term maintenance of the buildings when the schools' seek state construction money to build them.
— The system wold favor projects that address space needs affecting the most students, and the system tightens standards.
Universities would have to have to demonstrate that their current space has reached a minimum usage of 60 hours per week, at a rate of 80 percent usage. State colleges would have to show they have reached 40 hours per week at 80 percent usage, to demonstrate that their existing space is in full use.
— The bill would restrict transfers of money from one fund to another at universities and colleges without specific legislative approval, and limit transfers from the university to support organizations.
— It would increase the required budget reserve to 7 percent for colleges and universities. And colleges and universities will have to have to adopt spending plans to deal with any carryforward money that goes above 7 percent.
— The bill also would change the requirements for the state's Bright Futures scholarship program for merit-based scholarships. Under new standards, students would have to meet national rankings percentile goals, not specific test score goals, in their SAT college entrance exams. That would put the SAT in line with requirements already in place for students reliant on the ACT college admissions exams.