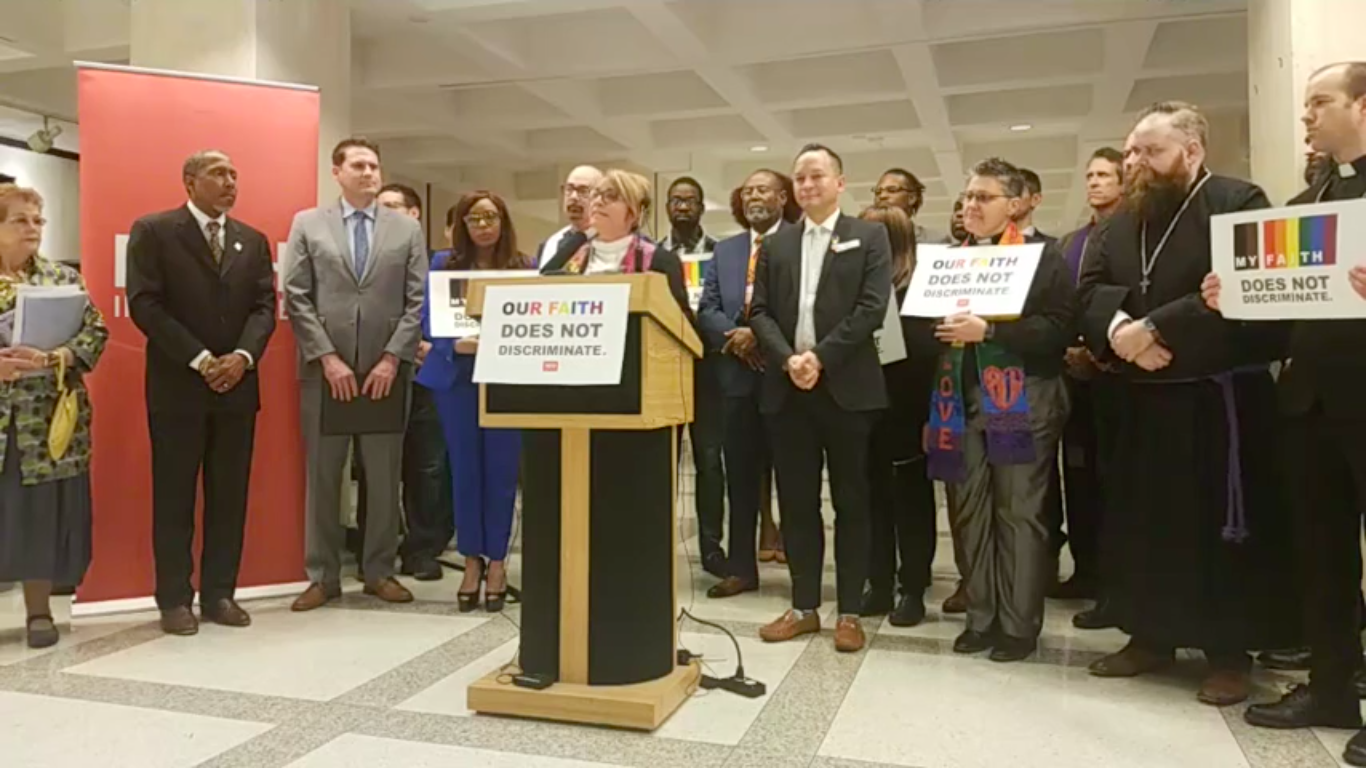 LGBTQ equality has become the "civil rights issue of our time."
A growing number of state lawmakers have signed on as co-sponsors for the Florida Competitive Workforce Act.
Now faith leaders say it's time to ban discrimination against LGBTQ Floridians.
"We cannot say same-gender, loving couples can be married on Saturday and fired for it on Monday," said Rev. Joe Parramore, of New Journey Ministries in Quincy.
At a press conference hosted by Faith in Public Life, religious leaders stood with state lawmakers to demand action on legislation.
Organizers say more than 400 faith leaders across Florida signed onto a letter encouraging passage of the Workforce Act this year.
State Sen. Darryl Rouson, a St. Petersburg Democrat, called LGBTQ equality the "civil rights issue of our time."
"No one should live in fear of discrimination just because of who they love," he said.
Rouson this year sponsored the Workforce Act (SB 430). In that chamber, 13 other senators have signed on as co-sponsors.
State Rep. Carlos Guillermo Smith, an Orlando Democrat and one of three openly LGBTQ representatives, said the House legislation (HB 485) has become the most popular bill in the House to co-sponsor.
Still, the legislation awaits scheduling in the House Civil Justice Subcommittee and the Senate Government Oversight and Accountability Committee.
Faith leaders also encouraged new Gov. Ron DeSantis to take action on this issue unilaterally.
Rev. Terri Steed Pierce, lead pastor for Joy Metropolitan Community Church, called on Gov. Ron DeSantis to issue an executive order forbidding discrimination by state agencies.
The faith leader serves a congregation located less than two miles from Pulse night club, a gay bar where a shooter in 2016 killed 49 people.
Pierce said then-Gov. Rick Scott treated the community kindly, but failed to follow through on a promise to protect LGBTQ Floridians from discrimination.
"Gov. DeSantis, I ask you to do what your predecessor never had the guts to do," she said.
Rev. R.L. Gundy, Florida state director for African American Ministers in Action, also encouraged more faith leaders, including Pope Francis, to become involved in protecting LGBTQ rights.
"I ask them to extend the heart of love that God extended to us," he said.