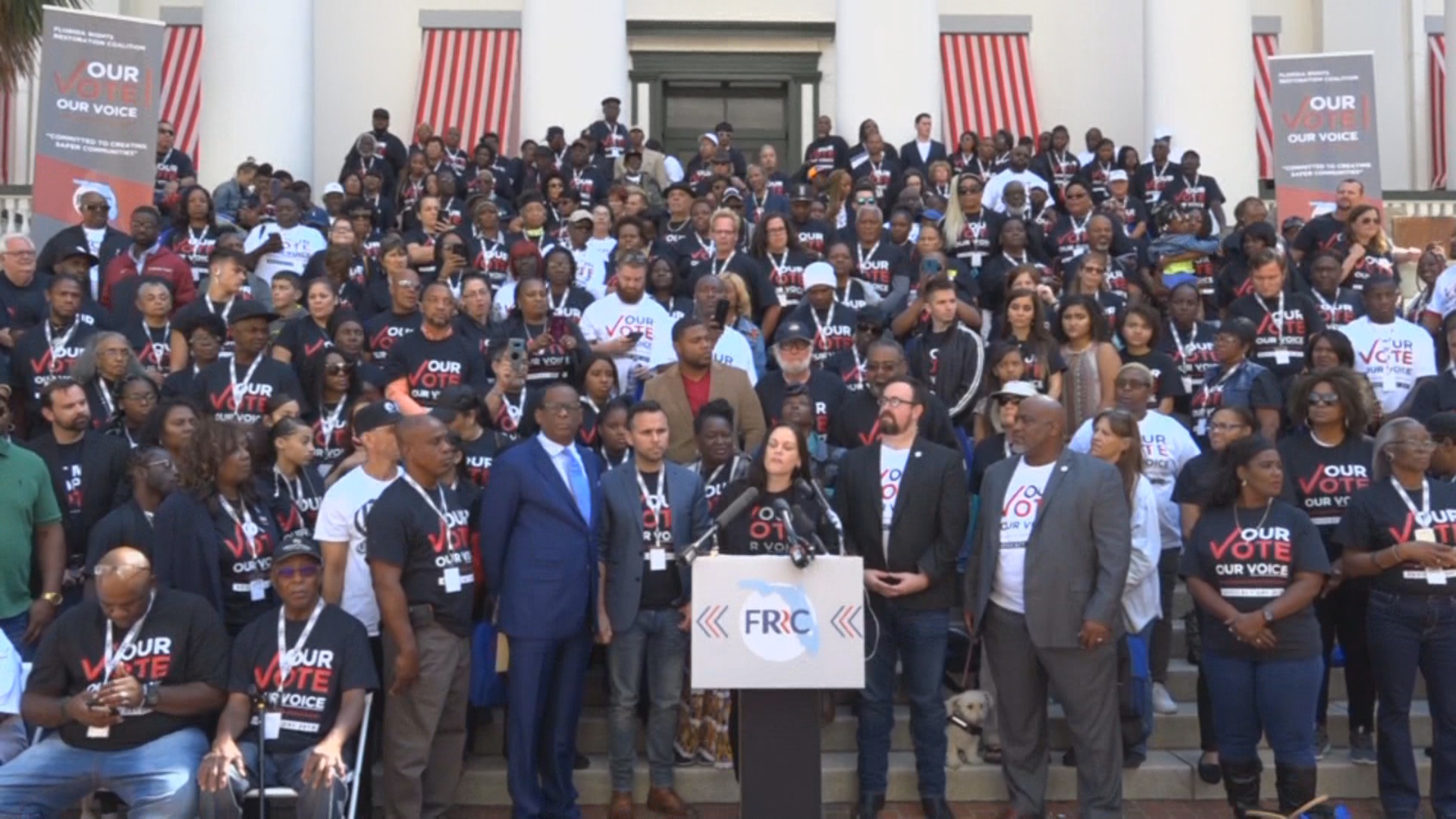 Much of the debate centered on courts changing criminal fines to civil liens.
A bill that would require felons to pay all their fees, fines and restitution before they can vote cleared a Senate committee Monday as debate continues over whether it restricts rights beyond what voters approved when they adopted Amendment 4 last November.
The measure (SPB 7086) was approved 3-2 on party lines in the Senate Committee on Criminal Justice — its only assigned committee. It's now available for the Senate floor for debate and a final vote.
The amendment spells out definitions for the two areas of felonies that would exempt someone from ever voting, murder and sex crimes, and also defines the "completion of all terms of sentence" an individual must pursue before becoming eligible to vote.
Reaction to the vote from progressive groups was swift. The League of Women Voters of Florida called the bill "an attempt at voter suppression," and the American Civil Liberties Union of Florida said it "undermine(s) the will of Florida voters" who passed Amendment 4.
That came after sponsor Republican Sen. Keith Perry of Gainesville argued that the Legislature has to make clear that "completion of sentence" means not just prison time, probation time, parole time, community service and other actions.
It also includes, he added, the fines, fees and restitution ordered by the criminal court judge, even if those monetary requirements were later converted from criminal actions to civil actions by a judge.
Perry argued that the Legislature had no choice because of arguments made before the Florida Supreme Court by the amendment's sponsor, the Florida Rights Restoration Coalition, that conceded to the court that monetary requirements would have to be included in defining the completion of a felon's sentence.
The prospect of conversion of those monetary requirements to civil actions drew the most passionate and determined opposition to the Senate bill, not just from the organization that placed Amendment 4 on the ballot but from other criminal justice reform advocates.
They argued the bill continues the Jim Crow-era vestige of forcing people to pay money they may not have in order to be allowed to vote and of penalizing poor people.
In those cases, a felon's fines, fees and restitution is sometimes turned into a lien against the individual or is addressed through a court-ordered payment plan that can take years to pay.
In one case a witness told the committee that she was convicted of conspiracy and, like the others in the case, was ordered to pay a $59 million restitution. Another said she was ordered to pay $159,000 in restitution.
Both are making monthly payments on court-ordered plans, yet both said they will never be able to pay it all.
Perry and fellow Republican Sen. Jeff Brandes of St. Petersburg and Anitere Flores of Miami all held to their position that they had no choice because the amendment refers to "completion of all terms of sentences" and that even the coalition's attorney, Jon Mills, a Democratic former House Speaker and retired dean of the University of Florida's law school, had said to the Florida Supreme Court that terms of sentence include fines, fees, and restitution.
The coalition's website also mentioned fines, fees and restitution, he pointed out.
"This is what they told voters. This is what they promoted on their promotional material. This is coming directly from their website. So concluding from their testimony from Dean Mills before the Supreme Court of the state of Florida, which I believe he was truthful and honest about what he believed was in the four corners of the sentence," Perry said.
Still, Perry allowed that he could yet be convinced otherwise and suggested the issue could be taken up again before the bill goes to the floor and he could change his position if someone convinced him that the Legislature could have a choice to not require all monetary sentences be paid in full.
Perry almost indignantly described himself as a supporter of Amendment 4 and insisted he wants it implemented to help as many people as possible restore the rights to vote. But he argued that if the Florida Legislature does not make clear that financial obligations must be met then it's possible that individual county supervisors of elections or state officials might do so, sending the battle into the courts.
That battle is likely regardless whether the Legislature requires fines and restitution to be paid even after a court has transformed them from criminal to civil matters, several witnesses told the committee.
"The voters never intended that there be civil consequences," said Shelli Freeland Eddie, a Sarasota city commissioner who also practices criminal defense law.
"When you have a fine converted to a civil judgment, a criminal court loses jurisdiction. If a criminal court loses jurisdiction, then how can we as a body of elected officials add on additional conditions that would make it impossible for individuals who had their rights restored? It creates an unconstitutional barrier."
The issue appeared settled early on the committee hearing when Democratic state Sen. Randolph Bracy of Oakland offered an amendment to SB 7086 that would have stripped out any financial requirements that a court had converted to a lien or a mandatory payment plan, converting the criminal financial penalties to civil judgments. Bracy's offer was voted down by the same 3-2 basis.
"There is nothing in there that mentions financial obligations in the constitutional amendment," Bracy said. "I just feel like we are essentially telling these folks that they would never be able to vote by passing this amendment. Because these folks, it's almost impossible to get a job. It's almost impossible to get housing. And without any money to support themselves, they have to pay full restitution before they able to vote, you are essentially telling them: you won't be able to vote."
Flores, like Perry, held open the prospect that at least the monetary requirements turned into civil orders, which Bracy sought to address, may be considered again.
"We're on week three of Session and we have time to move forward. I won't be in support of this amendment today, but I think a version of this, as we move forward, is something that I think you'll find we'll all support by the time the bill gets to the floor," Flores said.