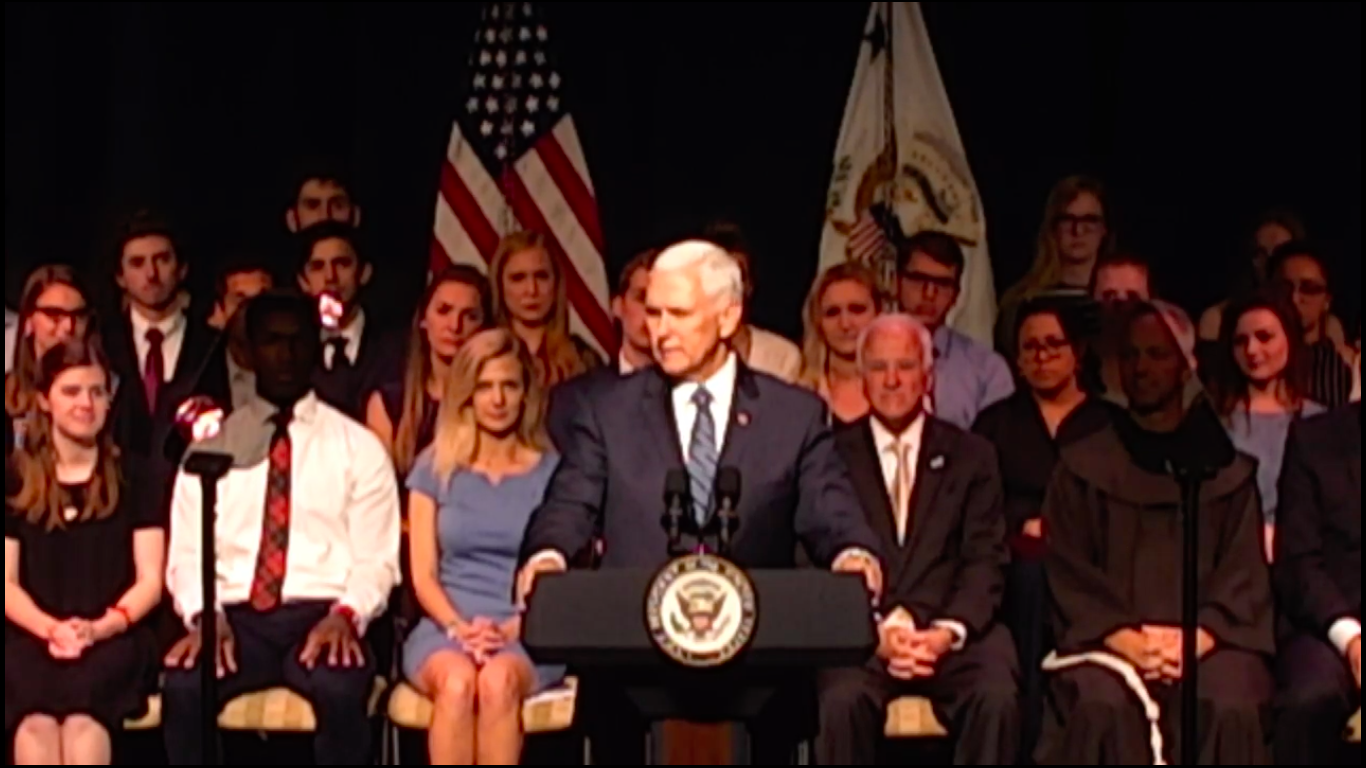 Pence celebrated Donald Trump as most pro-life president in U.S. history.
Vice President Mike Pence stressed the value of religious freedom during a speech to students at Collier County's Ave Maria University.
During his stop in Southwest Florida, the Republican leader – in a pointedly political speech – promised a commitment to empowering faith leaders in the public square.
"We have made sure free expression of religion does not stop at the doors of our churches and houses of worship," said Pence, an evangelical Christian.
The vice president noted President Donald Trump suspended the "Johnson Amendment." The tax code interpretation for decades threatened the nonprofit status of church organizations whose leaders took political positions from the pulpit.
Pence also celebrated Trump as the most pro-life president in U.S. history and celebrated the administration for ending the "ISIS Caliphate" in the Middle East.
He praised Florida U.S. Rep. Mario Diaz-Balart, a Miami Republican, for work in Venezuela.
Pence emphasized the United States led the world in refusing to recognize dictator Nicolas Maduro as the nation's leader. Rather, the U.S. now recognizes opposition leader Juan Guaidó.
Pence said Guaidó's wife, Fabiana Rosales, who visited the White House Wednesday, will meet with First Lady Melania Trump in Florida today.
"The U.S. will continue to stand with her, with President Guaidó and with the people of Venezuela until their libertad and democracy is restored," Pence said.
On the domestic front, Pence spoke to freedom of expression at college campuses. He touted an executive order just signed by Trump threatening research funding for colleges and universities with restrictive free speech zones.
"There should be no safe zones from the God-given liberties of the American people," Pence said, "and we will stand for freedom of speech and freedom of expression on every campus in America."
U.S. Rep. Francis Rooney, a Naples Republican, filed a bill the same day as the order to open all outdoor areas of public institutions to all free speech.
But much of Pence's speech spoke to religious freedom outside the United States, and not just for Christians. He condemned a mass shooting by a white supremacist that killed 50 in two New Zealand mosques last week.
Pence said 83 percent of individuals in the world face religious persecution today, and he leveled criticism against China, Nicaragua and other nations.
The vice president also hammered Democrats on domestic policy, accusing Virginia Gov. Ralph Northam of endorsing infanticide.
He also hit Democratic senators and presidential candidates who opposed so-called "born alive" legislation.
"Leading members of the Democratic Party across the country are embracing a radical agenda of abortion of demand," Pence said.
But Pence told students he saw hope for the future in their faces. He said those studying at the Catholic University would make the next generation of Americans more value the sanctity of life.