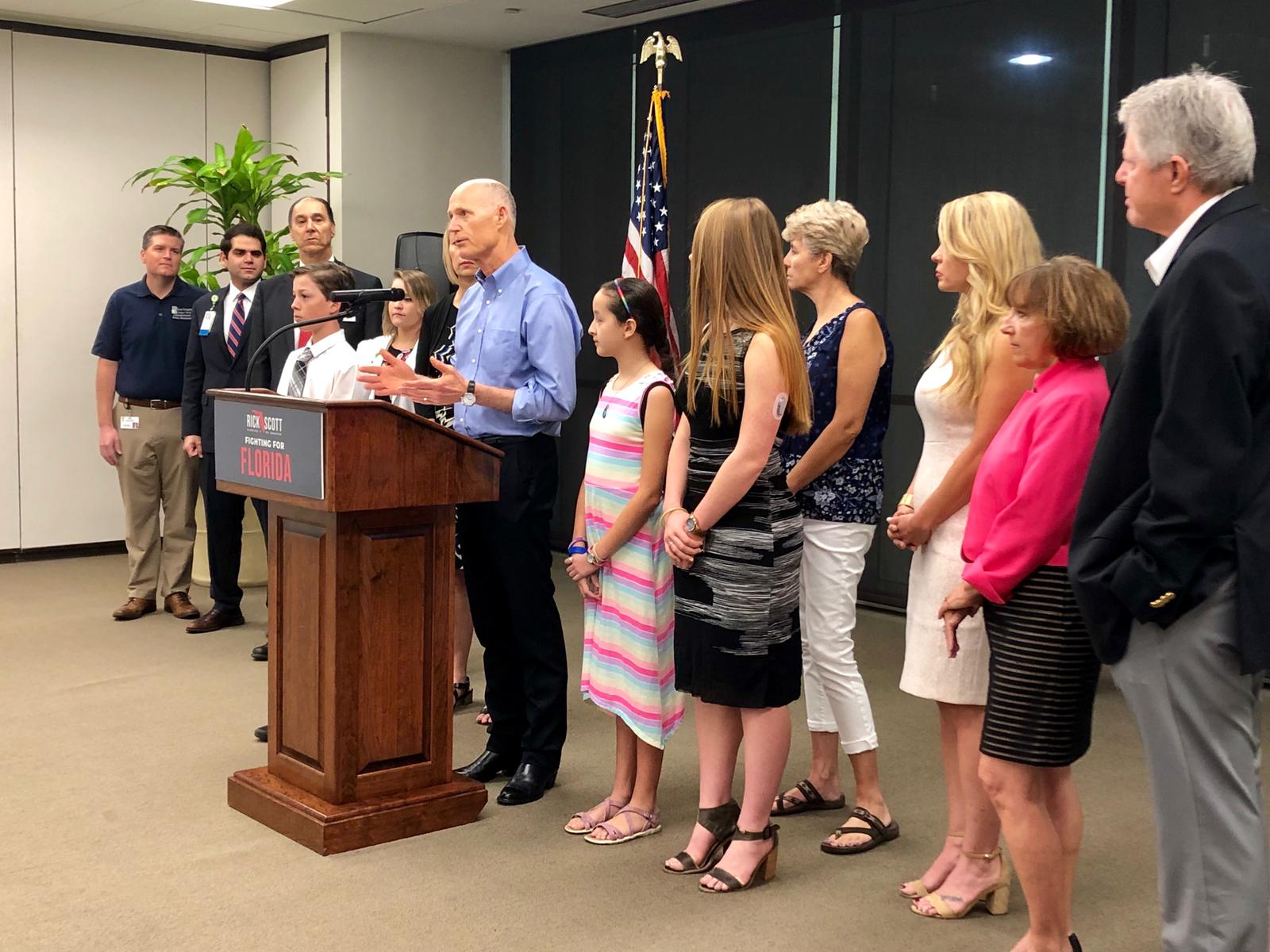 Scott's drug-pricing bill also would require more disclosures on drug costs.
Florida's Republican U.S. Sen. Rick Scott announced a new bill Friday morning that would tie American drug costs to what pharmaceutical companies charge in other countries.
Scott on Friday morning rolled out his "Transparent Drug Pricing Act" in a press event in Fort Myers, the latest effort by Republicans to start putting together their plans to overhaul Obamacare. His plan also calls for pharmacies and insurance companies to disclose more about drug pricing.
Scott's bill calls for drug companies to charge no more for drugs in the United States than they charge in other countries, notably Canada, Great Britain, and Germany. The provision would sunset after five years.
The rollout comes a day after President Donald Trump announced he has asked Scott, Florida's former governor and the former CEO of a hospital corporation, along with U.S. Sens. John Barrasso of Wyoming and Bill Cassidy of Louisiana to lead Republican efforts to develop new health care plans.
The proposal was first reported by POLITICO Friday morning.
Scott stated in a news release issued by his office:
"American consumers are facing a crisis of rising drugs costs and we can't wait any longer. I urge every Senator to put themselves in the shoes of a family or a senior living on a fixed income who's seen their drug costs triple in just a few years.
"This is about the lives of real people that hang in the balance. Every American should know exactly what their prescriptions cost and it's unfair that consumers in other countries get a better deal than patients in America. That must change.
"There is no justification for waiting, we need to address the soaring costs of prescription drugs right now. Drug prices are a serious problem — a problem Washington should have addressed long ago."
In addition to tying American drug prices to those the companies sell for in other countries, the bill would require pharmacies to inform patients of what the drugs would cost if they paid retail, out-of-pocket prices at the counter, instead of using their insurance and copay.
The release said that the retail prices often are lower in the long-term.
The bill also would allow the patients to charge their out-of-pocket payments to their insurance deductibles.
It also calls for insurance companies to inform patients of the total costs of their prescription drugs 60 days before open enrollment periods for insurance plans. The release states this would give consumers the chance to shop around for the best deals.