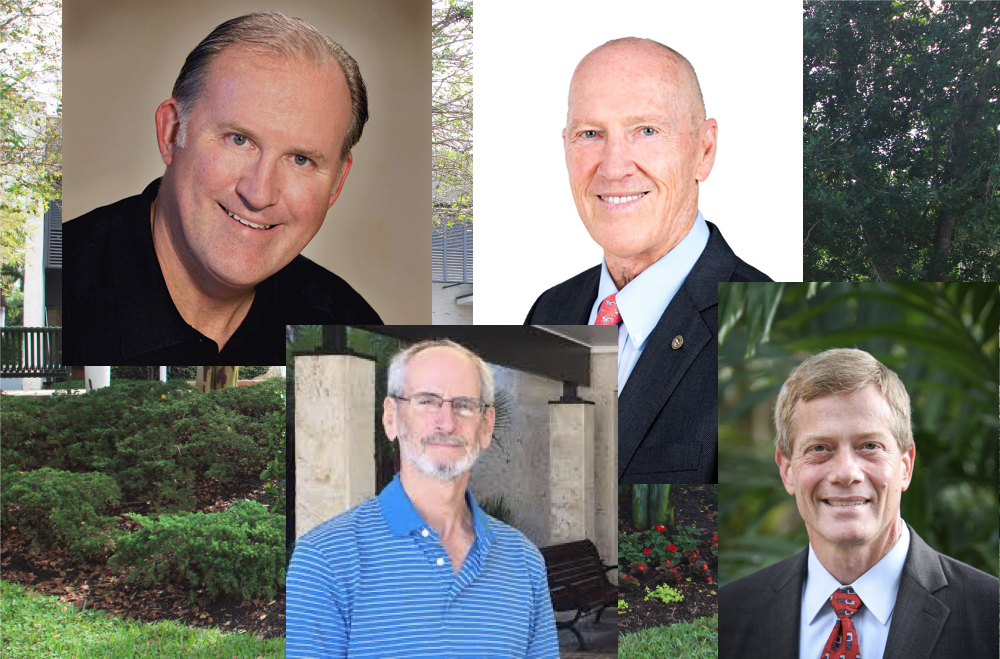 More than $100,000 was raised for the City Council contest.
More than $100,000 has been raised for a rare special election for Naples City Council. Now it's up to voters to decide which of four candidates wins a seat on the dais.
Most dollars went to two candidates: former Ethics Naples director Ray Christman and former Naples City Manager Bill Moss. Christman raised $47,636 and Moss took in $45,225.
But retired finance professional Ted Blankenship also had $5,010, largely self-funded, and retired attorney George Dondanville raised $4,494.
In a city of less than 22,000, that's a lot of money for an unexpected election with a low expected turnout. The contest seeks a replacement for Councilwoman Linda Penniman, who resigned in January over a family health issue.
In the months since Penniman's departure, election debate centered largely around water quality issues and redevelopment in the affluent city.
Moss may hold the most name recognition. He spent 11 years as Naples City Manager before retiring last year. Before then, he spent a decade leading nearby Marco Island.
"Fortunately I've had a successful career here in Collier," he said.
Now he seeks a different role setting policy instead of running the day-to-day business. He said he brings an understanding of stormwater management, which will be critical in cleaning Naples Bay. But he acknowledged it takes work with the state to solve some nutrient issues coming out of Lake Okeechobee.
As for development, Moss said he understands the need to preserve the quality of life in town. But he noted the population of Naples itself in the last decade hadn't shifted much, and most development occurs in unincorporated Collier County.
"There will be change and redevelopment, but that's the nature of the community," he said. "My perspective is to allow what will occur anyway but maintain the ambiance, culture and character of the city that enables it to gain a great reputation."
Of course, for candidates running on a change agenda, Moss becomes the subject of criticism as well.
Christman for most of the last two years ran a nonprofit urging ethics reforms in the community. He'd like to curb overdevelopment.
"Our message is really about putting Naples first and not last," he said.
Christman said he wants better controls on development and a balance between residents and commercial interest.
He's frustrated the city weakened fertilizer ordinances in the past two years. While problems with blue-green algae mostly flow from Lake Okeechobee, it's irresponsible the city eliminated a summer ban on pollutants.
He also wants something done about the 900 or so homes in the city still on septic.
"People are concerned that the Naples they love and the small town character that brought them here is being eroded," he said.
"Obviously, Mr. Moss has been in a position of responsibility as city manager during that time."
Dondanville finds it startling how much money Moss and Christman have raised and spent. The longtime Naples resident, who operated a bike shop and worked as a kayak guide in town, said people who trust him personally support his campaign.
He sees Moss taking funding from developers and Christman relying on supporters of Ethics Naples. That Christman used connections with that group to raise money is something Dondanville considers unethical itself.
His focus as a councilman will be on the environment, Dondanville said.
"What's going to come of sea level rise?" he said. "I live a mile and a half from the beachfront, and my house may be underwater if the water goes high enough to get over U.S. 41."
Naples needs to catch up its infrastructure, he said, or could face similar flooding issues as seen in Miami Beach.
Blankenship said the city needs a balanced approach with development in town.
"We need a balance with a sustainable growth rate where the infrastructure can keep up," he said.
He'd like to see fertilizer ordinances line up with county regulations for the sake of consistency. But he wants something that works for professionals like landscapers in town.
On that front, he'd like the city to stick to its own code and grant fewer exemptions for construction in town.
And he'd like to see attention paid to pollution dumped into the water by the city. The city has a half dozen beach outfalls for stormwater, which has led to pollutants in the Bay. He wants water properly treated before it gets dumped into the Gulf.
Polls in Naples open at 7 a.m. and close at 7 p.m. Tuesday. The top vote-getter in the election wins the seat on the Council and will serve the remainder of Penniman's term.