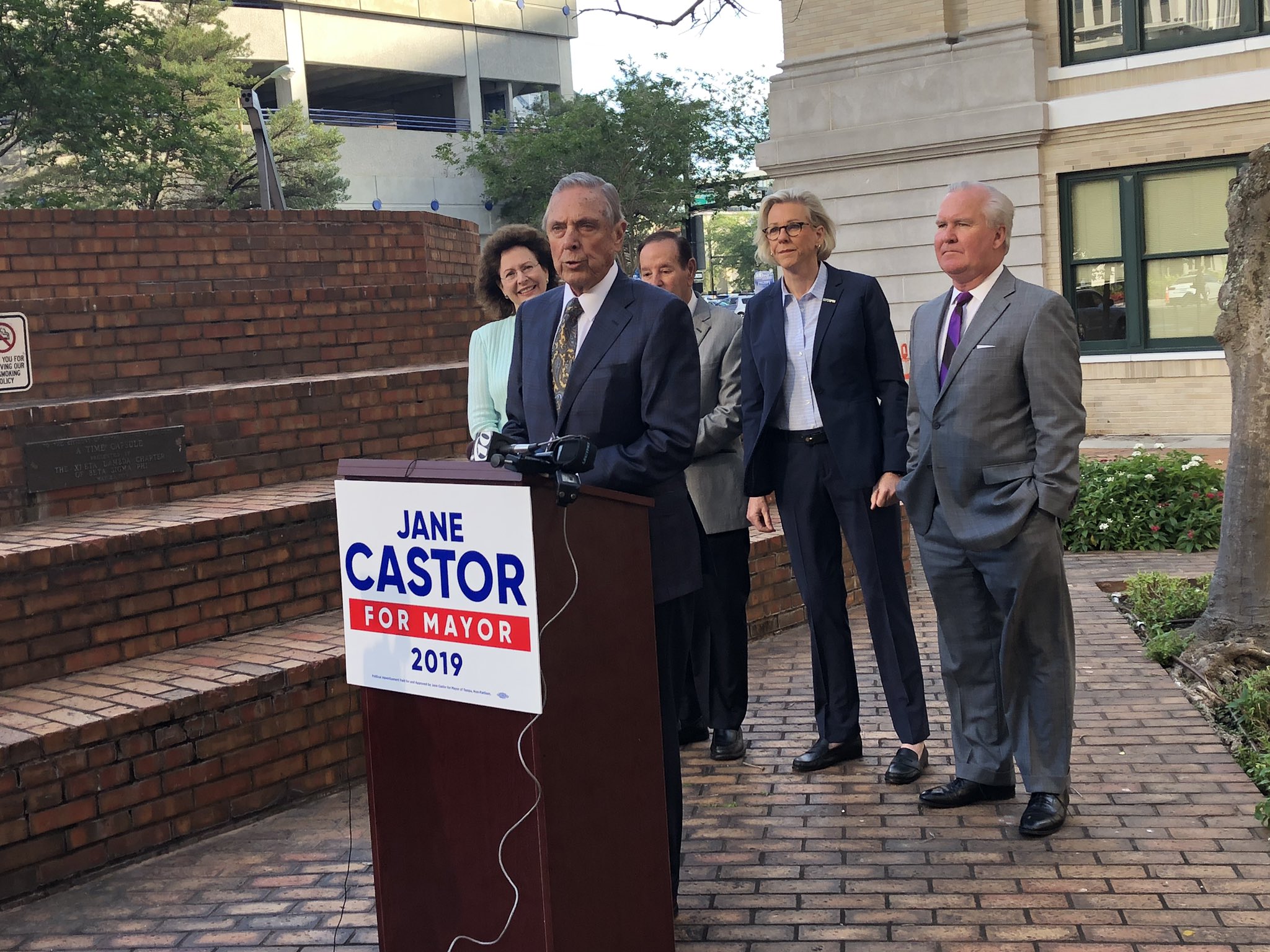 The press conference looked and felt more like a mini-inauguration.
All but one of Tampa's former mayors are backing Jane Castor for mayor. Current Mayor Bob Buckhorn, who already endorsed Castor, joined former mayors Pam Iorio, Dick Greco and Bob Martinez in front of City Hall Wednesday to announce the group's "passing of the torch."
Sandy Freedman is the only living former mayor not to endorse Castor. She also did not endorse Castor's opponent, David Straz.
The press conference looked and felt more like a mini-inauguration; a coronation of one leader by her predecessors.
"I was able to see Jane as a leader up close," Iorio said of her experience with Castor during the manhunt for the man who killed two Tampa police officers in 2010. "I saw someone who never wavered, who motivated literally thousands of law enforcement officials to all do exactly what needed to be done, do it in the right way and bring someone into custody."
Iorio appointed Castor to Tampa Police Chief in 2009. Iorio served two terms as mayor from 2003 until 2001.
Martinez, who served from 1979 until 1986, built on Iorio's sentiments.
"One of the great things about being the police chief is you have a large department to deal with," Martinez said comparing the job to running the entire city. "You manage a lot of employees, which the city has. "They (police chiefs) get to know something about every department in the city."
Martinez's claims about Castor's experience directly contradicts the narrative the Straz campaign has been trying to erect around its opponent. Straz has sent campaign mail to voters arguing her experience as a 31-year police veteran and retired chief does not qualify her for mayor.
The campaign also alleged, without proof, that Castor had manipulated crime statistics to make it look like crime in the city had dropped under her watch more than it had. Martinez bucked that claim.
"She did an outstanding job no matter what position she held. The city became safer," he said.
Greco's endorsement might have come as a shock to some. The former mayor served four terms from 1967 until 1974 and then again from 1995 until 2003. Greco is a longtime friend of Straz. He had been planning to endorse Straz before his son, Dick Greco Jr., entered the race, according to a never published press release obtained by Florida Politics.
Asked why he decided to endorse Castor, Greco didn't offer much of an explanation. He said it was a decision he put a great deal of thought into and said he thought Castor would do a great job. Greco's son endorsed Castor the day after the March 5 election.
"I think what you see here is the passing of the torch," Buckhorn said. "This city is built on the shoulders of these people. There are only five people in this city who know what it's like to be mayor. Four of them are here today to say to you unequivocally that we are ready to pass that torch to Jane Castor."
Castor said she did not take the group's vote of support lightly.
"Each of them were handed this city at a particular place and time. A city with unique issues, concerns and opportunities. Each of them handed that city that they had grown off to the next mayor, off to the next generation. I agree with Mayor Iorio and with all the rest that Tampa is the greatest city in the nation and we have nowhere to go but up."