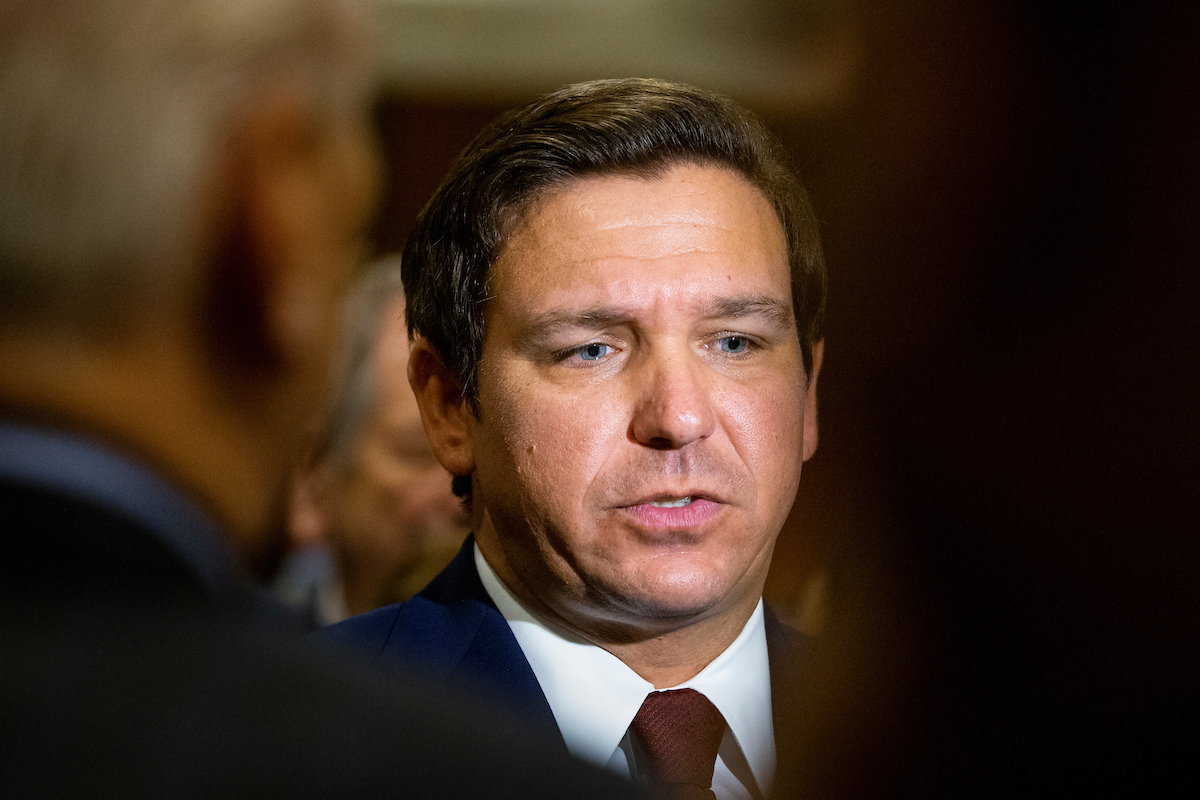 Students "do fine with a different perspective and viewpoints."
Partly in response to conservative commentators being denied opportunities to speak at institutions of higher learning, Gov. Ron DeSantis on Monday said the state would recommit to "foster and protect student speech and the open exchange of ideas on our campuses."
He also suggested the move could well lead to more divisive events at colleges, but offered a silver lining: "I think for some of these people, the biggest antidote … is if they give a speech and only eight people show up," DeSantis said. "That is really the worst because they really feed off trying to gin people up."
DeSantis, speaking on the campus of Florida State University in Tallahassee, said he was "asking all of our state college and university presidents to adopt a resolution similar to the Chicago statement at the University of Chicago championing free speech on college campuses."
The Governor — flanked by FSU President John Thrasher, Education Commissioner Richard Corcoran, State University System Chancellor Marshall Criser and other higher education leaders — said "the role of the university is not to shield students from speech that makes them uncomfortable."
Rather, "the cure for speech that one disagrees with lies not in prescription but in open debate and free inquiry," he added.
DeSantis used the example of conservative writer and activist Ben Shapiro, who was initially denied a chance to speak earlier this year by Grand Canyon University, a private Christian school in Phoenix, Arizona. The school cited "contentious comments he'd made regarding abortion, Islam and the LGBT community," the Arizona Republic reported.
Shapiro was ultimately invited to speak there this month, drawing nearly 2,000 attendees, the paper reported.
Last year, lawmakers passed the "Campus Free Expression Act" that put an end to the practice on many college and university campuses that forced students to exercise free speech only in designated areas. And this Session there's a move afoot to "mandate an 'intellectual diversity' survey for students and faculty in universities and colleges."
DeSantis and Thrasher later played down, however, concerns that the renewed free speech push could lead down a slippery slope to moral relativism, with possible debates on the pros and cons on topics such as Holocaust denial, often considered a form of anti-Semitism, and the anti-vaccination movement, for example.
"I agree with the Governor, exactly, on the positions of the Chicago principles that we have adopted as a university … I think you'll see it was very consistent with what the governor has stated," said Thrasher, previously a Republican state lawmaker.
That document says in part that "it is not the proper role of the University to attempt to shield individuals from ideas and opinions they find unwelcome, disagreeable, or even deeply offensive."
Added DeSantis: "To say that you don't need vaccinations, to me, that's reputed by the facts. And in terms of things like saying the Holocaust didn't happen, there's easy factual evidence available that it did. This is not even close to something that is disputable."
The Governor again suggested that the best antidote for such speech is not to prohibit it, but ignore it.
"I would imagine if someone was coming to campus with that view and I had the opportunity to, you know, go watch Florida State play basketball or something, I would choose to go to basketball rather than sit through drivel like that," he said.
But in late 2017, hundreds turned out for an appearance by white nationalist Richard Spencer at the University of Florida in Gainesville. He was greeted "with anti-Nazi chants," the Associated Press reported. "They booed him off the stage under the watchful eye of police officers in riot gear."
"You've seen a bunch of speakers come to these campuses in Florida and (students) do fine, you know, with a different perspective and viewpoints," DeSantis said Monday. "And that's how it should be. And you know, if you listen to someone you disagree with, you may actually re-evaluate an assumption that you had."