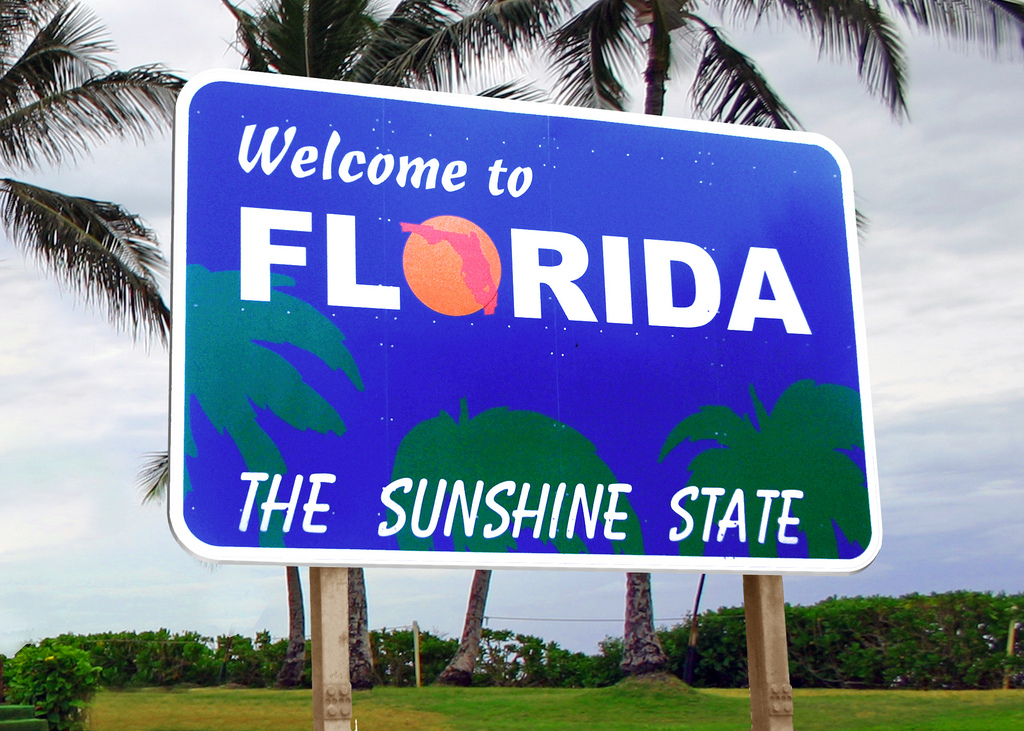 In 2018 Florida topped 21 million in population, the Census Bureau estimated.
Florida's population growth has shifted over the past couple of years and now the Sunshine State attracts more new residents from Puerto Rico and from foreign countries than it does from the other 49 states combined, according to new estimates released recently by the U.S. Census Bureau.
In 2017 the number of people moving to Florida from Puerto Rico or foreign countries just about equaled the number of people arriving from other states. In 2018 the combined number of Puerto Rican migrants and people moving from other countries swamped the number of people moving to Florida from other states, according to Census data.
Overall, Florida grew by 322,523 people in 2018, topping 21 million in total population for the first time. The Census estimated the Sunshine State's population at 21,299,325 in data released last week.
In 2018, Florida had a net gain of 132,602 people from other states and 175,670 people from Puerto Rico, the U.S. Virgin Islands, or other countries. The rest of the increase was natural: more births than deaths among people already here.
The changing makeup of new Floridians is driven in part but not entirely by well-reported phenomena: economic and storm refugees from Puerto Rico and the U.S. Virgin Island, combined with political refugees from Venezuela and a handful of other countries.
At the same time, the numbers of people moving to Florida from other states have fallen dramatically since peaking in 2016. That year 216,222 people moved to Florida from other states, according to the Census data.
If the trends continue, the political and public policy ramifications, already being felt in real time at the ground level in such locales as Osceola County, could be profound for everything from political views on immigration to strategies for education, housing, and jobs.
Though Puerto Ricans are American citizens, the Census Bureau lumps people moving from Puerto Rico into its data for "international migration", and does not offer any details of where, exactly, all the international migrants came from.
International migrants are becoming Florida's dominant source of new residents.
As recently as 2015 and '16, people moving from other states accounted for at least 58 percent of newcomers to Florida, according to the Census Bureau. Last year, such "domestic migration" accounted for just 43 percent of people moving to Florida, while international migrants increased to 57 percent.
The data shows the two groups of newcomers aren't entirely mixing.
Thus, the trends are widening ethnic differences between various counties. In Osceola, the center of Florida's growing Puerto Rican community, more than two-thirds of 13,247 new residents of 2018 came from Puerto Rico or other countries, according to the Census estimates. By contrast, in Sumter County, center of the huge The Villages retirement community, 99.7 percent of the 5,251 people who moved in during 2018 were domestic transplants.
The internationalization of Miami-Dade County accelerated in 2018. Miami-Dade had a net gain of 58,732 people through international migration, but had a net loss of 51,571 residents through domestic migration, because of people leaving Miami-Dade for other places in the United States. Those trends have been taking place for several years, according to the U.S. Census data estimates. And in 2018 the county saw at least a 10-year high in international migration and at least a 10-year low in domestic migration, according to data reviewed by Florida Politics.
Osceola had the state's highest growth rate of international migrants, who increased the county's overall population by 2.5 percent in 2018; followed by Miami-Dade, 2.1 percent; Orange County, 1.5 percent; and Hendry County, 1.2 percent.
Walton County had the state's highest rate of county growth by domestic migrants, increasing the county's population by 4.3 percent in 2018; followed by Sumter, 4.2 percent; St. Johns County, 4 percent; and Lake County, 3.2 percent.
Overall, Orange was the state's fastest-growing county in 2018, adding 27,712 people, with a growth rate of 2 percent. Hillsborough County was next, adding 27,712 people; followed by Polk County, 22,179; Broward County, 16,789; and Miami-Dade, 16,703.
By percentage growth, Walton was Florida's fastest-growing in 2018. Its 3,100 new residents increased the population by 4.5 percent in 2018. Next was Osceola, growing at a rate of 4.3 percent; St. Johns, 4.2 percent; Nassau County, 3.6 percent; and Lake, 3.3 percent.
Seven Florida counties declined in population in 2018 led by Monroe County's 1,609-person reduction. The other six were fairly small population declines in rural counties including Union and Taylor counties.