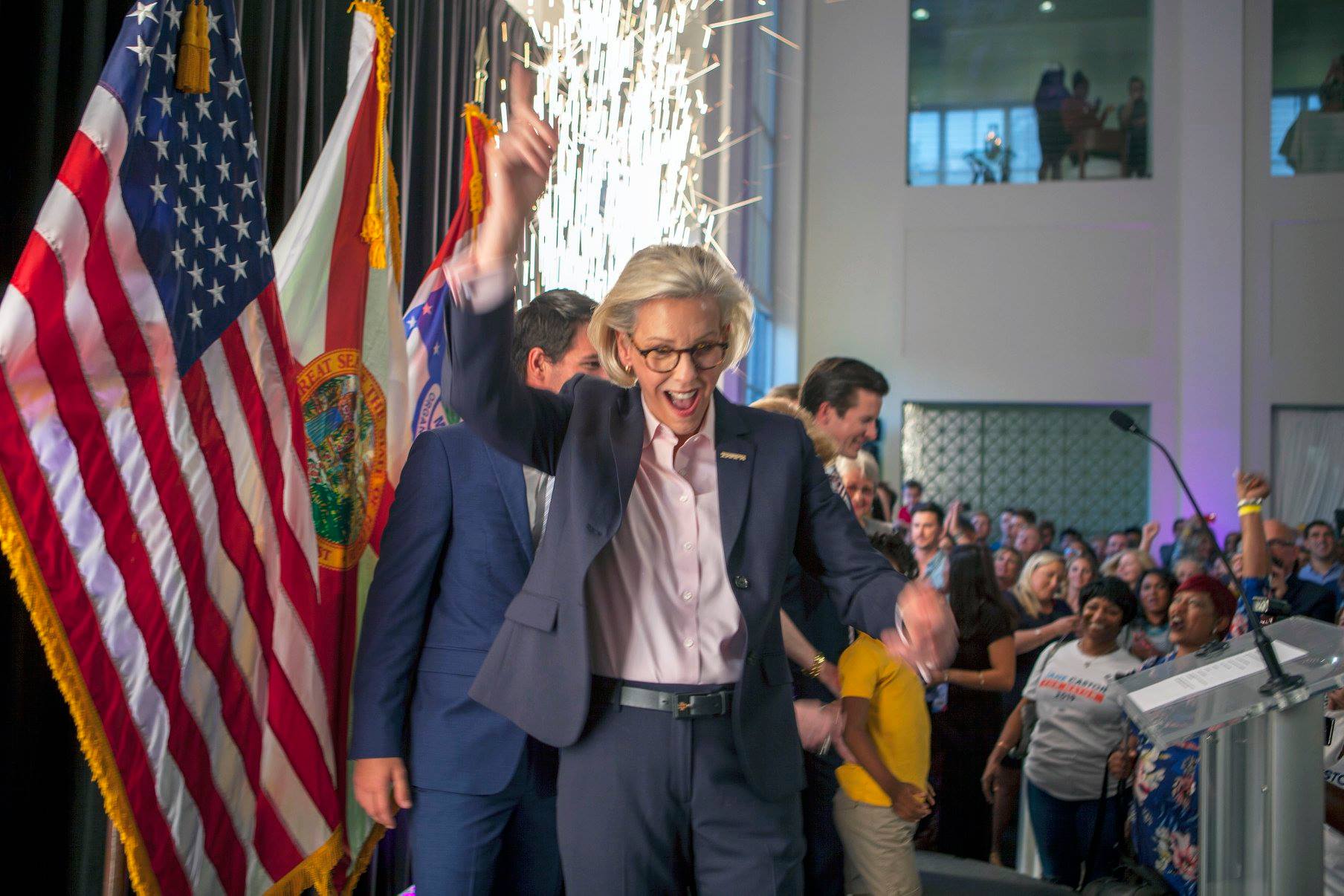 All of the outlets are swooning over Castor's landslide victory against a better-funded candidate.
Jane Castor's historic victory Tuesday night in Tampa's mayoral race is giving the city some major publicity. Castor's win as the city's first openly gay Mayor has been covered in the national media all week.
Castor appeared on MSNBC Wednesday with Stephanie Ruhle and Ali Velshi touting her vision for improving the city's transportation system and hardening the city against the effects of climate change.
Other national media outlets covered her election, including CNN, USA Today, ABC and NBC News, The New York Times, The Hill, Huffington Post, CBS and the Daily Mail.
All of the outlets are swooning over Castor's landslide victory against a better-funded candidate and its historical precedent.
"Tampa's former Police Chief Jane Castor made history Tuesday, becoming the first openly LGBTQ candidate elected Mayor of a major southeastern U.S. city and continuing a mini-wave for out mayoral candidates winning big in metros throughout the country," USA Today wrote.
MSNBC said she "crushed" her opponent, incorrectly referring to David Straz as a Republican, and noted she did it with about a fifth of the funding. Straz raised more than $5 million, most of that from his own wallet.
CNN's headline touted the fact that "four years ago same-sex couples couldn't get married in Tampa" yet the city elected a lesbian Mayor.
Castor became the third out candidate to win a mayoral election in the United States this year and she's the first openly gay Mayor of a major Florida city.
The barrage of national media coverage this week paints Castor as the Democratic Party's rising star. They showered her campaign with praise for surviving an onslaught of negative ads targeting her track record as the city's former top cop.
In the MSNBC interview, shots of Tampa's downtown skyline and neighboring parks played on a loop.
Democratic National Committee Chair Tom Perez also weighed in.
"Castor inspired voters by showing her dedication to Democratic values and the issues that matter most to working families," he wrote in a statement.
Other national figures offered their kudos as well, including Democratic Presidential candidates Cory Booker and Pete Buttigieg. 
New York Mayor Bill de Blasio called Castor to congratulate her on election night. As did Florida Gov. Ron DeSantis, Miami Mayor Francis Suarez and Reps. Chris Sprowls and Jamie Grant.
She even got a shout out from Rosie O'Donnell, who congratulated Castor in one tweet and Tampa in the other.
"You did it Tampa," O'Donnell wrote in a retweet of Castor's election night win announcement.
It's the kind of spotlight Castor's predecessor, Bob Buckhorn, frequently sought. He presided as the city's Mayor for the 2012 Republican National Convention, a Super Bowl, the College Football national championships, Stanley Cup playoffs and the NCAA women's Final Four, among other high-profile events.
Yet Castor captured that stage less than 24 hours after being elected.
YOU DID IT TAMPA https://t.co/YJRaredEyi

— ROSIE (@Rosie) April 24, 2019