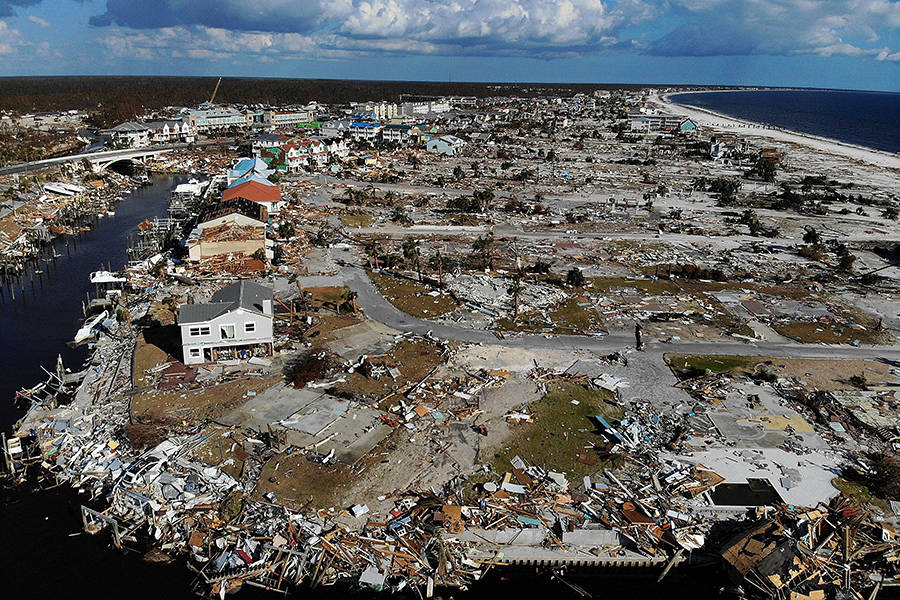 Money goes to Bay, Gulf counties to help with Hurricane Michael impact.
Triumph Gulf Coast distributed $15 million for property tax relief in Bay and Gulf counties. The money comes from the organization's Hurricane Michael Major Disaster Relief Fund.
The funding will help make up shortfalls for county and municipal governments and school boards. After the Category 5 storm made landfall in October, tax collections plummeted in the counties.
"I watched as Hurricane Michael destroyed much of my community, and as soon as it had passed, I helped my friends and neighbors pick up the pieces," said Jason Shoaf, a Triumph board member from Port St. Joe.
"This investment can go a long way to help the families of North Florida at a time when they need it the most. Now, it is incumbent upon the cities and counties to be judicious and responsible in utilizing these funds so they can bring maximum benefit to these devastated communities."
Triumph on Tuesday paid out $10,728,316 to Bay County and $4,271,683 to Gulf County. The funding comes with certain restrictions prohibiting spending on property purchases and special projects.
Bay County announced the following distribution for its funding:
— Retain by the County for General Fund: $3,082,615
— Disburse to MSTU-Fire: $248,597
— Disburse to Mosquito Control: $151,524
— Bay District Schools RLE: $3,269,064
— Bay District School Discretionary: $1,631,330
— City of Panama City: $1,216,659
— City of Mexico Beach: $523,580
— City of Springfield: $87,990
— City of Callaway: $130,038
— City of Lynn Haven: $386,915
In Gulf County, the money will be divvied as so:
— Retain by the County for General Fund: $2,168,232
— Gulf County School District: $2,001,455
— City of Port St. Joe: $88,146
– City of Wewahitchka: $13,847
"I am grateful Triumph Gulf Coast has provided critical funding to our area that was so badly devastated by Hurricane Michael," said Triumph board member Ben Lee of Lynn Haven.
"The impact of what these funds are doing to help sustain our communities and help our residents is a great first step towards progress for our area. We are also looking to Washington to further assist us with our rebuilding efforts. Together, we will come back more united, stronger and better."
Shoaf, though, stressed the federal government needs to move quickly and release federal disaster dollars.
"We cannot do this alone," he said. "We need the support from our state and federal partners. I am proud to be a part of Triumph Gulf Coast, and I am thrilled that we're injecting $15 million to support the cities and counties impacted most by Hurricane Michael."
Shoaf, a Republican nominee in a special House election, came under fire from a Republican opponent this year for staying on the Triumph board while seeking office.
Triumph Gulf Coast is a nonprofit corporation organized to oversee the expenditure of 75 percent of all funds recovered by the Florida Attorney General for economic damages to the state that resulted from the 2010 Deepwater Horizon oil spill.
In addition to Shoaf and Lee, the other Triumph board members are Lewis Bear Jr. of Gulf Breeze, Allan Bense of Panama City, Pam Dana of Destin, Don Gaetz of Seaside, and Stephen Riggs of Destin.