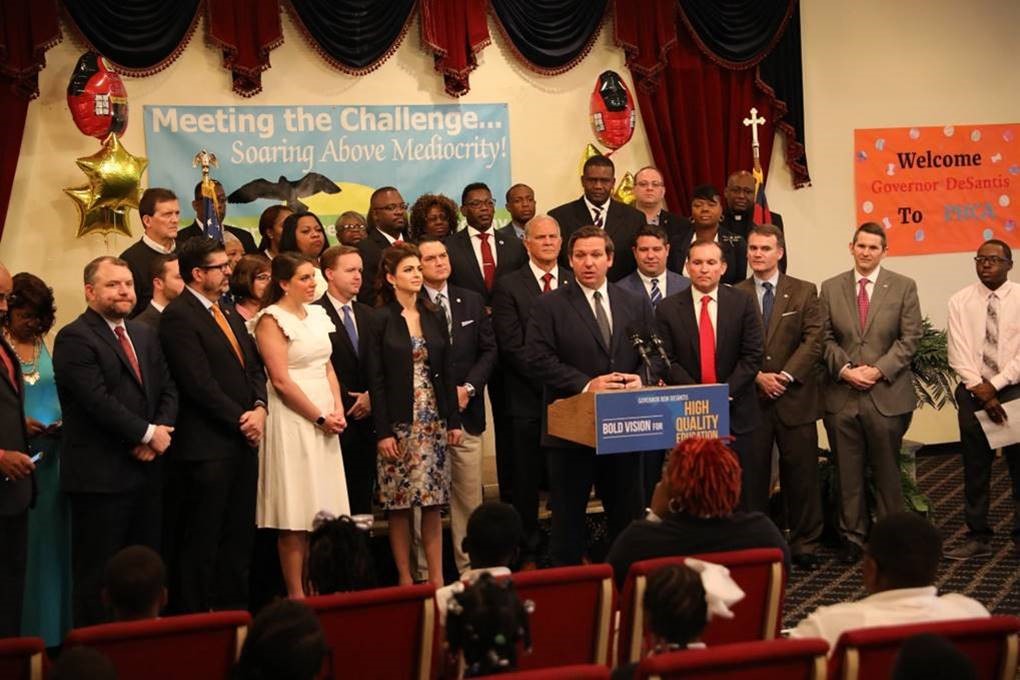 "I said I was for the bill from the beginning."
On Wednesday, Gov. Ron DeSantis signed into law a bill that opens the door to armed teachers in Florida classrooms.
SB 7030, a bill resulting from the Marjory Stoneman Douglas High School Public Safety Commission, has come to be defined by its proposal to allow sheriff-trained "teacher-guardian" instructors to carry concealed guns as they teach.
The timing of the signing was interesting, with Florida media focused on the presidential rally on the Panhandle.
On Thursday, the Governor defended the legislation in Jacksonville, saying that the description of it being an "armed teachers" bill is just "spin."
"If you think I engineered a Trump rally to distract from this bill, no," DeSantis said to laughter from a crowd of charter school students and a swath of legislators on the stage.
"I said I was for the bill from the beginning. I urged the Legislature to pass it in my State of the State. Once the Session ended, people asked me if [I was] going to sign it," DeSantis related.
"There was a mystery about whether I was going to sign it," DeSantis said. "As soon as they [gave] me the bill, I [was] going to sign it."
"We are probably going to do a public event," DeSantis added, noting it was the product of the commission assembled after the massacre in Parkland last February.
"They looked at school security," DeSantis said, looking at "problems and solutions."
"This is something that if a school district wants, they're allowed to. Nobody is forcing them to do anything," DeSantis said.
"There's more training required before you're certified to be a guardian," DeSantis added, than needed for the Jacksonville Sheriff's Office.
"We send people to Afghanistan who haven't had 100 hours of [firearms] training," the Governor continued, again stressing that arming teachers is an option for districts, nothing more.
"I look at what happened in Parkland … this guy walking up, and the adults cowered. If that person had faced resistance, then none of this, this stuff may not have happened," DeSantis added.
"If you have somebody who's trying to do harm, if they think they may meet resistance, they won't choose a school," DeSantis added.
These teachers would also be volunteer guardians and would receive 144 hours of training, including precision pistol instruction and active shooter training.
Currently, 30 of Florida's 67 school districts have decided to allow trained and armed school staff members.
"Currently, no districts have indicated to us that they are allowing classroom teachers to participate," said Cheryl Etters, a spokeswoman with the Florida Department of Education.
Other changes included in the wide-ranging bill will put $75 million into school mental health services, strengthen reporting requirements for potentially threatening incidents that happen on school premises, improve information-sharing between school districts on students with behavioral issues and continue investment in a tool that assists with school emergencies.
Arming teacher-guardians was an original proposal of the post-Parkland panel, but it was considered too innovative to get through last year before sine die.
Advocates of the legislation noted that the program is voluntary for teachers and districts alike.
Senate President Bill Galvano lauded the signing Wednesday evening, pointing out the less controversial aspects of the legislation, including school hardening and intervention efforts for at-risk students.
"I am grateful to Gov. DeSantis for signing this comprehensive school safety legislation into law," said President Galvano. "I appreciate the Governor's full support of and partnership in our ongoing effort to enhance school safety and reduce the possibility that a tragedy like the seventeen lives we lost in Parkland will ever happen again."
"By implementing the recommendations of the Commission, this legislation continues efforts to proactively enhance coordination between education, law enforcement, and community mental health resources to ensure at-risk students receive the help they need before a tragedy occurs," continued President Galvano.
"The bill also sets forth a plan to help school districts implement the security and school hardening provisions of the legislation we passed last year in an expedited manner to help prevent those who would seek to harm our children from gaining access to our schools," Galvano said.
Democrats and teachers' groups have opposed this legislation at every turn, and expectations are that many reactions will be forthcoming.
___
The News Service of Florida contributed to this post.