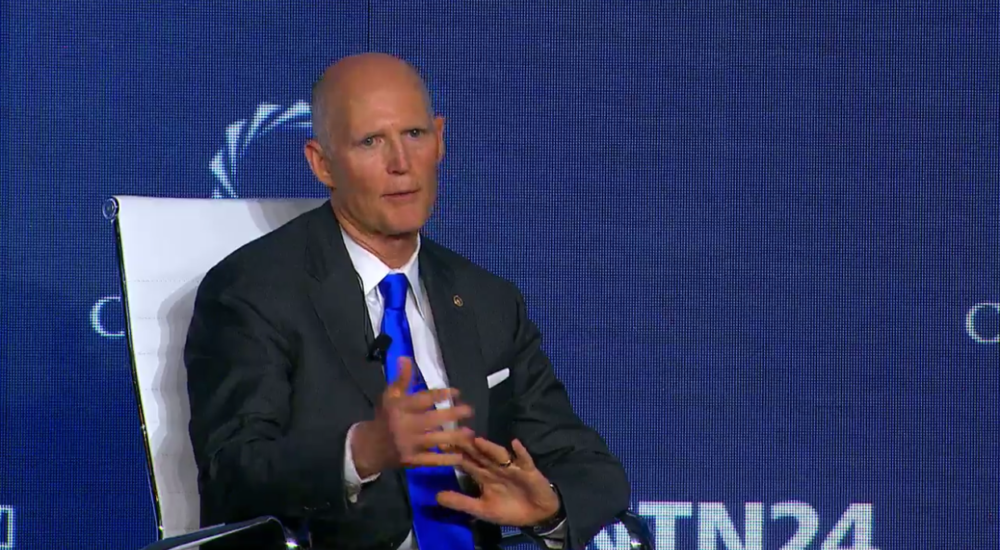 Scott is a strong backer of military intervention.
On Monday in Colombia, U.S. Sen. Rick Scott again made a case with urgency for decisive American action regarding the situation in Venezuela.
Speaking in Bogota at the Concordia Americas Summit, the Florida Republican continued to stress that the United States and its allies cannot back down from the Cuban-backed Nicolas Maduro.
Scott and Senate colleague Marco Rubio have been two of the most vocal pro-intervention voices, with Scott even saying that American involvement is necessary to avert "genocide."
Scott's tough rhetoric seems to have correlated with an increasing awareness elsewhere in the federal government that America must prepare for a showdown in South America.
An official request has been made by @jguaido & his administration to meet with @Southcom to discuss next steps to support the people of Venezuela.

The U.S. MUST defend its national security and stand with the people in their fight for freedom. https://t.co/JBiPIyROkA

— Rick Scott (@SenRickScott) May 13, 2019
"What I saw there was devastating," Scott said, noting that Venezuelan mothers and children travelled to the border just to get a meal.
"Imagine having to look your 3-year-old child or grandchild in the eyes and tell them that they're not going to eat today because there's no food," Scott said.
"Maduro is carrying out a genocide on his people, starving his people," Scott said.
"This is evil. And there's one man responsible for it – Nicolas Maduro. This is obvious to most of us. Nicolas Maduro is carrying out a genocide on his people," Scott added.
"There is no moral ambiguity," Scott said, calling China and Russia "co-conspirators" in genocide, with Iran and Cuba in support.
"Russia, China, Iran, Hezbollah and others will have a base for activity," Scott said. "The presence of our enemies will eventually destabilize every country in the region."
"We should pre-position military assets," Scott said, and "blockade Cuban ports."
Scott admitted that expectations of a civilian uprising to remove Maduro and install Juan Guaido were too ambitious in retrospect.
"The uprising a few weeks ago may not have achieved the results we hoped for in our timeframe, but that should not deter us," Scott said. "Don't blink."
Scott then added that it was "tough luck" that things didn't go as expected, but America needed to continue to "chip away."
And as far as he knows, the White House is in support.
"He's committed. He hasn't said anything to me to suggest he's not committed," Scott said of President Donald Trump.
Scott likened Maduro to apartheid South Africa, saying that both were in "pariah" status.