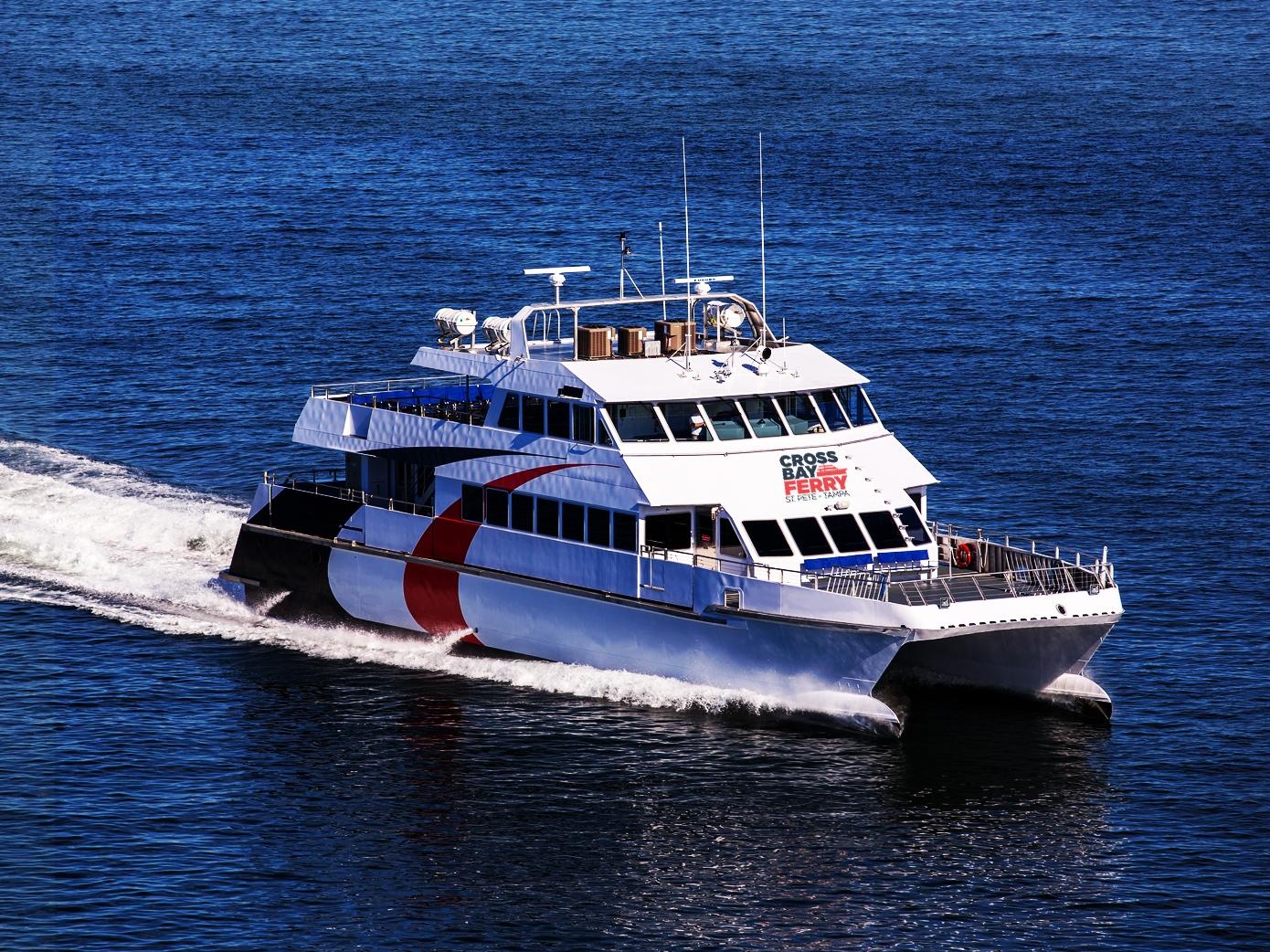 Nearly every single survey responded rated their ferry experience either excellent or very good.
HMS Ferries' season-ending customer survey found overwhelming support for continuing its Cross Bay Ferry service permanently.
The company surveyed 3,300 passengers. Of those, 72 percent said creating a permanent regional ferry system is "very important."
The survey results come just two days before the Hillsborough County Commission is set to discuss moving forward with permanent ferry service between downtown Tampa and downtown St. Petersburg and South Hillsborough County and MacDill Air Force Base at its Wednesday meeting.
The seasonal service, which concluded at the end of April, only operated evening and weekend trips between St. Pete and Tampa. The proposed permanent service would continue that schedule on an expanded basis and add commuter service for MacDill Air Force Base personnel.
"It's exciting to see affirmed what most of us already knew: that the Cross Bay Ferry is a popular way to utilize our common waterway for transportation," said St. Pete Mayor Rick Kriseman who has served as a champion for regional ferry service.
"I want to thank the Hillsborough County Commission for their consideration and thoughtful discussion of proposed ferry service in Tampa Bay."
The HMS survey also found 60 percent of the ferry users only rode it to the other city because the ferry made it more convenient to do so. Another 40 percent of riders said they used the waterborne transit instead of making a planned trip across Tampa Bay by car.
Those riders also gave a boost to local economies. Nearly three quarters of survey respondents said they spent at least $25 per person during their time in either Tampa or St. Pete. About 30 percent said they spent more than $40 per person.
Of those expenditures, 80 percent said they dined out, 37 percent went to museums, events or cultural attractions, 31 percent shopped and 20 percent attended sporting events. Both the Tampa Bay Lightning and the Tampa Bay Rays had games during the ferry's six-months of operation.
Tampa appears to have benefitted more than St. Pete with 60 percent saying they traveled there and only 40 percent taking the ferry to St. Pete.
Respondents indicated using transit and rideshare to get around once they got off the ferry with about 10 percent using bikes to get around. The ferry has limited space for riders to bring their own bikes on board and both city's offer bikeshare services in their urban core.
Some of the popular destinations riders indicated included Ybor City, Armature Works and Hyde Park Village in Tampa and Central Avenue in St. Pete.
Nearly every single survey responded, 96 percent, rated their ferry experience either excellent or very good.