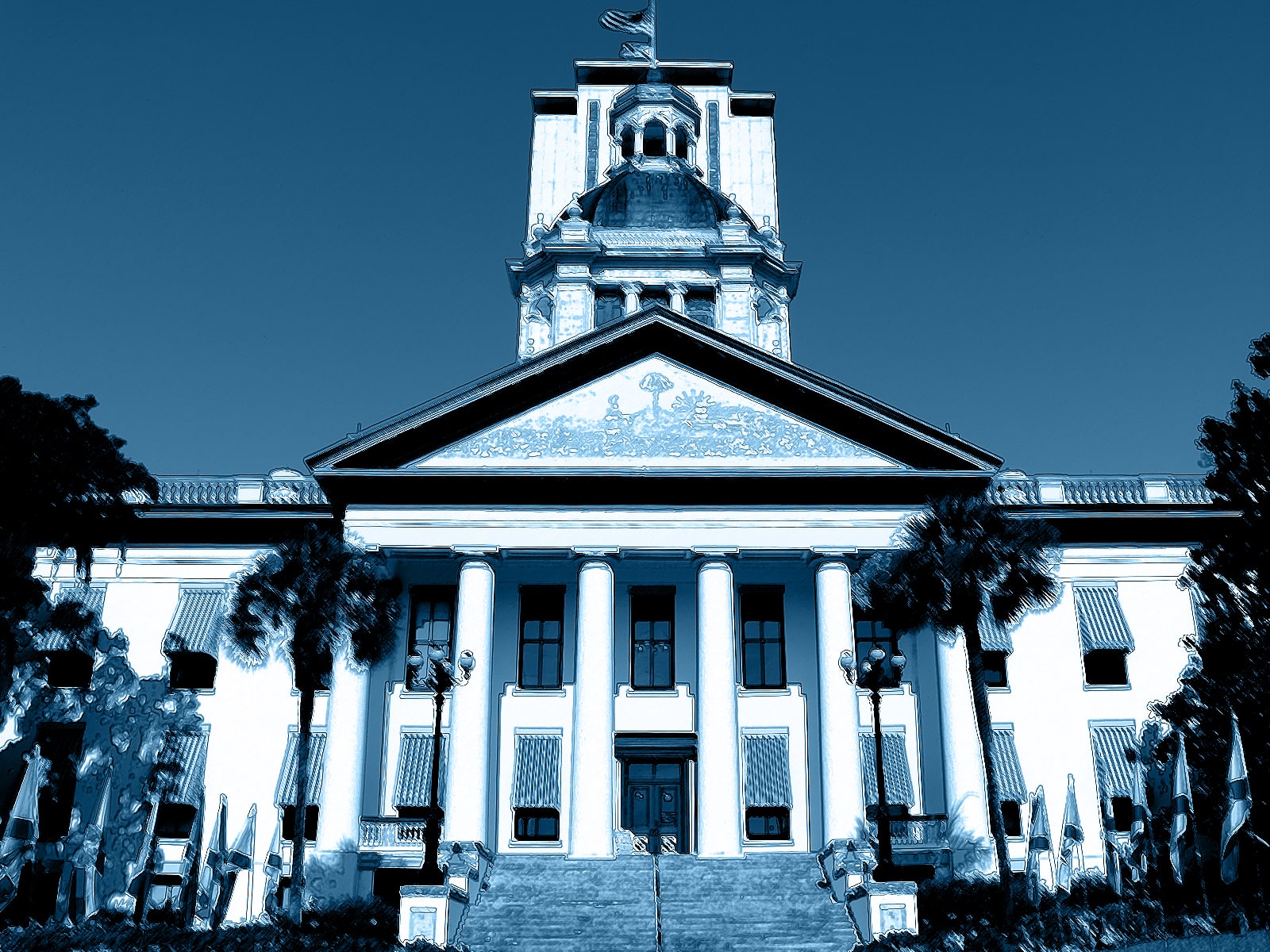 Texting while driving is universally condemned. Why is one lawmaker bothered by a ban?
Unintended consequences
There is overwhelming bipartisan support behind the texting-while-driving restrictions that Gov. Ron DeSantis signed into law Friday.
But the new law still is leaving at least one policymaker uneasy.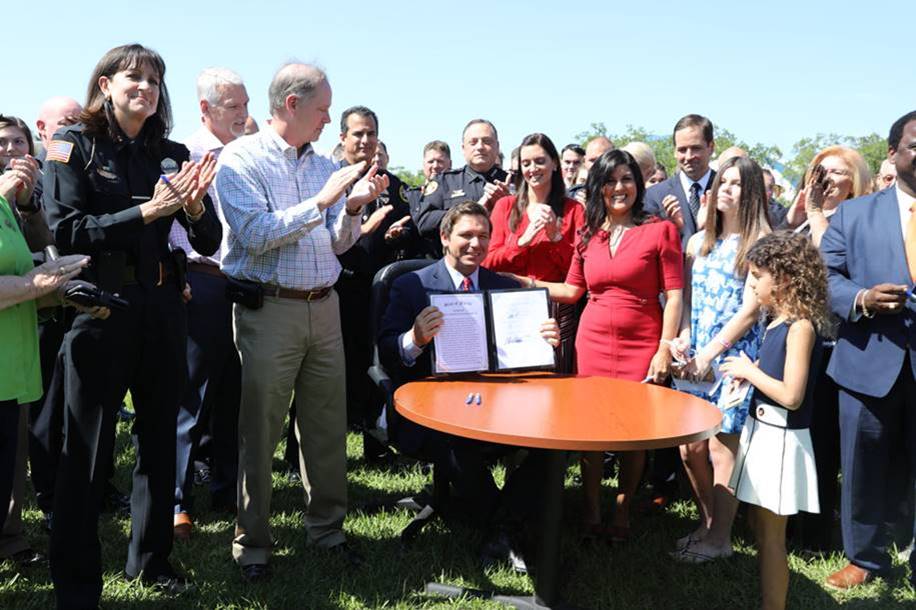 Rep. Bobby DuBose, a Fort Lauderdale Democrat, is among the handful of legislators who voted against the legislation (HB 107) during the 2019 Legislative Session, which wrapped earlier this month.
The new law, which takes effect July 1, allows cops to pull over drivers they see texting behind the wheel. Currently, drivers can only be ticketed for that infraction if they are pulled over for a different reason.
During a brief interview after DeSantis signed the legislation into law, DuBose told Takeaways that he refused to back the bill because it does not require the state to track the race of the ticketing officer.
"That was really a big part of my no-vote because of the sensitivity around racial profiling," said DuBose, an African American lawmaker who will co-lead House Democrats beginning 2020. "Regardless of what folks think, the data is real. There just happens to be too many incidents when people of color are stopped, and the results turn out not to be the same as [they would for] folks who are not of color."
The new law will require officers to record race and ethnicity data for violators, and that data will be reported to state leaders beginning next year.
But DuBose sees a need to track the same data among the cops who are ticketing drivers.
"Getting that information could help us if we see an officer with a certain pattern of behavior toward people of color," DuBose said.
DuBose was careful not to undermine the benefits of the policy, expected to reduce distracted driving. But he said he ultimately couldn't support the final bill.
"I understand the objective and the greater good, but it's the unintended consequences that really cause me to pause," DuBose said.
Coming up, the usual assortment of tidbits, leftovers and not-ready-for-prime-time moments by Danny McAuliffe, Drew Wilson, Jim Rosica and Peter Schorsch.
But first, the "Takeaway 5" — the Top 5 stories from the week that was:
Take 5
State acknowledges 2016 election hacks – The FBI recently informed Florida officials that Russian hackers successfully breached election data from two counties leading up to the 2016 election. The FBI informed state authorities that the breaches did not influence the outcome of any election. Officials, including DeSantis, could not disclose the names of the counties because of a non-disclosure agreement. But The Washington Post reported that Washington County, a small Panhandle territory, was among the two counties that were hacked. POLITICO confirmed with two sources that the other county is believed to be a "mid-sized county on the East Coast of the state." Pressure, including from bipartisan members of the Florida congressional delegation, is mounting for the FBI to disclose more information.
Federal migrant plan causes stir – Florida officials across all levels were startled by the Trump administration's plan to bring thousands of migrants to Florida from states near the U.S.-Mexico border. DeSantis, a Trump ally, hadn't known of the plan until it was reported. During a news conference Friday, DeSantis said that "not one migrant has come in." Local, state and congressional officials have said Florida does not have resources to accommodate the planned influx. Sen. Marco Rubio is actively inquiring more information from the U.S. Department of Homeland Security. Customs and Border Protection officials Friday told reporters that there are no immediate plans to bring migrants to the state.
Tax cuts become law – A tax bill estimated to cut revenues by $87 million during the next fiscal year and $73 million each year afterward is now law. Gov. DeSantis signed the measure this week. The bill boasts two tax holidays, one for disaster preparedness and another for school supplies. It also reduces the state's business rent tax by 0.2 percent. That cut alone is expected to decrease revenues by $30.8 million during the upcoming fiscal year. The seven-day disaster preparedness holiday begins May 31. The back-to-school sales tax break takes place Aug. 2 to Aug. 6.
DeSantis signs highway plan – DeSantis Friday signed into law a bill (SB 7068) that kick-starts funding for three major highway projects. Senate President Bill Galvano, a Bradenton Republican, had prioritized the legislation leading into the 2019 Session, which ended earlier in May. Money linked to the legislation would go toward plans to extend the Tampa-area Suncoast Parkway to the Florida-Georgia line, connect the northern terminus of the Florida Turnpike to the Suncoast Parkway, and construct the Southwest-Central Florida Connector between Polk and Collier counties. Task forces will soon be spawned to examine the needs for each corridor project. No construction can begin until those task forces are wrapped. Galvano, in a prepared statement, called the bill "an innovative approach to infrastructure that will enable Florida to strategically plan for future population growth, while at the same time revitalizing rural communities, protecting our unique natural resources, and enhancing public safety."
Interim committee weeks set – House and Senate leaders have announced plans for lawmakers to return to Tallahassee in September. Senate President Galvano and House Speaker José Oliva announced the dates in memos sent to lawmakers and media. The 14-member Joint Legislative Budget Commission will meet during the week of Sept. 9. The following Monday — Sept. 16 — marks the start of the first fall interim committee week ahead of the 2020 Legislative Session. About a month later, lawmakers will convene during these weeks: Oct. 14-18; Oct. 21-25; Nov. 4-8; Nov. 12-15; and Dec. 9-13.
Governor touts rosy economy
Pointing to new jobs numbers, Gov. DeSantis said Florida's economy is looking better than ever.
The positive trends include a 2.7 percent job growth rate, a 3.4 percent unemployment rate, and a growing labor force. Private companies have now added about 203,000 jobs since the New Year, including 16,000 last month.
But keeping those trends going will take work according to the new Governor.
"It is important that we continue to strive to make Florida the ideal location for new and growing businesses," DeSantis said. "We need to keep working hard as we prepare for all economic possibilities.
"We have to keep taxes low, regulations reasonable and support career and technical education to ensure Floridians are able to achieve long-term economic prosperity."
The new jobs numbers, released by the Florida Department of Economic Opportunity, are based on U.S. Bureau of Labor Statistics data.
Behavioral health group applauds First Lady
Praise from Florida's One Behavioral Health Association met Casey DeSantis shortly the First Lady unveiled the "Hope for Healing Florida" campaign.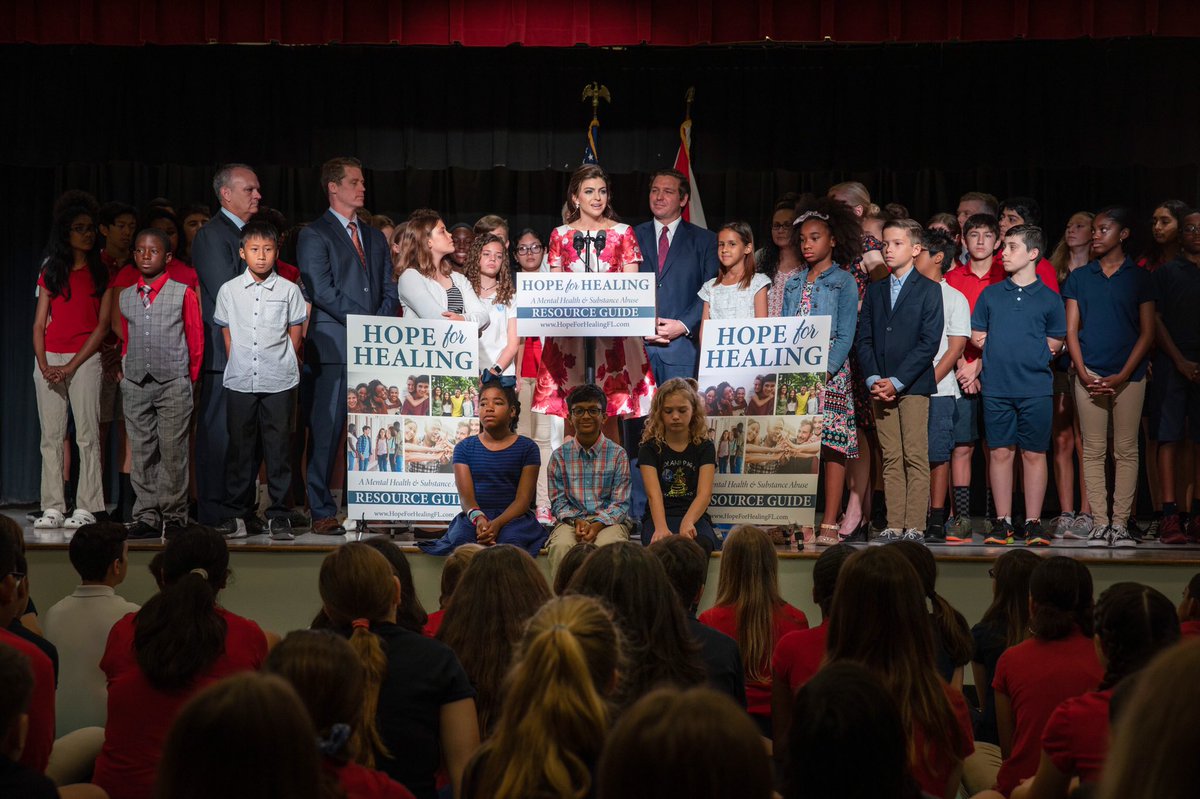 The First Lady's initiative, announced this week, is designed to help the state prevent and treat mental health illness and substance abuse.
One Behavioral Health Association President Melanie Brown–Woofter said her organization is "pleased" Casey DeSantis "recognizes the importance of quality programs for mental health and addiction."
The multi-faceted campaign includes a website that consolidates the state's mental health and substance abuse resources. It also recruits private companies to finance resources to be distributed to Floridians.
"This initiative will allow more individuals to access needed resources throughout Florida," Brown-Woofter said.
Fried to take closer look at giving
One of the state's consumer protection leaders is teaming up with a nonprofit to examine giving habits to curb sham charities.
Agriculture Commissioner Nikki Fried, whose job includes consumer protection, announced this week the new partnership with the Florida Nonprofit Alliance. Fried's agency and the Alliance will conduct the "Charitable Giving Survey" to "measure charitable giving in Florida and determine the level of awareness among donors regarding steps to take to verify the legitimacy of a charity."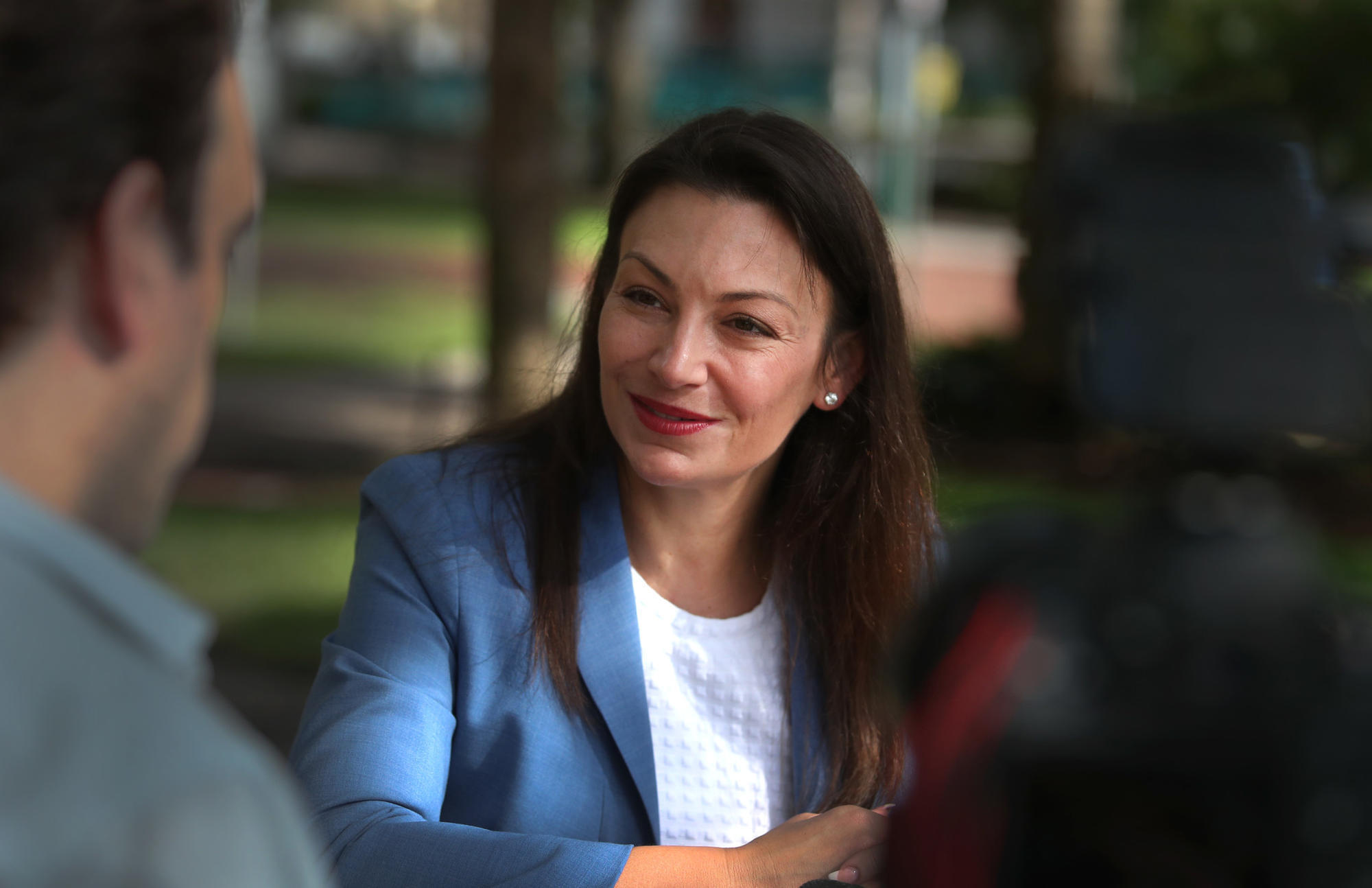 Fried, in a statement, said the effort falls under one of her "top priorities" as Commissioner: Fighting fraud.
"Bad actors taking advantage of generosity will not be tolerated – especially after terrible tragedies like Hurricanes Irma and Michael, it's crucial that when people want to help, and they donate their hard-earned income, that it goes to toward the intended purpose," Fried said.
Since she's taken office, Fried has targeted other hotbeds for fraud, like gas pumps.
Fried urges Congress to pass disaster aid
As Florida and other states affected by natural disasters last year await federal relief, Fried highlighted to members of Congress some of the issues facing the state in the wake of Hurricane Michael.
In a speech delivered to the Florida congressional delegation this week, Fried discussed extensive damage to the timber industry, increased risk of wildfire and crop loss.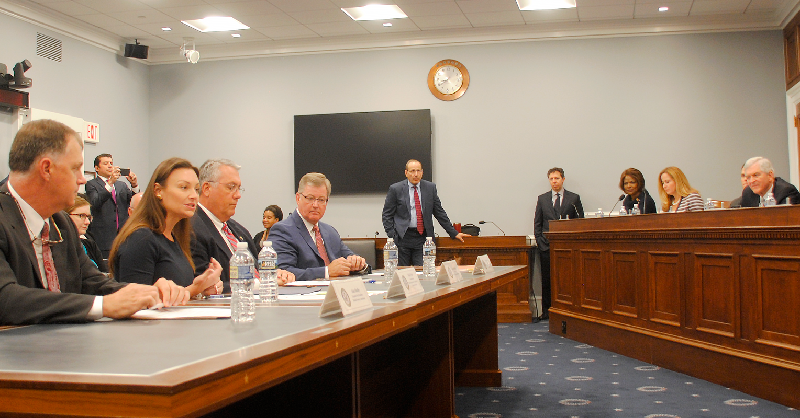 "Despite President Trump's recent announcement of additional disaster aid, we need immediate action from Congress to provide the long-term assistance our impacted communities need to rebuild, replant and recover," said Fried, the lone statewide elected Democrat in Florida.
Fried said that timber losses are affecting multi-generational investments. Chances for remedy, she said, are in flux.
"They are facing $1.3 billion in agricultural losses and 72 million tons of fallen trees across 3 million acres," Fried said. "Unfortunately, our timber producers are unable to access crop insurance, and their ability to receive crop loss assistance is unclear."
Democratic U.S. Rep. Alcee Hastings, who chaired the panel that welcomed Fried, said in a statement afterward: "As our second largest industry, and a backstop in times of economic decline, it is imperative that the Florida Delegation remain steadfast in ensuring that the Florida agriculture industry continues to be one of the strongest in the country."
Instagram of the Week
Cybersecurity cash for elections
It's no secret that county elections supervisors have some work to do.
The good news for them: Lawmakers tucked away $2.8 million in grant funding for cybersecurity improvements at elections departments. It could help counties prepare for more hacking attempts.
Leon County Supervisor of Elections Mark Earley told Takeaways that supervisors are welcoming the money.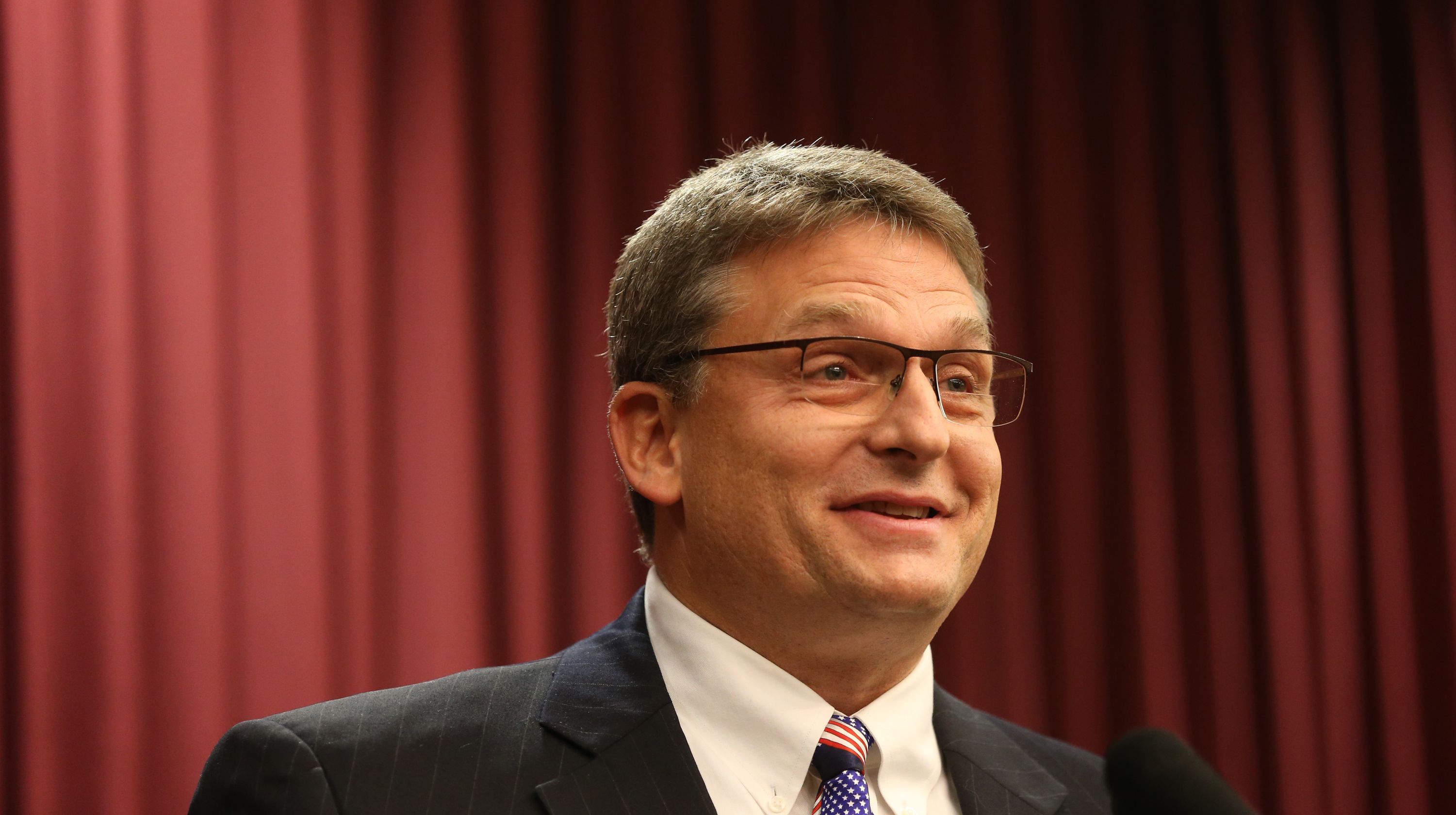 "The details as to how the money will be apportioned amongst the county election offices and for what purposes it can be used are still in flux … I expect those details will be worked out soon," Earley said.
Rejected ballots may be examined
The Florida Advisory Committee to the U.S. Commission on Civil Rights announced this week it will examine the thousands of mail-in votes rejected by the state in the 2018 election.
"The Committee will examine the rejection of absentee ballots in Florida and the alleged discrepancies between counties, paying particular attention to county responses to the legal requirement of equal treatment with other forms of voting," a news release said.
More than 6,500 ballots alone were rejected in 2018 because they were not received by Election Day.
"The right to vote is fundamental to democracy and every Floridian must have confidence that their access to the ballot is safeguarded," said Nadine Smith, Committee Chair and Executive Director of Equality Florida. "In 2001, the U.S. Commission on Civil Rights held voting rights hearings across Florida and found 'widespread voter disenfranchisement.' Now, nearly two decades later, it is time to see how our state is ensuring every vote counts and every voter can vote."
The Florida Advisory Committee is encouraging public input during its study. "A  series of community forums, public briefings and web-based meetings" will be announced, a news release said.
Sheriffs recognize productive lawmakers
The Florida Sheriffs Association (FSA) is particularly happy with the efforts of five state lawmakers during the 2019 Legislative Session.
The cop-advocacy organization this week honored Senate President Galvano, Sen. Wilton Simpson, Rep. Chris Sprowls, Rep. Paul Renner and Rep. Clay Yarborough with its "Legislative Champions" distinction.
"The Florida Sheriffs Association is honored to recognize these elected officials for their continued support and commitment to the public safety," said FSA President and Columbia County Sheriff Mark Hunter.  "We were grateful for the opportunity to work with senators and representatives so dedicated to the citizens this legislative session."
FSA celebrated the members for ushering into law the recommendations of the Marjory Stoneman Douglas Public Safety Commission. The landmark bill SB 7030, which Gov. DeSantis signed into law earlier this month, included a provision that allows school districts to expand the armed guardian program to teachers.
The organization also commended the lawmakers for passing a criminal justice reform bill "that ensures offenders have a better pathway toward rehabilitation (without losing ground on the best practices that have caused Florida's crime rate to reach a 47-year low)," an FSA news release said.
Twenty other House and Senate lawmakers were honored with FSA's "Friend of the Sheriff" recognition.
Home rule advocates honor Hart
The Florida League of Cities is welcoming Democratic Rep. Dianne Hart to its Legislative Awards Dinner Saturday to honor the Tampa lawmaker for her local advocacy during the last Session.
Hart will take home the "Legislative Appreciation Award" for consistently fighting for home rule or local government control.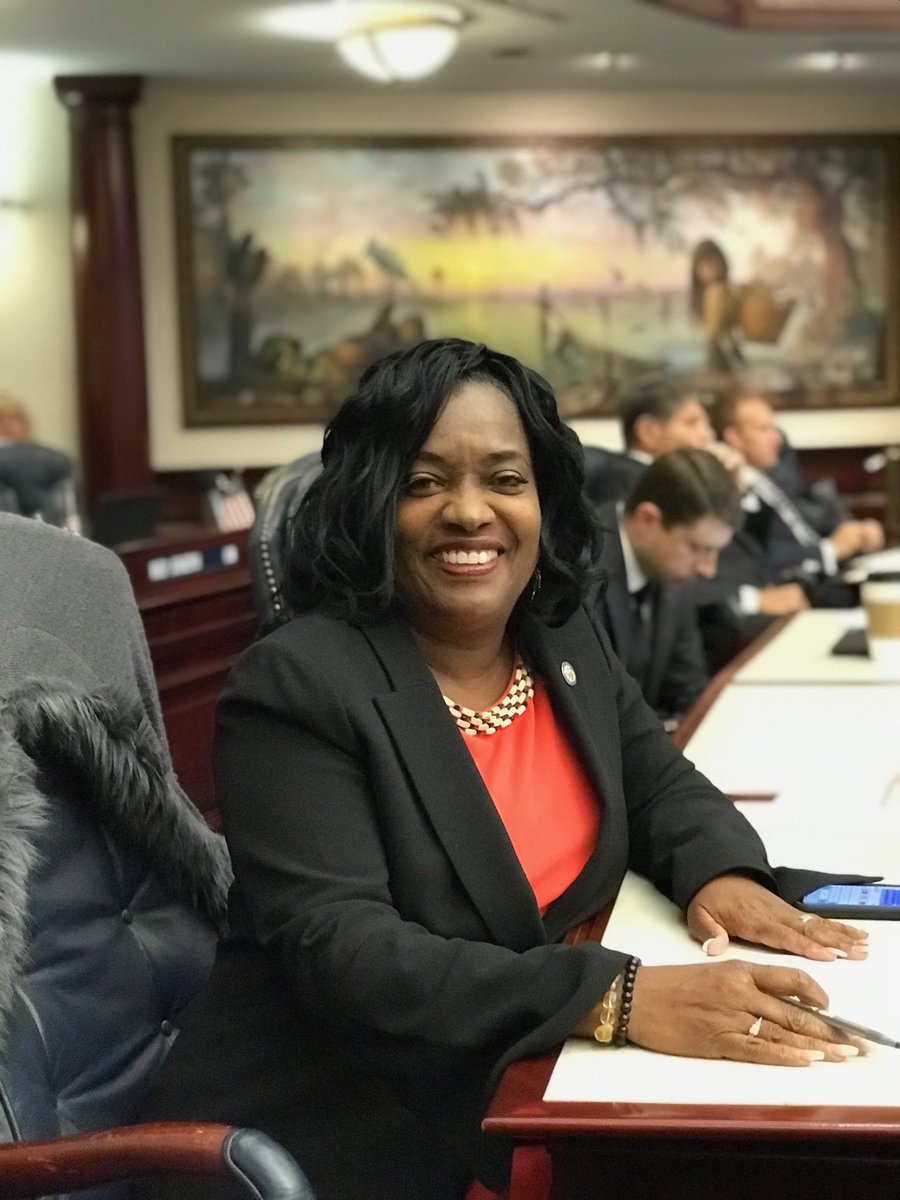 In recent years, home rule advocates have fought others in the Legislature seeking to pre-empt certain local powers to the state. The League prioritizes this issue each Session.
"Tallahassee should not be in the business of taking away local control from the very people who know what's best for their cities," Hart said in a statement. "That's why, now more than ever, it's important to have leadership that respects and protects home rule."
A news release from Hart's office noted that Hart opposed legislation that "would prohibit municipalities from requiring the creation of affordable housing units and capping prices in new developments."
Conservation Voters talk coastline resilience
About $5.6 million in the spending plan passed by lawmakers this year could be on its way to local communities looking to shore up coastlines and mitigate jumps in sea levels.
The budget item, which still needs to survive Gov. DeSantis' veto pen, "will provide more communities with funding for planning and implementation of projects to mitigate sea-level rise and flooding," said Aliki Moncrief, executive director of Florida Conservation Voters.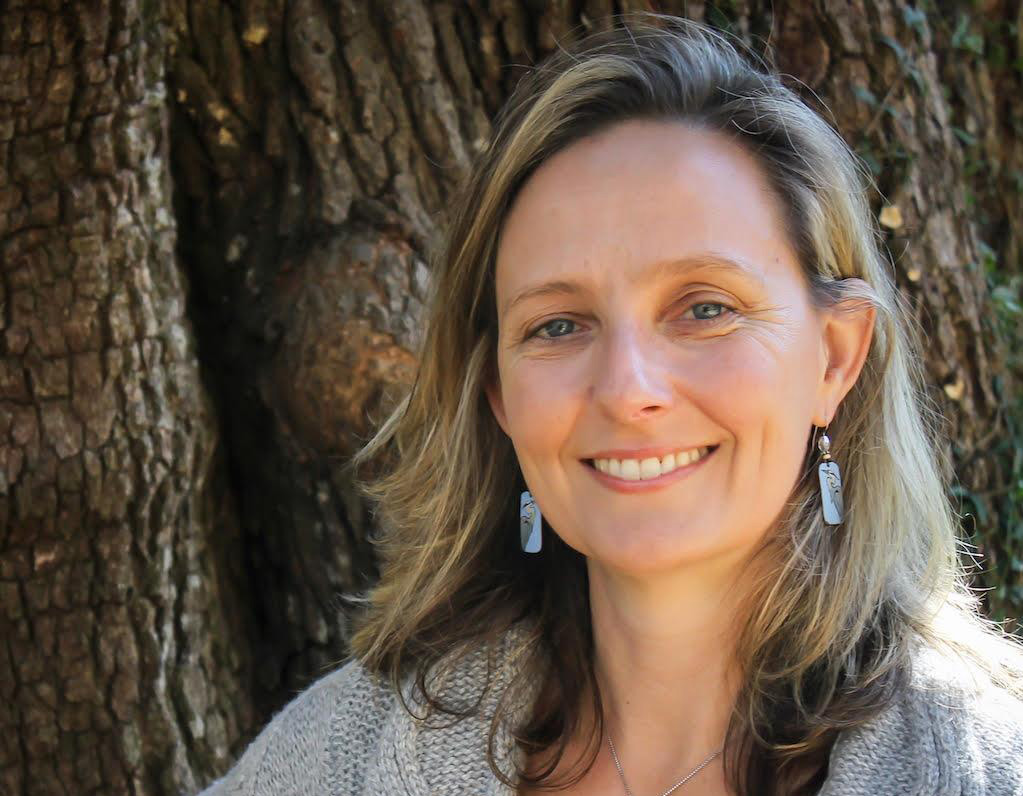 Moncrief called the Florida Resilient Coastline Initiative a "good program."
But more needs to be done on the prevention side of things, she suggested.
"We are facing an environmental, health, and economic crisis of epic proportions, and we need comprehensive action on climate," Moncrief said. "So far, we have heard nothing about cutting greenhouse gas pollution from either the Legislature or the DeSantis administration."
Realtors praise business rent tax cut
A measure tucked into this year's tax cut package could make it easier on businesses that rent property in the Sunshine State.
Florida Realtors, a trade association, recently cheered the tax bill for the  0.2 percent reduction in the business rent tax (BRT). Gov. DeSantis signed the bill into law this week.
"Every single day, businesses both in and outside of Florida must face tough decisions due to the business rent tax, a tax no other state levies," says 2019 Florida Realtors President Eric Sain, a Realtor and district sales manager with Illustrated Properties in Palm Beach. "Thank you to Governor DeSantis and our Legislature for the third-straight cut to this tax."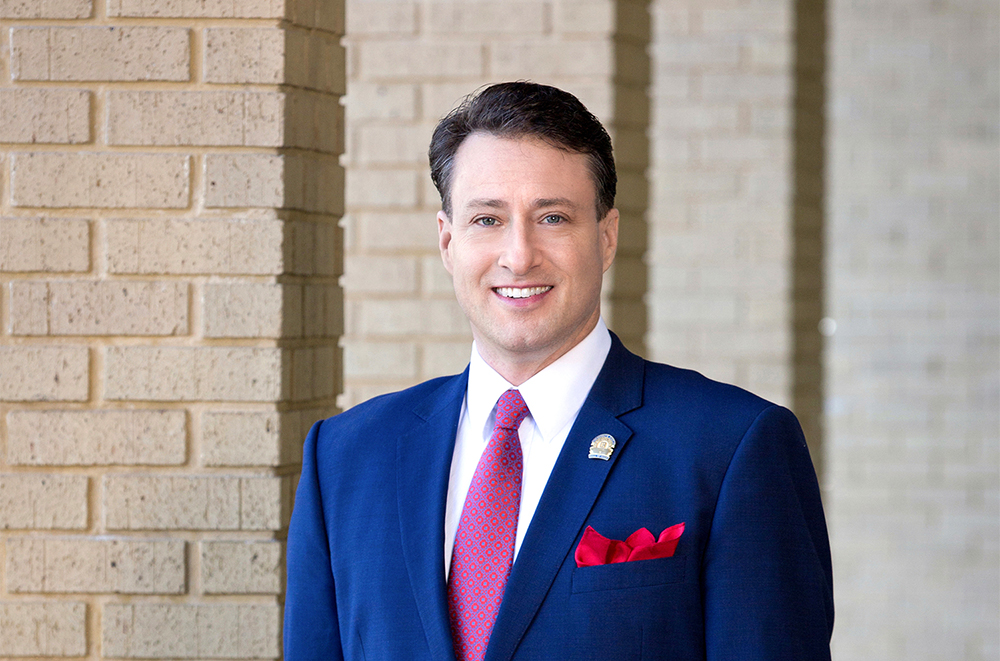 The tax, to drop from 5.7 percent to 5.5 percent beginning January, is often identified as a burden on businesses and a barrier to attracting enterprise to Florida.
An analysis accompanying the legislation said the cut could have a $95.3 million impact. The analysis also said Florida is the only state to have a BRT.
Amendment 4 bill 'disproportionately affects' African Americans
A new analysis from the Brennan Center for Justice at New York University suggests felon-voting legislation passed this year by Florida lawmakers will affect black Floridians the most.
"There can be no mistaking the racial and class implications of this regressive new legislation," wrote Kevin Morris, a Brennan Center for Justice researcher.
Voters in 2018 passed Amendment 4 with 65 percent support, restoring voting rights to felons who've completed their sentences. The Legislature earlier this month approved a bill that would require such felons to also pay restitution, court fees, and fines before getting their voting rights back.
The analysis found that more than 44 percent of newly registered felons since Jan. 8, when the amendment took effect, were black.
The study adds: "We found that formerly incarcerated Floridians who registered to vote in the first quarter of 2019 tended to be much lower income, have less college education, and come from neighborhoods with higher unemployment than the rest of the state's voters. In fact, the average income for a formerly incarcerated, newly registered Floridian is nearly $15,000 below the statewide average."
Builders honor 'Legislators of the Year'
The commercial construction industry is very happy with a handful of Florida legislators.
Associated Builders and Contractors (ABC) this week announced the winners of its 2019 Legislative Award during a board meeting in Orlando. The group, which boasts more than 2,000 member companies and five chapters across the state, is considered the "Voice of Commercial Construction" in Tallahassee.
The Legislator of the Year Award went to Sens. Keith Perry and Ed Hooper. On the House side, Reps. Jayer Williamson and Alex Andrade received the distinction.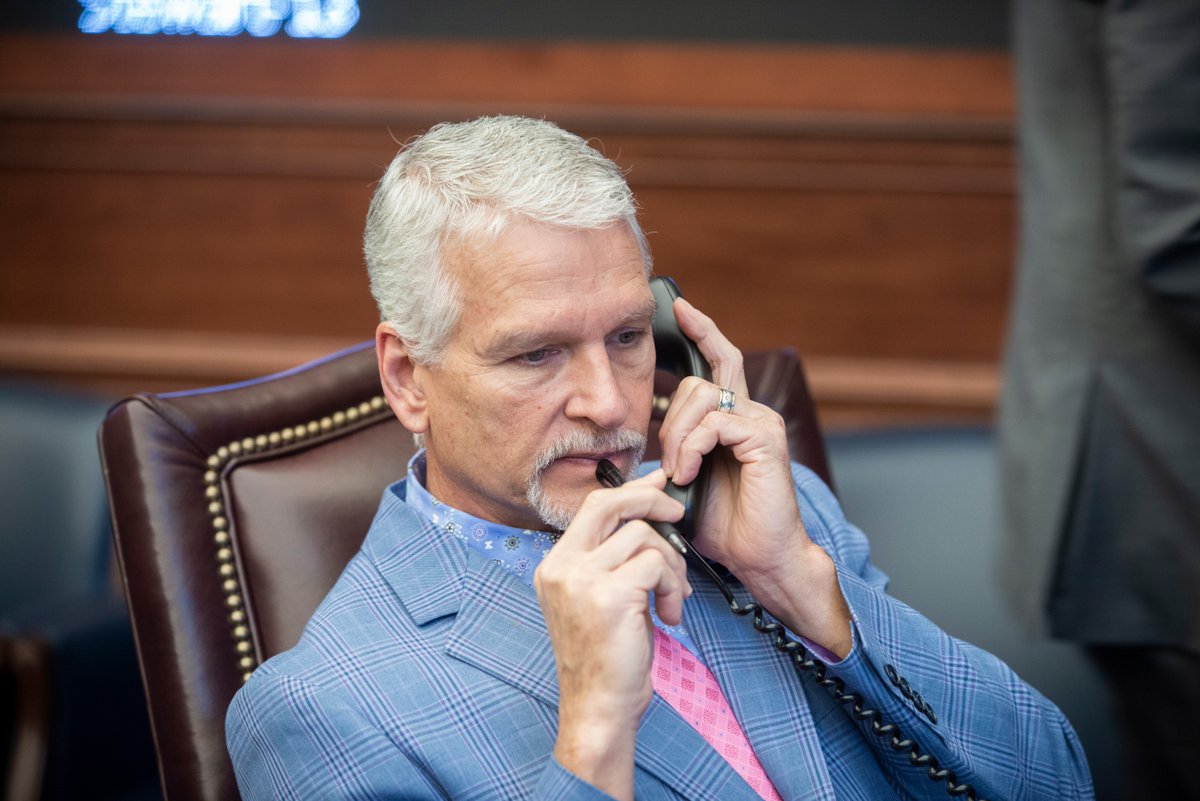 "We are grateful to our Champions in the Legislature for their continued belief in our core values and in the important role that the Commercial Construction Industry plays in Florida," said Carol Bowen, chief lobbyist for ABC of Florida. "We look forward to continuing to work with them in the future."
ABC also honored legislators who championed workforce training in the education sphere. Among the recipients: Sens. Manny Diaz, Travis Hutson, Kelli Stargel and Keith Perry; and Reps. Jennifer Sullivan, Amber Mariano, Ralph Massullo and Byron Donalds.
Chamber straight talk on toll roads
The Florida Chamber is cheering a plan to build or expand three highways through rural parts of the state, which DeSantis signed into law this week.
The business-advocacy organization heralded the plans as "smart growth." Meanwhile, Chamber President and CEO Mark Wilson said that some interests will never get behind such ideas — an acknowledgment of the staunch opposition the bill received from environmentalists.
"I understand there are some that will always oppose smart growth and opportunities, believing that a thriving economy cannot coexist with responsible environmentalism or that our roadways are already adequate for the future," Wilson said.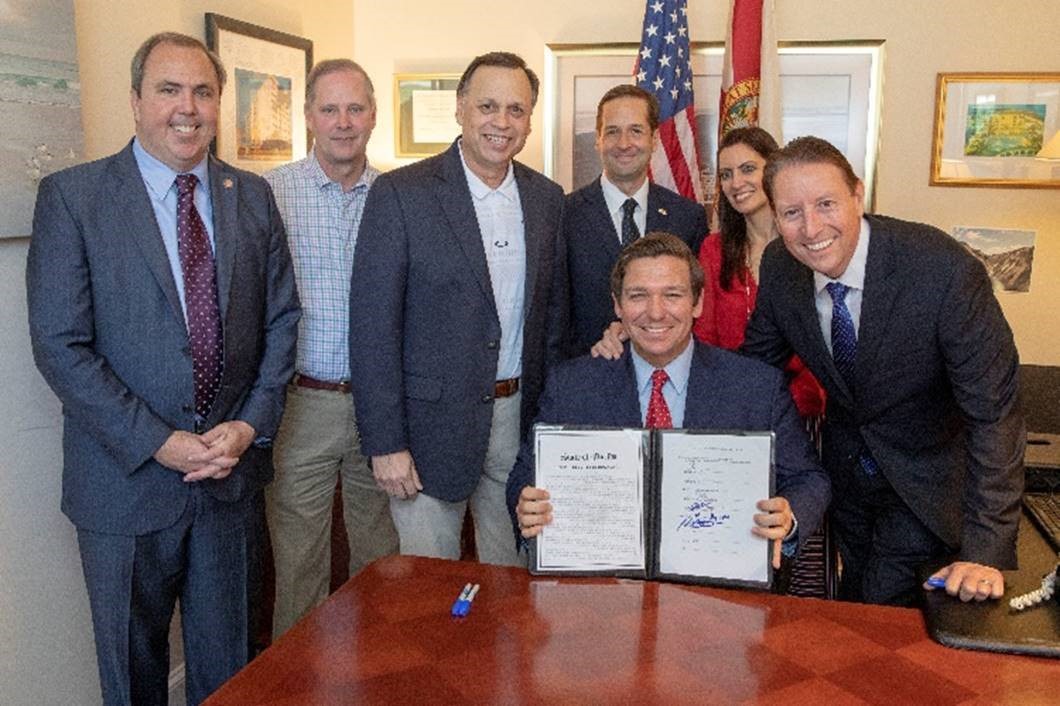 The Florida Chamber Foundation estimates that 4.5 million new residents will move to the state by 2030 when the projects are expected to be completed. As well, the Chamber said the proposed corridors would help cater to one of Florida's premier markets: Tourism.
"Thankfully, Governor DeSantis and the Florida Legislature recognized that Florida will have another 3 million new drivers on our roadways by 2030 and that we need to plan smart and work fast to keep up with Florida's growth or risk becoming like California," Wilson said.
U.S. Attorney honors local fallen officers
Lawrence Keefe, U.S. Attorney for the Northern District of Florida, this week encouraged Floridians to remember police officers killed in the line of duty.
Localizing his message on National Peace Officers Memorial Day as part of National Police Week, Keefe noted that two cops in North Florida were killed last year: Gilchrist County Sheriff's Deputy Taylor Lindsey and Sgt. Noel Ramirez; both were murdered at a Trenton restaurant during a meal break in April 2018.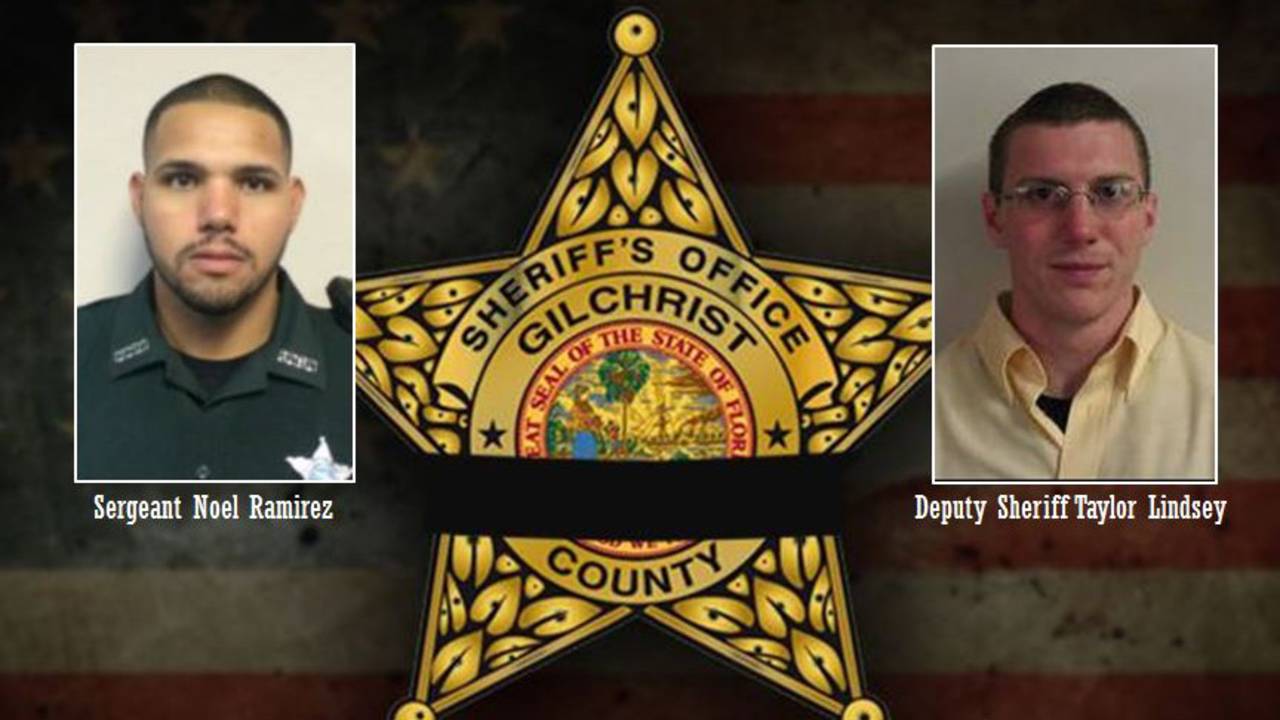 "These brave men and women at all levels of government often face uncertain and dangerous situations without question and without expectation of thanks – but it is important that each of us use this week to show our gratitude for their courage and commitment to serving our communities," Keefe said.
Leading up to May 15, National Peace Officers Memorial Day, Lindsey and Ramirez' names were added to the National Law Enforcement Officers Memorial in Washington, D.C.
Capitol Directions