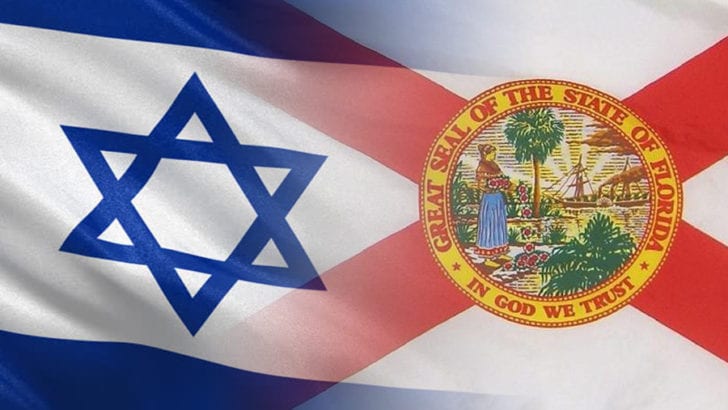 A meeting is now set with Israel's Prime Minister.
Gov. Ron DeSantis will lead a 90-person delegation to Israel beginning this weekend.
The Florida Cabinet will all be on hand, as well as lawmakers and a large swath of civic and business leaders for a packed itinerary that begins May 26 in Tel Aviv, with a meet and greet with the Florida Delegation.
Tel Aviv is the stage for May 27's happenings, which include business meetings with Israeli officials and signings of Memoranda of Understanding. Monday's schedule ends with a Tourism Networking Reception hosted by VISIT FLORIDA.
May 28 offers more action in Tel Aviv.
The morning will see an award ceremony with the Israeli Innovation Authority, followed by a networking lunch with business leaders and a roundtable discussion of issues impacting Florida.
May 29 sees some happenings in both Tel Aviv and Jerusalem.
The Governor will keynote the 2019 Israel-America Business Summit in the morning. The afternoon will feature a meeting of the Florida Cabinet at the American Embassy in Jerusalem.
The Cabinet meeting includes a resolution affirming ties between Israel and Florida. DeSantis also will be signing legislation opposing anti-Semitism in Florida public schools, he said.
HB 741 aims to prohibit anti-Semitic speech and behavior in Florida's public schools, colleges, and universities. It was approved 114-0 in the Florida House and 40-0 in the Florida Senate,
"We'll do that in Jerusalem at the embassy, and it's going to be a special moment," DeSantis said Wednesday in Jacksonville.
On May 30, the Delegation will tour the Old City of Jerusalem, then a meeting is slated with Israeli Prime Minister Benjamin Netanyahu.
A final dinner will occur that evening, and the Florida Delegation returns Friday, May 31.
Beyond the splashy photo-op style events, much of the important business will be done behind the scenes.
"We have a lot of researchers from universities," DeSantis said, "who will be meeting with Israeli researchers for things like water quality and water infrastructure. Israel does that better than anybody."