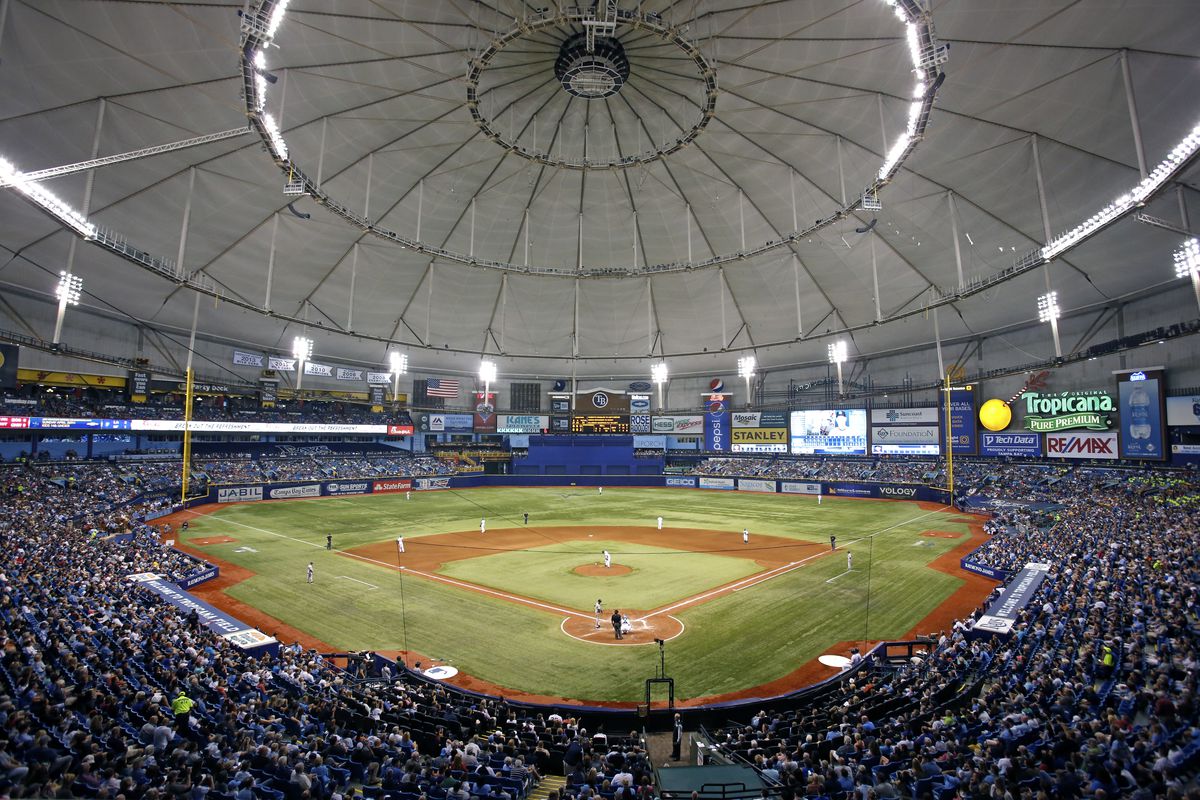 The Tampa vs. St. Pete tug-of-war continues over a new ballpark.
Hillsborough County didn't appear to come close to luring the Tampa Bay Rays over to Ybor City during a three-year negotiating window, but it isn't stopping Tampa's biggest stadium cheerleader, County Commissioner Ken Hagan, from launching bombs across the bay.
"I think it's incumbent on St. Pete and for Mayor (Rick) Kriseman to stop being shortsighted to see the big picture," Hagan told WTVT on Wednesday, suggesting St. Pete should grant the team another negotiating window with Tampa.
Kriseman responded in kind on Twitter, "#FloridaMan suffers short-term memory loss, forgets St. Pete's regional approach and the 3 years he had to find a stadium solution."
The Tampa vs. St. Pete tug-of-war continues — and the Rays are likely delighted. Because if the team really wants that hugely-subsidized stadium in Tampa Bay, it doesn't hurt to have two parties competing (and bidding) against each other.
So why do Tampa and St. Pete keep bickering instead of working together on a multi-regional funding approach, as other MLB markets have done to keep their teams? It's a question neither Hagan nor Kriseman nor former Mayor Bob Buckhorn have ever really answered.
Hagan now ignores questions outright from certain reporters, but in his comments to friendly face Kevin O'Donnell at WTVT, continued to criticize Kriseman: "The worst thing for St. Pete, for the Tampa Bay Rays, and for Tampa/Hillsborough County is the status quo. We recognize that, the Rays recognize that, and now I think Mayor Kriseman and St. Pete needs to recognize that."
The Rays are not currently allowed to talk to Hagan or the stadium consultant still working on behalf of the Tampa Sports Authority (TSA) about a new stadium, per their contract with St. Petersburg. They need written approval and permission from St. Pete's city council to explore any replacement stadium outside city limits prior to 2027.
Kriseman, to his credit, has gone further than any other Pinellas politician in helping the Rays explore stadium sites in Tampa, sticking his neck out in 2015 to secure an amendment from city council that allowed the Rays three years to talk to Hillsborough County – talks that exposed just how little money (and appetite) there was available for a fourth publicly-subsidized stadium in Hillsborough.
Kriseman is also pretty much fed-up with the lack of progress in redeveloping the 85 highly-sought-after Tropicana Field acres in the middle of his downtown. He wants to know if the Rays are staying or going, so the city can capitalize on the hot economy before development slows.
Hagan appears to be no different.
Closely connected to Tampa's network of real estate and property developers, the commissioner has been the region's single-bigger booster of a proposed new Ybor stadium and redeveloped ballpark district.
Hagan's last three re-election campaigns have all featured promises to help get the Rays a new stadium, including a 2010 pledge not to use public funds on the project. He has since changed his tune, publicly supporting a number of different subsidies to help the Rays finance their nearly-$1 billion plan to build a park in Ybor City.
And now, he is working to get a deal done – not with his fellow county commissioners and county staff – but through his board seat on the Tampa Sports Authority (TSA), an agency seen as more stadium-friendly than the county commissioner. When contacted by a reporter last week, neither Hagan nor a TSA spokesman provided any comment.
At the end of the day, stadium squabbling only helps the Rays; it might force Hillsborough and Pinellas to work together for once on this issue; it might add fuel to the fire in a tug-of-war that could shake more money out of tight taxpayer pockets; or it might reveal how little interest there really is in Tampa Bay to fund another stadium.
Don't forget sports fans – the Bucs' lease is up in 2027 as well, and they'll undoubtedly be soon looking for your tax dollars again too. Hillsborough is stretched thin on bed tax dollars, currently paying down debt on Raymond James Stadium, Steinbrenner Field, and Amalie Arena.
So regardless if you think Hagan is wrong to treat Kriseman like an enemy instead of an ally, he's definitely right about one thing: the Rays will only be as loyal to Tampa Bay as Tampa Bay is loyal to subsidizing their next home, and keeping the team for decades to come will come with a price.