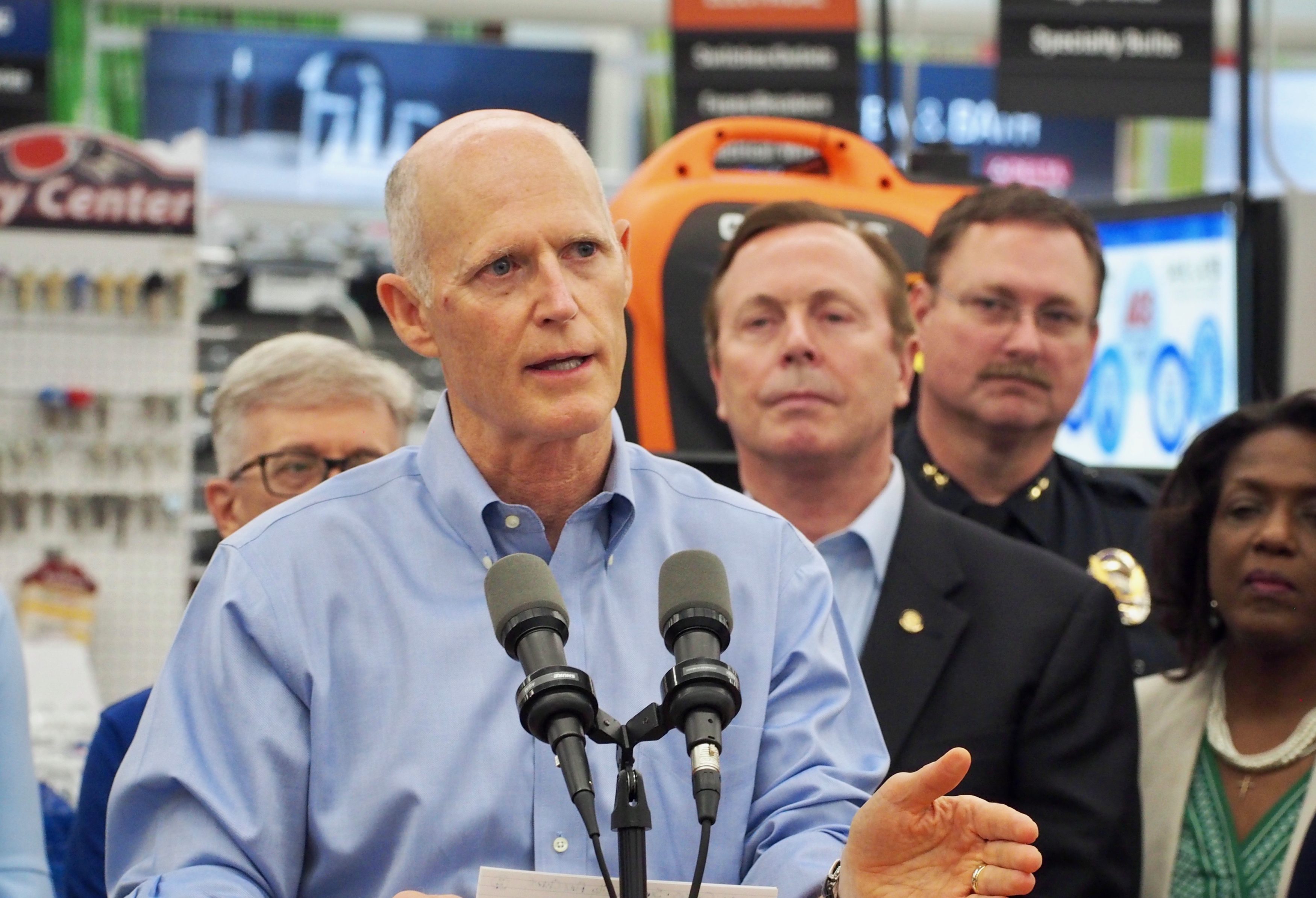 Federal disaster relief is going to need documentation.
In those hurricane preparations, don't forget to take care of Uncle Sam's needs.
That means paperwork. If Florida gets hit again this year, the federal bureaucratic response may be slow and tedious, but it'll be a lot slower and a lot more tedious if Floridians don't secure their deeds, titles, insurance policies and other documents, U.S. Sen. Rick Scott and others advised Wednesday.
At a hurricane preparedness news conference held at Toole's Ace Hardware store in Oviedo, the usual hurricane kit staples such as water, food and medicine, plus all the items that Ace sells, from batteries to portable generators, were covered. Florida's sales tax holiday on many of those items begins Saturday.
Scott also expressed confidence that the $19.1 billion federal disaster relief bill that was approved by the U.S. Senate should pass the U.S. House of Representatives in coming days, providing a long-awaited and politically stalled relief package for 2018 Hurricane Michael victims in Florida's Panhandle, and $600 million in nutrition relief for Hurricane Maria victims in Puerto Rico, still suffering from that 2017 storm. Scott pushed for both.
Yet a warning from Scott and various officials who joined him Wednesday had a different focus: If post-storm damages mean you're going to be dealing with the Federal Emergency Management Agency, the Small Business Administration, the U.S. Department of Housing and Urban Development, or other federal agencies, those dealings are fueled by documents. Don't leave home without them.
"One thing we watched with these hurricanes is you have to have your documents ready, too," Scott said. "If you're going to the SBA, if you're going to your insurance company, get your documents ready ahead of time."
Denise Cleveland-Leggett, HUD's southeast regional director, said that people's lives often are in disarray after a hurricane, and that extends and complicates the time necessary to provide help.
"Get all of your important papers. Because after, when you're in the midst of a hurricane or immediately thereafter, it's hard to find things. And every agency that you deal with, whether it's FEMA, whether it's SBA, or whether it's HUD, you will need important papers as documentation. So it's important to get all those papers together, where you can locate them in a safe place, where you can access them.
"It comes fast and furious, whether it's a loan application, or something else, it's very important to get those papers together," she added. "It's always a long process. But when you don't have the documentation, it makes it even longer."
Much of the event focused on small businesses getting prepared, making plans for recovery in advance, and doing the same as residents, gathering and securing key documents that the federal bureaucracy is going to want to examine.
"As Denise and the Senator says, it's very important for a business to have your paperwork, have your emergency plan in order so that these businesses can reopen as quickly as possible and recover as quickly as possible," said Matthew Young, an SBA public affairs specialist.