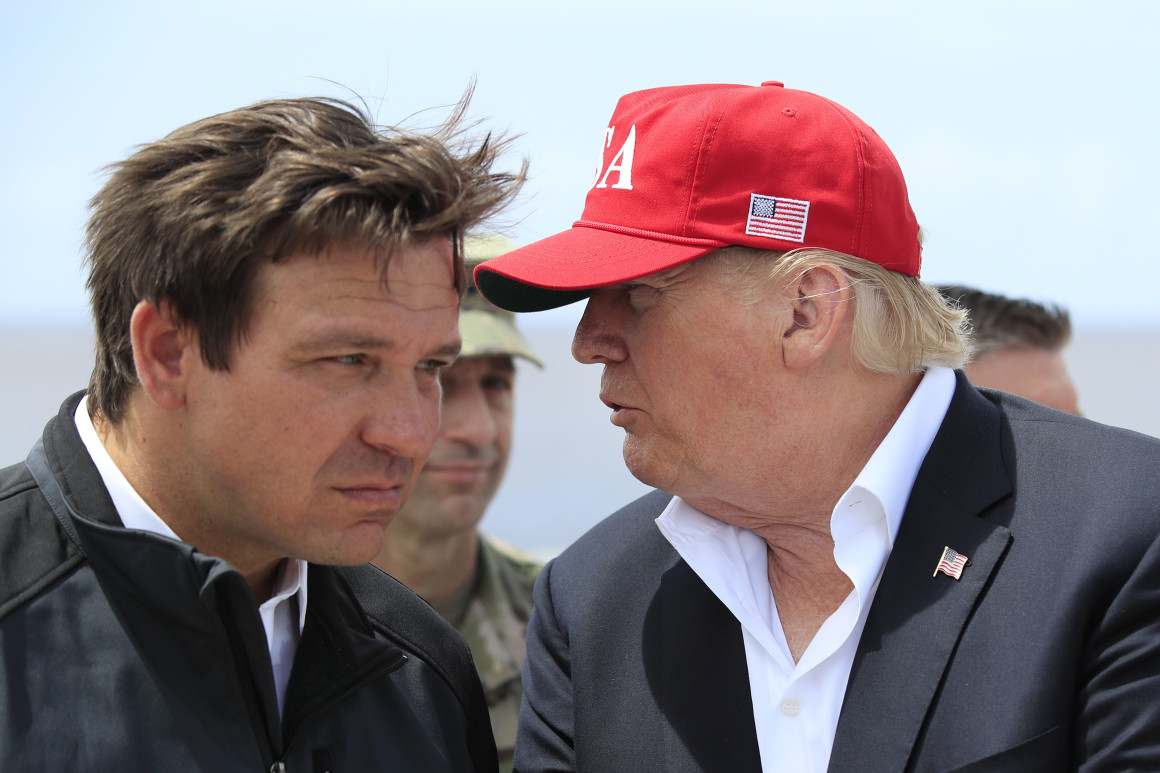 "Prosecutors are not in the business of exonerating."
CITY OF DAVID — Despite Robert Mueller issuing a statement Wednesday pointedly not exonerating President Donald Trump, Florida Gov. Ron DeSantis stands with the President.
Mueller said Wednesday that "if we had had confidence that the President clearly did not commit a crime, we would have said so."
Addressing Israeli and American press just ahead of a confab with Prime Minister Benjamin Netanyahu, DeSantis asserted that Mueller's statement actually put more pressure on House Speaker Nancy Pelosi than on the President himself.
DeSantis, who said President Trump's endorsement ahead of the 2018 primary "separated the wheat from the chaff," was not a likely candidate to break from the President at this point.
"Prosecutors are not in the business of exonerating," DeSantis said. "If there's enough evidence to charge and prosecute, you do it. If there's not, then that's the end of the story.
"I don't understand inverting the standard to say 'well, we couldn't quite exonerate.' That's not the way it works," DeSantis added. "I think Attorney General (William) Barr was correct in his analysis."
Indeed, the Department of Justice backs that interpretation.
"The Attorney General has previously stated that the Special Counsel repeatedly affirmed that he was not saying that, but for the (Office of Legal Counsel) opinion, he would have found the President obstructed justice," said Justice Department spokeswoman Kerri Kupec and special counsel spokesman Peter Carr in a statement issued Wednesday evening.
President Trump also believes the "case is closed."
DeSantis noted, meanwhile, that Pelosi faces pressure from a restive and vocal flank: "Someone like Pelosi's in a tough spot … because the activists in the party want to see impeachment. The broader public I think wants to move on from Russia and focus on some of the things that matter.
"They're going to have to make that decision about which way they go," DeSantis predicted. "I don't think there's any chance that (impeachment) would succeed in the United States Senate."
DeSantis then pivoted to a partisan tack: "Pelosi fumbled the disaster bill. She couldn't even get that through the House. That should have been done two months ago.
"They're not really doing anything that I can see to benefit the American people and I think that's the problem, so I would say focus on substance and move on from this," the Governor said. "But I don't think they will. They're going to continue to do this, and I think that there will be a lot of investigations."
When asked if there was "collusion" with Russian agents, a charge of many Trump critics that Mueller pointedly declined to refute, DeSantis said "of course there was no collusion."
"Even the Democrats aren't pursuing collusion," DeSantis said. "What they're saying is that there was an obstruction of the collusion investigation by firing Comey.
"I don't buy that, but that's their argument," the Governor continued. "No one at this point is even saying there is any collusion."