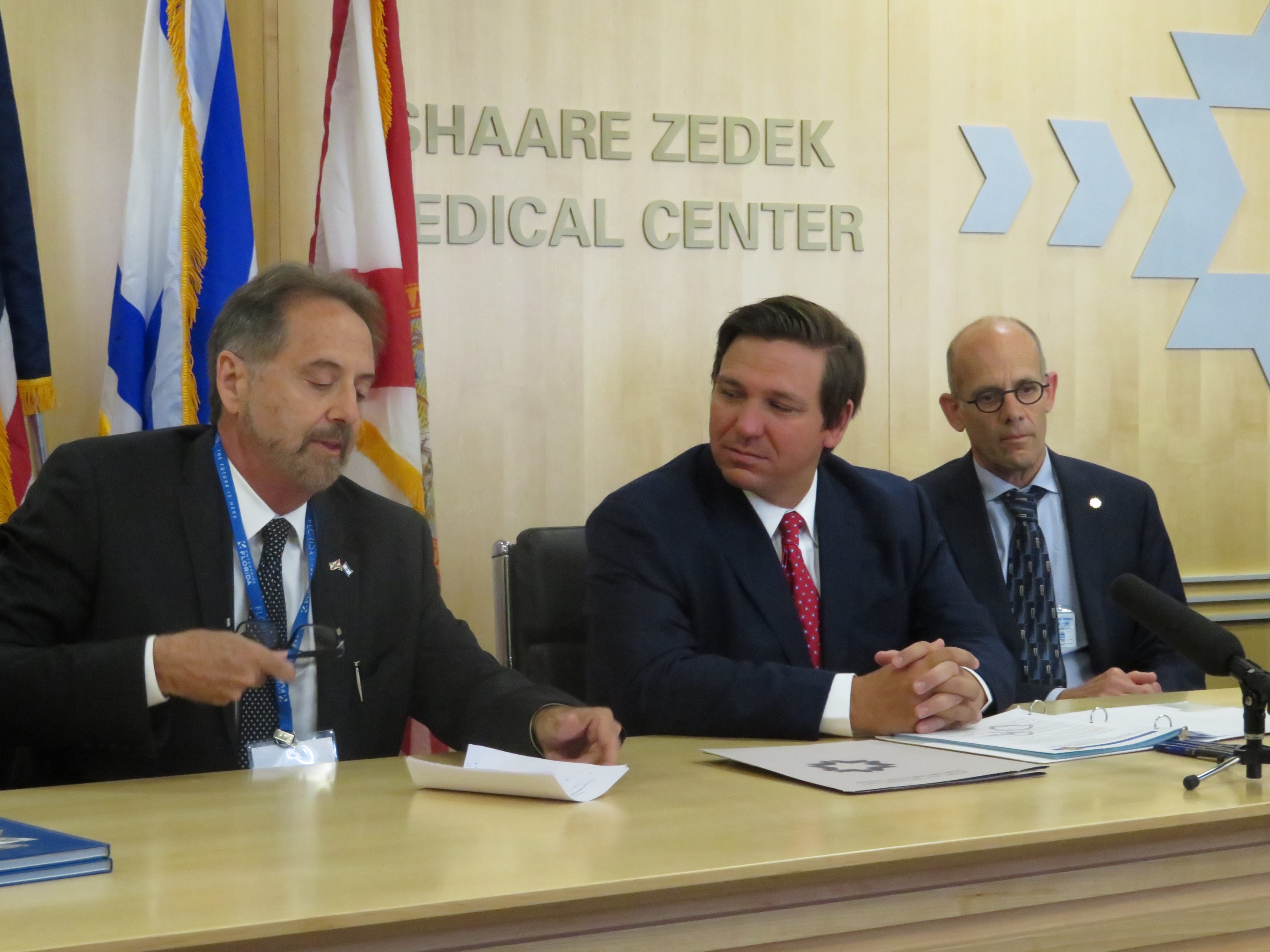 Another MOU between a Florida and Israel institution.
JERUSALEM — The final day of Florida's trade delegation to Israel saw yet another memorandum of understanding between an Israeli university and a Florida one.
The University of Miami and Hebrew University agreed to terms on a memorandum of understanding (MOU) to share best practices and research techniques.
The meeting was at the Shaare Zedek Medical Center, a safety-net hospital (not unlike Jackson Memorial) that serves Israelis and Palestinians.
Shaare Zedek describes itself as "the largest multi-disciplinary medical center in Jerusalem, offering advanced services in most specialties. With a constant commitment to improve and provide our patients with the best possible care, the 1000-bed facility treats hundreds of thousands of patients per year in its 30 departments and 70 out-patient clinics."
The center has trained 80-90% of trauma surgeons in Israel, and speakers stressed the importance of the hospital. Gov. Ron DeSantis thanked all parties on hand: "I'm really proud of the university system."
He lauded UM and Jackson's collaboration on trauma care, and hoped both sides would benefit. Previously, there had been other MOUs between Israeli and Florida peer institutions.
There had been an MOU signing between Florida Atlantic University (FAU) and the Agricultural Research Organization – Volcani Center, for advanced technology development in agriculture, allowing better AI, data analytics, and communication. Tel Aviv University agreed to eight MOUs as well.
FAU and Tel Aviv University will collaborate on neuroscience research, including molecular genetics studies.
With the University of Central Florida, TAU will work on blockchain technology, which Gov. DeSantis said could apply to property records.
Florida Gulf Coast University (FGCU) and Tel Aviv University will work on faculty research and scholarship plans of mutual interest. Florida Institute of Technology and Tel Aviv University will pursue faculty and student exchanges. Miami-Dade College has a similarly aspirational MOU, as does St. Leo University.