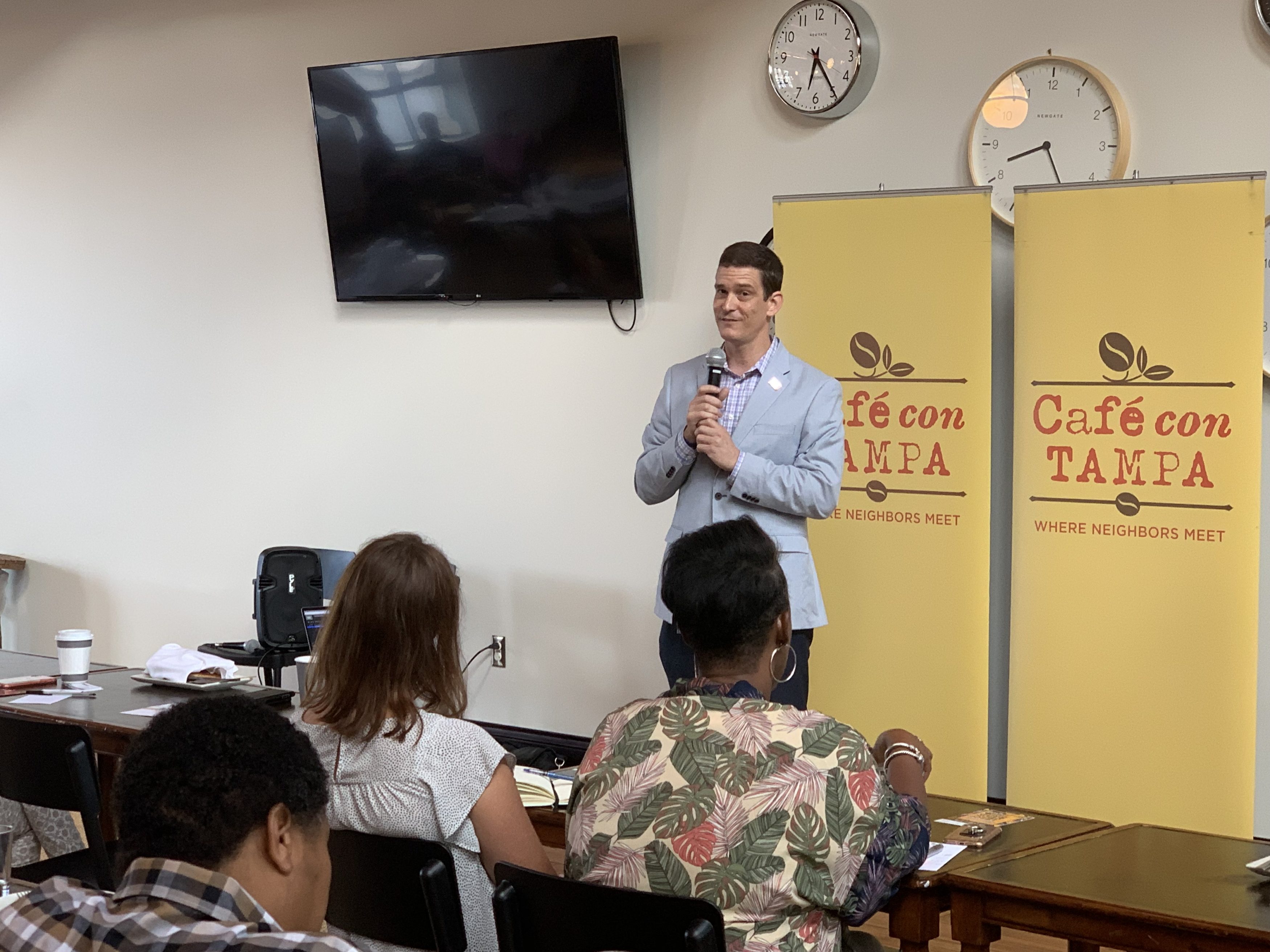 "I'm focused heavily on what I call the culture of excellence."
The new CEO of the Hillsborough Area Regional Transit Authority is considering providing free fares for students in elementary, middle and high school.
With only a little more than two months at the helm, Benjamin Limmer laid out his vision for HART during a speaking event at Cafe Con Tampa on Friday.
HART already provides free service for students during the summer when kids are out of school.
Limmer responded to a question about homeless families in Hillsborough County who have difficulties getting their children to school. A Hillsborough County 2017 homeless population count found more than 150 households with at least one adult and one child had no place to call home. That accounted for nearly 500 people.
Limmer said he's received a lot of phone calls in his first two months about providing better public transportation options for residents experiencing hardship.
Fare box revenue through fees collected from riders typically covers about 25 percent of total transit agency operating costs. The rest comes from a mix of taxes and local, state and federal grants.
Providing free or reduced fares is becoming increasingly popular. Dozens of cities across the United States already provide free transit. The thought is that by reducing or eliminating fares, more people will ride, leaving transit agencies open to greater funding opportunities by having successful transit networks.
That's evident in Tampa where the Tampa Streetcar operating in downtown and Ybor City saw tripled ridership since HART received a $2.7 million grant to provide free service and greater service frequency for three years.
"I'm open to any and all ideas," Limmer said. "There is this trend out there — do you go fare free and, if so, where and when?"
Limmer said he couldn't say for sure whether the Tampa Streetcar would stay free after the three years the grant covers, but he'd like to see that be the case.
Limmer joined HART after a nearly two-year executive search to replace former CEO Katharine Eagan who left to run the Pittsburgh-area transit agency. He's leading the agency through a major transition that will take HART from a measly $100 million operating budget to a $230 million budget.
The agency is poised to get about $130 million in extra revenue next year through the All For Transportation sales tax voters approved last November. While that tax is being challenged in court, HART's legal staff expects a judge to uphold it.
Limmer said the agency is preparing a work plan now, assuming the extra funding. The agency will submit that project list in September to the Independent Oversight Committee convened under the terms of the All For Transportation county charter amendment.
"I'm focused heavily on what I call the culture of excellence," Limmer said.
His immediate priorities include quick fixes like restoring shuttered transit routes and improving bus shelters to make waiting for a bus a less taxing experience.
The agency is also working on increasing safety and security. Limmer did not mention it, but a bus driver died this month after being stabbed by a passenger.
Limmer also said the agency is working on plans to expand its workforce, which it must do if it's going to add more service. Plans are also underway to purchase land near HART's 21st Avenue headquarters in Ybor City to accommodate more buses. The existing facility is at capacity.
Limmer is also considering new garage locations in other places throughout the county.
"Long term, we really want to minimize the amount of distance that the buses have to travel from the end of their run back to the garage," Limmer said. "The county is large so we're going to need a couple of facilities."
During his remarks, Limmer made it clear he's flexible in his transit plans.
"The field of transportation is changing rapidly," Limmer said. "We are going to be very busy implementing what works."
That means developing plans to incorporate a variety of options. Some small buses. Some big. Maybe there will be a network of bus rapid transit. Could be passenger rail through existing CSX corridors. It's all on the table, Limmer said.
"We're planning to build; we're not planning to plan," Limmer said. "If this is going to work, we need to really balance serving as much of the county as feasible while also investing in the successful routes today."
Limmer said he's already met with neighborhood groups and leaders from across the county including in underserved areas like Wimauma, Fish Hawk and Valrico. Those outreach efforts, he said, will continue to be a central part of his leadership.