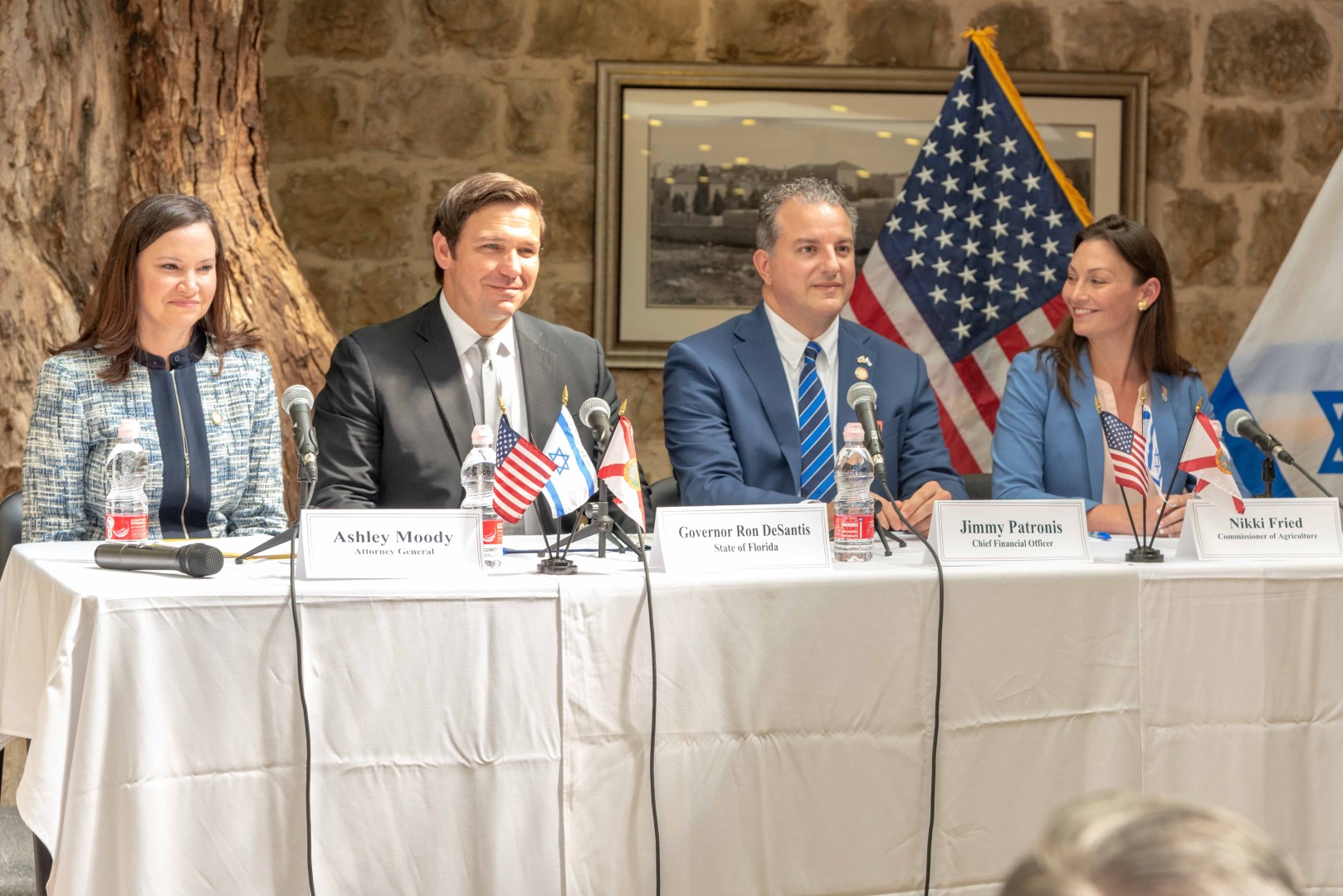 How much can Florida learn from Israel? Time will tell.
Having been one of a small group of embedded journalists on the Florida trade delegation to Israel, I had a unique vantage point on the events that those covering the mission stateside lacked.
I was there. And, because of the realities of working on a platform that allows for instantaneous publication of my write-ups, I generally was the first person to offer a take, in real time.
In terms of publication schedule, that created some anomalies. A lot of 1 a.m. publications in terms of Florida time. But for those who wanted or needed real-time reports, they were there. Press releases, TV news reports, and pool reports couldn't help but be delayed, solely because of the production realities of those media.
Everyone on the trip killed it in terms of reporting. Working in a local market where there often are people either a) taking up gaggle space with no point or b) asking vacuous "Governor, are hurricanes bad?" style questions, it was exhilarating to have to step my game up because of the competition.
Now, of course, we are all back to normal. No more 3:30 a.m. start times. No more 14 hour days embedded on a bus.
I miss it.
Moving on to more salient matters, the trip was interesting because of what appeared to be an aggressive co-branding of Florida and Israel.
"This historic mission has been the prelude to future prosperity and partnership between Florida and Israel," said Gov. Ron DeSantis in the wrap-up press release.
"This week, we established an unprecedented number of alliances in science, business and academia. We affirmed our solidarity with Israelis and resolved to give no quarter to anti-Semitism. Returning to Florida, we bring with us prospects for investment, high-wage jobs, water conservation and innovative ideas to keep our schools and communities safe. We also carry home a renewed belief that peace, freedom and democracy are essential to our quality of life and are to be championed, cherished and never taken for granted."
This is a mouthful, a summation of four days of work that in reality wouldn't have happened had DeSantis not been aggressively pro-Israel since he first was elected to Congress.
DeSantis noted, early and often, that he was one of the few believers that the U.S. Embassy could be moved to Jerusalem. Having a state Cabinet meeting in that embassy, he said at one point, brought things "full circle."
There are a lot of positives to be taken from Israel. Innovation galore. Without enough usable water, the Israelis have led the way on water reclamation. And on the use of drones and satellites for agricultural and other purposes.
And, as Agriculture Commissioner Nikki Fried will tell you, they are leading the world on medical cannabis research.
However, those looking for an exact correspondence between Florida and Israel are likely to be disappointed.
Our cultures are very different.
In Israel, security is not just an industry … but the industry. To board a plane, one is checked and rechecked over and over again.
And the standards for boarding, or for further interrogation, are subjective. I know of one African-American on the trip who was singled out for extra screening coming and going, in a way others weren't.
There was no real reason for it. But it happened, and it didn't seem coincidental. I didn't experience such, and neither did most travelers.
Much of the pre-trip advice I got from Americans involved variations of "stay safe," as if I were going to Gaza. The reality is that the streets of Jerusalem and Tel Aviv, at least in my limited experience, were no more threatening than a nicer part of Jacksonville or Tallahassee.
The violence, the conflict, the police state: these are products of the continuing clashes with Palestinians, Syrians and other Iranian proxies.
If one is driving into a Palestinian area, there are no-go zones. And there are checkpoints, because of the non-zero chance that someone traveling may have a bomb or some other weapon of mass destruction.
These are real concerns, and they run deep. People who have never been to the country may not understand the deep-seated sense of besiegement that Israelis experience.
Settlers, especially those who live in towns close to the Palestinian Authority area, sometimes have to get into their bomb shelters in 15 seconds.
That was a fact from Florida's Director of Emergency Management Jared Moskowitz, who noted that the first memorandum of understanding between the state and the Israeli government was with Israel's National Emergency Management Agency.
"Our challenges are different," Moskowitz said, "but the techniques used are very similar, especially with urban search and rescue."
For now, at least, our urban search and rescue is limited to the aftermath of hurricanes.
"Here in Israel, where the state is almost in a constant state of emergency, evacuations and housing and logistics … best practices and lessons learned can be shared," Moskowitz said.
Moskowitz noted that Israel uses artificial intelligence in these roles.
For a director of emergency management (a Democrat in a Republican administration) who clearly feels that his department needed upgrades after the previous administration (which he had little use for), this Israel trip offered opportunities to see how things go in a very different culture with a very different set of challenges.
Is it translatable? Who knows.
Another focus of policymakers: school safety.
There are lessons there … assuming Florida has the wherewithal to budget for them without imposing unfunded mandates on cash strapped, legacy cost burdened districts.
Florida lawmakers, in the wake of the Marjory Stoneman Douglas High School mass shooting last year, have focused on "hardening" state schools to prevent another tragedy.
On Thursday, a number of legislators and three-fourths of the Cabinet heard from Israeli experts.
This followed a trip to an Israeli school that Sens. Wilton Simpson and Lauren Book participated in, along with state Reps. Chris Sprowls, Randy Fine, and others.
The solutions, by now, are familiar to those paying attention to the trip. Israel, a security-conscious government by nature, offered some suggestions that may find their way into Florida policy.
Databases are kept, with the Ministry of Education coordinating with local authorities.
A 6-foot wall at each school and a single point of entry are among other solutions that allow administrators to protect against external attacks.
Unlike in the United States, the issue in Israeli schools (as in the larger culture) is external attacks from enemies of the state.
Security cameras and robust community cooperation also are major factors.
In major urban districts, the struggle often is ensuring that air conditioning units work. Whether 6-foot walls around campus will do much in the event of a new school shooter is uncertain.
Budgeting on the cheap, meanwhile, won't get it done here.
One importable idea: cracking down on social media, to prevent cyberbullying and the like.
However, in school districts where turnover has become the norm, there are questions about how to maintain institutional buy-in to accomplish this.
As well, the charter model would seem to lack a mechanism, as a non-governmental institution, for a direct interface role with law enforcement that public schools might have.
Much has been made about photo-ops with Benjamin Netanyahu (closed press) and mega-donor Sheldon Adelson (who lunched with DeSantis at an Israeli school).
Adelson was too infirm to take the mic, and as the event wrapped, he was helped to a restroom by two attendants, a symbol of where his health situation is now.
His wife, Miriam Adelson, in robust health, will become a less under-the-radar name going forward.
Netanyahu, likewise, is on his way out. A snap election in September because he couldn't build a Knesset coalition. And a looming corruption trial.
People assume this trip was about 2024 Presidential hopes for DeSantis. But the reality is that, long before then, neither of his two big meetings will be factors.
The Bibi era is all but over. And Adelson, a force for so long, hasn't much longer to go.
For those looking for the value of this Israel trip, look at 2020 asks from this administration. If they are reflected in what happened in Jerusalem and Tel Aviv last week, it will be interesting to see what form they take.