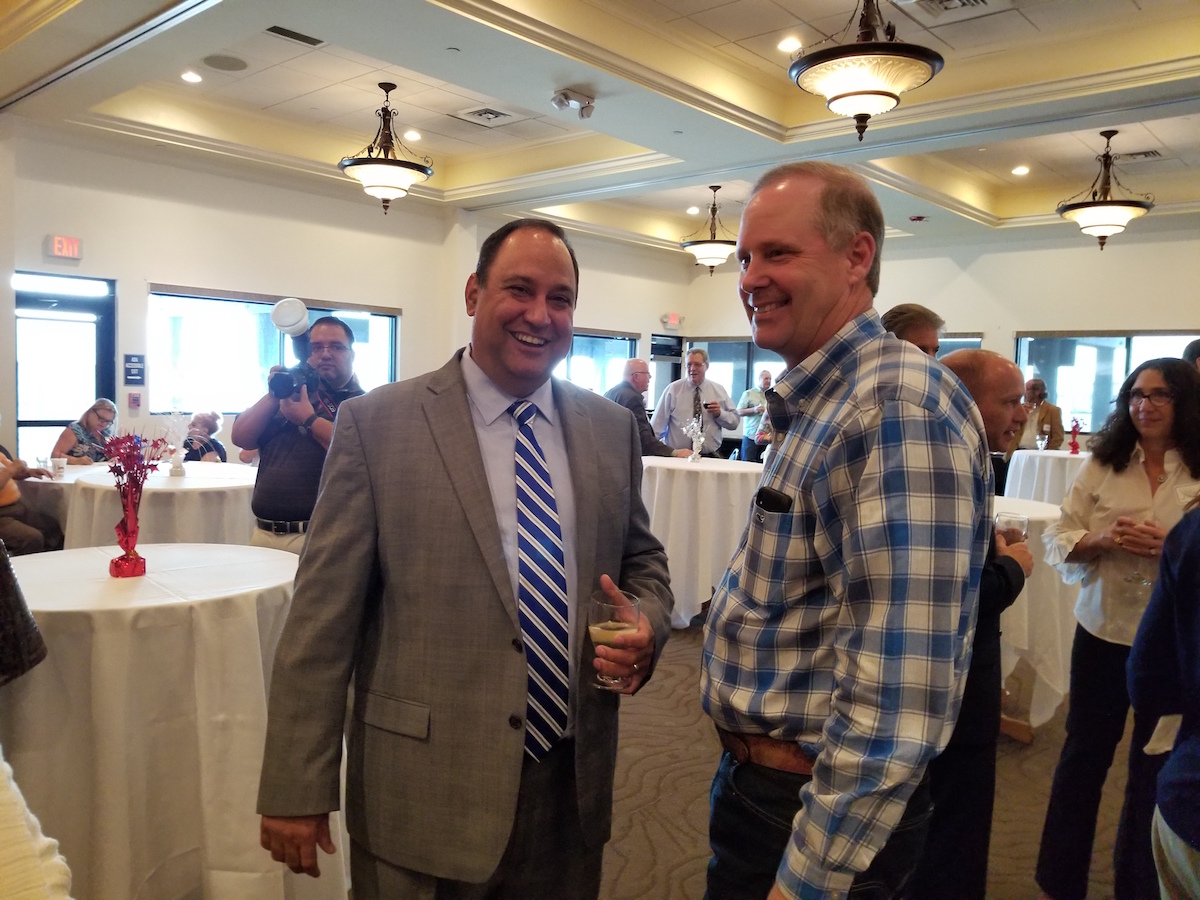 But it looks like he may not face a serious challenger.
Lee County's political elite gathered in Fort Myers to help state Rep. Ray Rodrigues officially kick-off his state Senate campaign.
With Senate President-designate Wilton Simpson in the crowd, Rodrigues promised a focused, conservative message. "I run a campaign straightforward," he said.
Rodrigues sat down at the start of the event with Florida Politics and discussed why and how he's running.
"The race is going as well as I could have imagined at this point," said the Estero Republican.
Since announcing his candidacy last month, Rodrigues has seen his most likely challengers say they would not run, with some even saying that they would back him. He stood side-by-side with state Rep, Dane Eagle, a Cape Coral Republican many figured would also run to represent District 27.
"I wish I could say he was the best majority leader since me," Rodrigues said of Eagle. "But he was a better majority leader."
Already, Rodrigues has thought about the transition from state House to Senate. During his eight years in Tallahassee, he said he's been impressed by those who moved from one chamber to the other.
"As a House member, you get six bill slots," he notes. "The challenge is finding a senator to file those bills. If you pay attention, what you usually see are members going to senators they know and who they have built a relationship with as they carried their bills in the Senate."
So Rodrigues already has strong relationships to many of the senators he hopes to soon count as peers. State Sen. Kathleen Passidomo, a Naples Republican, could be found in the audience Wednesday evening.
Who might Rodrigues do battle with this year? That still remains unclear. Medical marijuana activists in recent days have heavily criticized the state Representative, but it's unclear if there's any money or candidate for them to field.
Either way, Rodrigues, who pushed unsuccessfully this year for THC caps on smokable marijuana, said he's sticking to his positions on policy.
"The science is clear," he said, defending a need to keep low THC in a medical product.
Right now, there's no names even being thrown around as possible challengers to Rodrigues.
Simpson would like it to stay that way in a primary.
"That's what we always hope for," Simpson said. "It helps when there are not a lot of contested primaries as far as resources that are raised. But anyone can run."
Rodrigues for his part isn't taking anything for granted.
"I've been challenged in every election," Rodrigues said. "I'm working under the assumption I'll be challenged in this one as well. We're preparing as if it's coming."
But will it be a significant fight? He's counting on it.
"That's the only way to prepare," he said. "Otherwise you get caught flat-footed."