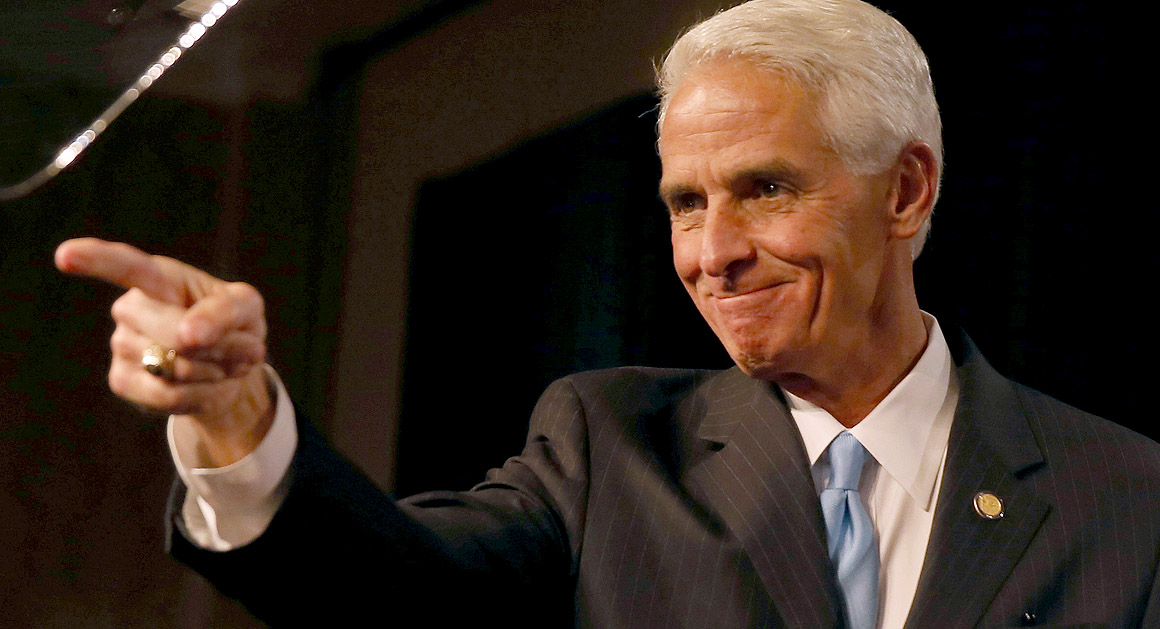 "I cannot idly stand by knowing that we can do so much more"
Democratic U.S. Rep. Charlie Crist has drawn another challenger in his run for a third term in Congress.
Republican lawyer and former congressional healthcare policy adviser Amanda Makki on Wednesday announced she would make a run for Florida's 13th Congressional District, where Crist is currently serving his second term
"The 13th District is suffering from ineffective representation in Washington, D.C., which I have personally experienced," Makki said in a news release.
"Public policy is a vocation, not a profession; I have spent years advocating for America's patients and veterans — and I feel compelled to commit myself entirely to this cause."
Makki got her start in politics via an appointment from the George W. Bush administration after 9/11, when she was appointed to the Pentagon's General Councils office on anti-terrorism issues,
She is a former senior health adviser to Alaska Republican U.S. Sen. Lisa Murkowski who she served for seven years, according to the Public Affairs Alliance of Iranian-Americans. Makki is Iranian.
Florida Politics forecasted Makki's entry into the race in mid-May.
"I'm running because the people of the 13th District deserve a public servant who will fight for a strong economy, lower health care costs, good-paying Tampa Bay area jobs, and less government regulations on small businesses," she said.
"I value all that America has done for me and my family. America is the last beacon of hope for freedom and opportunity. If we concede to those looking to make this a socialist country, we risk losing the only nation where you can still succeed regardless of your background or upbringing.
"I cannot idly stand by knowing that we can do so much more, and that the people of the 13th District deserve better. I will work hard to earn the trust and support of the citizens of Pinellas County, then I will fight tenaciously to get things done for them."
Her entrance was met with a statement from Pinellas Democratic Party Chair Barbara Scott.
"Big pharmaceutical lobbyist Amanda Makki from Washington D.C. is creating quite the first impression — making her very first contribution to our community by running for Congress against our effective and beloved hometown hero Charlie Crist," she said
"We welcome her to Pinellas County, and invite her to learn about our community, and why we support our Charlie. Congressman Crist fights the same special interests that have lined her pockets as a DC lobbyist, representing drug makers who jacked up the price of insulin and addicted people to opioids.
"When you meet Representative Crist, the first thing he will tell you is to call him Charlie. That level of familiarity occurs when someone is known, respected and present in the community they represent.  Charlie has the people of Pinellas County behind him and working for his reelection in 2020."
The state party followed suit, with spokesperson Avery Jaffe hammering Makki on her ties to the pharmaceutical industry.
"The last person Pinellas County voters would ever choose to represent them in Congress would be a D.C. lobbyist for big drug companies — and that's exactly who Amanda Makki is," Jaffe said.
"While Charlie Crist works for the people and fights to lower prescription drug costs for Pinellas County seniors and families, Makki worked for the pharmaceutical industry in Washington, lobbying for a drugmaker that jacked up insulin costs by over 700 percent."
Makki is the third Republican candidate to file for CD 13, a Democratic leaning seat that covers most of Pinellas County from St. Petersburg to Clearwater.
Before Florida courts redrew the congressional map for the 2016 elections, the seat had a Republican tilt.
After the seat was redrawn, however, Crist was able to oust U.S. Rep. David Jolly — now a fellow former Republican — by about 4 percentage points.
In Crist's 2018 reelection bid, his far superior fundraising operation and name recognition guided him to an easy 58-42 win over Republican nominee George Buck.
Buck filed for another go at the seat in late January, as did St. Petersburg Republican John Coleman.
Crist was the only candidate to post significant fundraising numbers for the first quarter of 2019, showing about $353,000 in contributions and an overall re-election fund of $1.975 million.
By comparison, Buck has $4,736 on hand while Coleman's account hasn't shown any signs of life.
There's an uphill battle waiting for whoever dons the challenger mantle in the general election.
In addition to electing Crist in 2016, CD 13 voters preferred Hillary Clinton over Donald Trump by four points.
The redistricting plan also shows former President Barack Obama would have carried the seat by double digits in both 2008 and 2012.