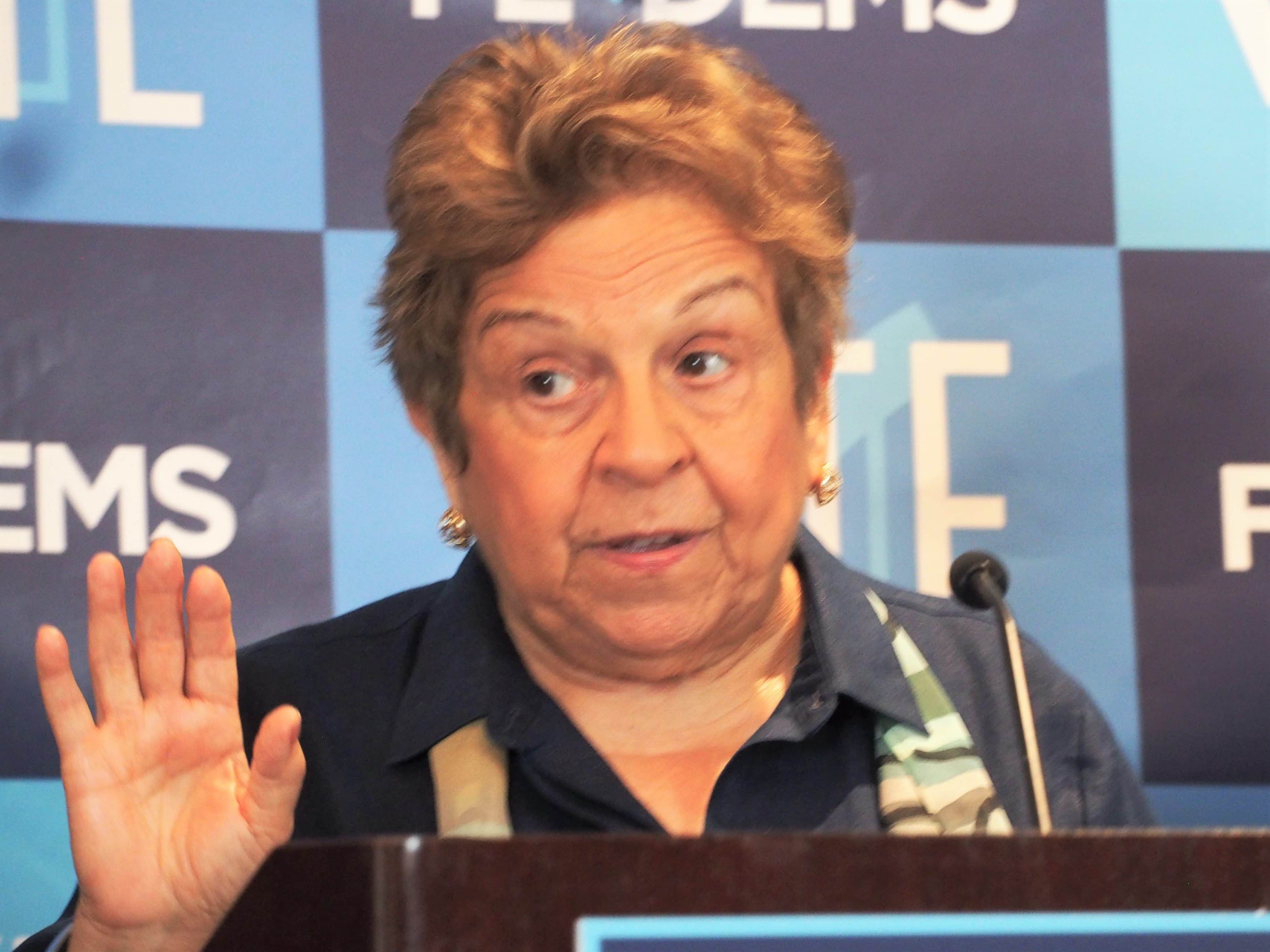 Predicts U.S. HHS, Canada, won't go along
Democratic U.S. Rep. Donna Shalala, a former Health and Human Services Secretary under President Bill Clinton, called Florida's Canadian drug importation bill silly, pure politics, and a measure with little or no chance of succeeding.
"It is the silliest thing I've ever heard of," Shalala told reporters Saturday. "It's just messaging."
Shalala joined state Sen. Lori Berman Saturday morning to push the Democrats' federal and state health care priorities, notably defense of the Affordable Care Act and expansion of the Medicaid program in Florida.
The two spoke to reporters at the Florida Democratic Party's Leadership Blue Conference at the Walt Disney World Beach and Yacht Club Resort & Convention Center Saturday morning.
The two issues they pressed are not moving a lot right now, as the Affordable Care Act, also known as "Obamacare," is tied up in court, being challenged in the courts by President Donald Trump and a handful of Republican-controlled states including Florida. And the prospect of Medicaid expansion is being targeted for a 2020 statewide ballot initiative because the Florida Legislature has dismissed it.
But the immediate, recent, Republican-backed proposal, outlined in House Bill 19, approved in April by the Legislature, aims at reducing drug prices by calling for Florida to be able to receive cheaper drugs imported from Canada.
Though Trump has instructed current Health and Human Services Director Alex Azar to work with Florida on implementation, Shalala predicted Azar would not approve the arrangement, because the department's key agencies all oppose such imports.
"No HHS Secretary has ever approved the importation of drugs because of safety," Shalala said. "The law is written this way: The HHS Secretary, which I was one, some time ago, has to certify that it is safe to do importation. And so I would be very surprised if Secretary Azar was willing to do that, if his FDA commissioner, as mine did, if his NIH Director, if his Surgeon General said, 'Yes, it's going to be safe for Floridians.'"
Shalala said as HHS Secretary from 1993-01: "I had enormous pressure on me to approve the importation of drugs into the United States. I said no. I said no to the President of the United States; I literally stood up to the White House and said 'This is unsafe.'"
She also predicted Canada would not allow drug importations to Florida because Canada has more to lose than to gain with such an arrangement.
Canada, she said, negotiates drug prices nationally and those deals are based on Canada's population. Adding in Florida would likely force the drug companies to demand a renegotiation of those Canadian national deals. Why would Canada want to risk that? Shalala challenged.
"They're not going to do it because they're not going to risk increasing their own health care cost to take care of Floridians.
Shalala said if Florida Gov. Ron DeSantis wants to bring down drug prices for Floridians he should aggressively negotiate Medicaid drug prices with the drug companies.
HB 19 drew some Democratic voters, but Berman was one of 13 Democrats to vote no in the Florida Senate.
"I voted against the bill because I had very many concerns about safety and we had to ask the question does Canada even know and want this bill," Berman said.