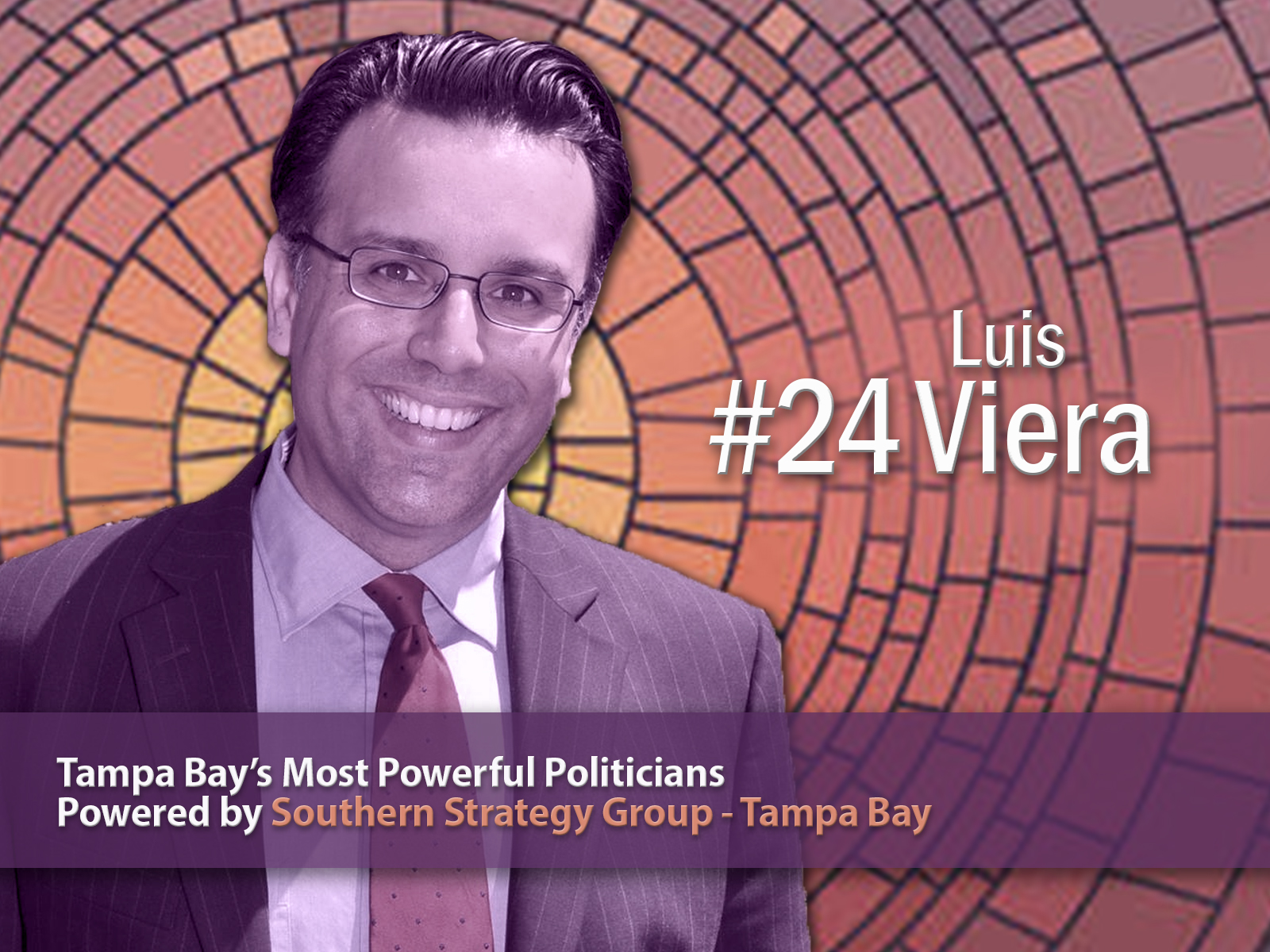 With a majority new council, Viera is now one of the board's veterans.
Tampa City Council member Luis Viera landed himself in this year's list of Tampa Bay's Most Powerful Politicians for the first time since he was elected in late 2016.
Viera had flown under the radar in Tampa politics during his first couple of years in office. He championed issues that never received high-profile attention, including increasing services for people with special needs. They were important issues, but not exactly headline-grabbing.
This year is different for Viera. With a majority new Council, Viera is one of the board's veterans. He also managed to grab the City Council reigns this year, edging out his colleague Guido Maniscalco for the coveted chairmanship of the board.
In that capacity, Viera wields power he previously lacked. The City Council chair is responsible for scheduling issues for the City Council agenda and largely drives City Council priorities. The leadership role in the region's largest city makes Viera inherently more powerful than he was last year, the likely driver for earning a spot on this year's list.
But Viera has another trait that puts him in an unlikely position of power. He's just really nice.
"Luis might not always agree with you, but he always listens," said former Tampa City Council member Mike Suarez, a long-time Viera political ally. "That ingratiates him to a lot of people from various different parts of the political spectrum."
Vice President of Community Partnerships and Policy at Vinik Family Office Christina Barker, who also serves as co-chair for All For Transportation, agrees.
"Luis Viera's superpower is bringing people together. He is a thoughtful and dynamic leader and it was recognized by his fellow council members who voted him in as chair earlier this year — the first chair the city has had from District 7," Barker said. "Luis has done an incredible job working with his constituents to build a unified voice for District 7 and that has led to increased investment in public safety, park services, and transportation for the neighborhoods surrounding USF and in New Tampa."
Viera also came into his leadership role at a pivotal point for the city. He was voted in as chairman right after new Mayor Jane Castor took office. That means he drives the legislative arm of a new administration at a time where there's likely to be a windfall of change as Castor seeks to shape the city.
It's too soon to tell what Viera's leadership in that capacity might look like. Castor's administration is still working with its newly formed transition team to develop policy priorities and strategies to implement them. But Viera was a Castor ally on the campaign trail, so it's likely the two will work well together.
Viera is a lawyer by trade. He previously served as Chair of the Hillsborough County Bar Association Diversity Committee and was the former Chair of the City of Tampa Civil Service Board.
Viera also founded and heads the Lawyers Autism Awareness Foundation. Viera has held roles in various other special needs organizations and served on the Hillsborough County Public Transportation Commission. He currently serves on the Hillsborough County Metropolitan Planning Organization and the Tampa Bay Transportation Management Area Leadership Group, which gives Viera a front-row seat to transportation improvements as the county prepares to get a windfall of new funding for transportation and transit projects through the voter-approved All For Transportation sales tax.
Joe Henderson's Take: The Chairman of the Tampa City Council has bold plans for Busch Boulevard and reviving the neighborhoods around the University of South Florida.
Follow the entire list here, on Facebook, and on Twitter with #Top25InTB.