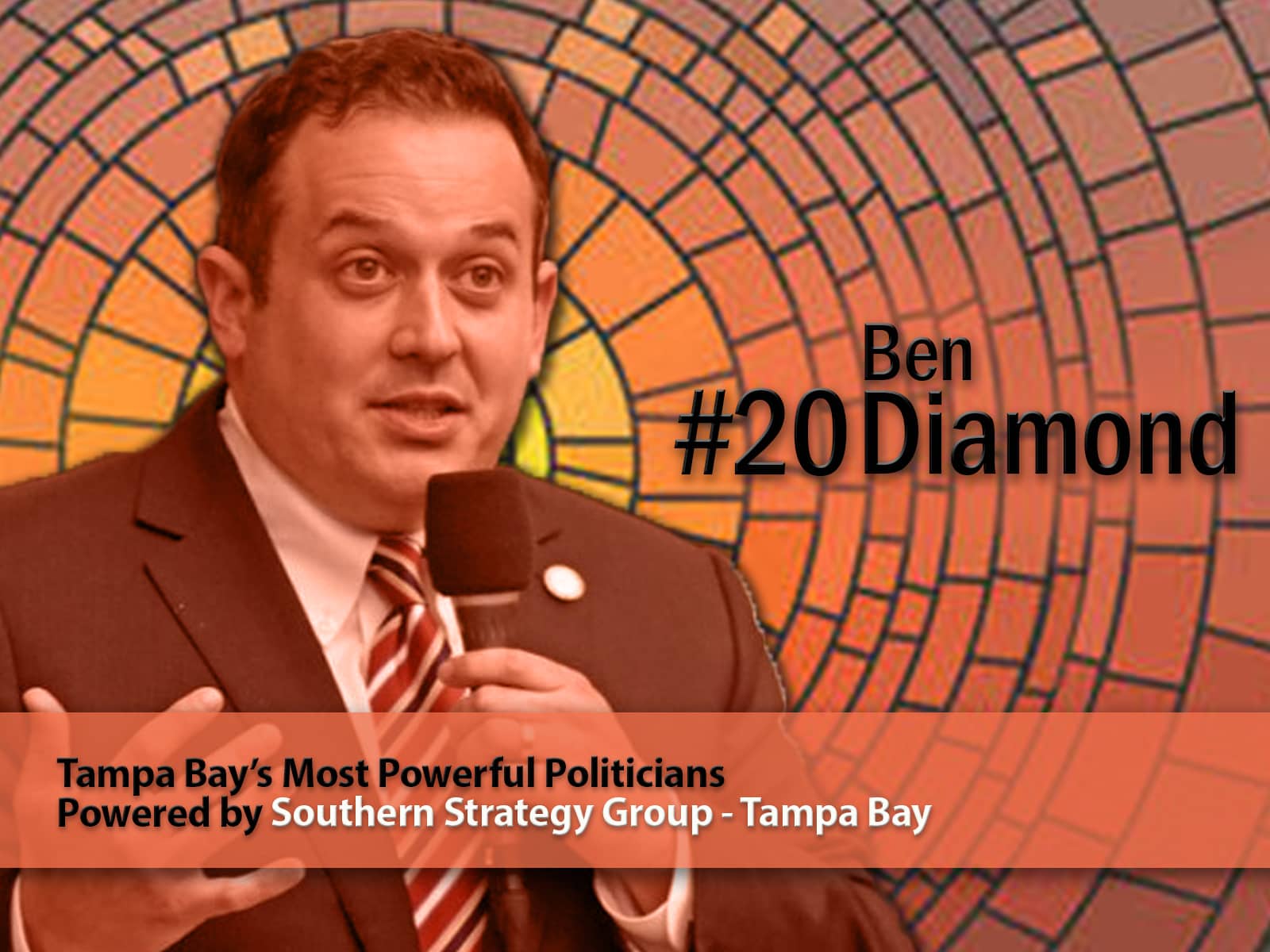 Diamond's position among Tampa Bay's political elite is only likely to continue its surge.
Florida Rep. Ben Diamond has had a banner year, and it shows in this year's rankings. He bumped up five spots from last year when he was tied for the bottom spot to No. 20 this year.
With a top leadership position in view, Diamond's place among Tampa Bay's political elite is only likely to continue its surge.
Diamond has built a reputation as one of the hardest working elected officials in Florida, evidenced by his election to lead the House Democratic Caucus in 2022," said Democratic political consultant Meagan Salisbury. "His new role with the caucus is great news for Democrats looking to make gains in the House. His ability to build coalitions and work across the aisle is great news for Tampa Bay as we continue to grow. He's also just a really likable guy — you'd have trouble finding anyone on either side of the aisle who doesn't respect him and the work he does for his constituents."
House Democrats voted in late April to tap Diamond for its top leadership position beginning in 2022. If Democrats manage to make enough gains in the House over the next two election cycles to regain a majority, that will make Diamond the first Democratic House Speaker since Peter Wallace, who also represented St. Pete, in the mid-90s.
If that were to happen, Diamond would bump Jacksonville Republican Paul Renner from the top House leadership post he's currently slated to hold if conservatives maintain a majority. That would put St. Petersburg in a prime position to pass legislative priorities beneficial to the region.
Even as the minority leader, Diamond would still be in a prime position.
Diamond's ascendency to power is apparent in other areas, too. He was rumored to be a top contender to replace St. Petersburg Mayor Rick Kriseman when he's term-limited out of office in 2021. Though with Diamond's House leadership win, it's unlikely now he'll run.
Speculation also swirled that Diamond could potentially run for State Sen. Jeff Brandes' seat in 2022 when Brandes leaves office. Democrats have been long eyeing that seat to flip. Diamond's moderate politics in the increasingly purple St. Pete Senate district made him a logical fit.
"Representative Diamond is universally liked and respected, so much so that he was chosen by his colleagues to be the House Democratic leader in 2022," said Southern Strategy Group lobbyist Laura Boehmer. "His thoughtful approach to issues allow for him to win accolades from stakeholders across the political spectrum.  As smart as he is kind, expect big things to come from him.
Diamond, a lawyer by trade, was first elected in 2016 and re-elected in 2018. Before serving as a lawmaker, Diamond worked as general counsel to then-Florida Chief Financial Officer Alex Sink from 2009 until 2012.
He also served four years on the Pinellas Suncoast Transit Authority, giving him insight into one of the county's top issues of the day. With Hillsborough County's new transportation tax, the time is ripe for the rest of the region to develop its own transit plans to connect the region better.
In a leadership position in Tallahassee, Diamond could serve as a useful advocate for state matching funds for projects.
Joe Henderson's take: House Democrats chose him as their leader for 2022-24, and although a lot of things would have to break right, he could become the Speaker. Either way, the man has some clout.
Follow the entire list here, on Facebook, and on Twitter with #Top25InTB.