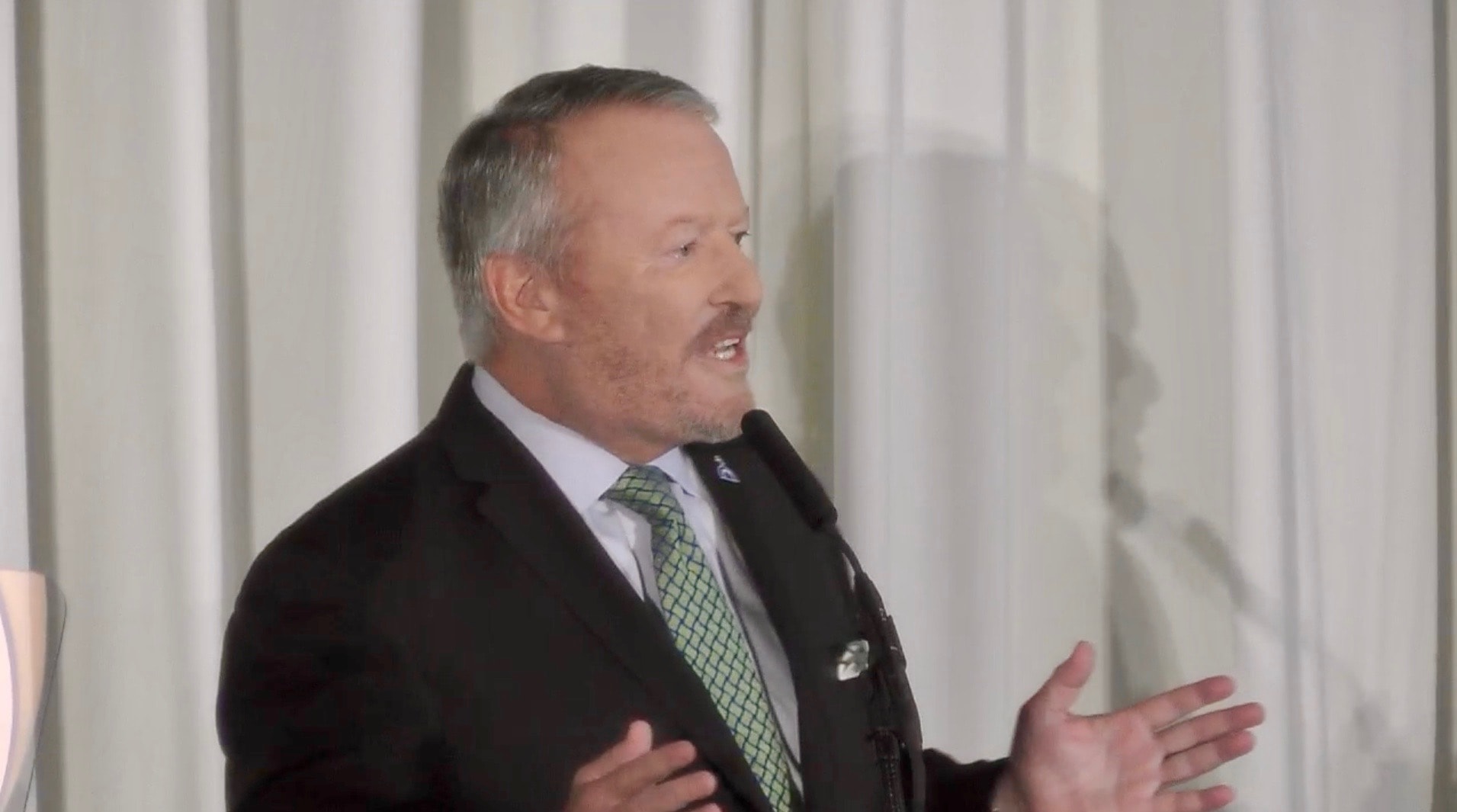 Dyer says Orlando 'will own the future.'
With Lake Nona bearing fruit on the south side, Creative Village coming out of the ground downtown, a new high-speed railroad breaking ground, and an economy inching toward diversification into the tech sectors, Orlando Mayor Buddy Dyer declared Orlando is a "future-ready" city Monday.
Dyer, mayor for 16 years and seeking reelection this fall, spoke of turning Orlando into a 21st-century city filled with vitality and ambition, with emphases on planning, technology such as high-speed 5G communications networks, autonomous vehicles, medical advances, STEM education, renewable energy, and sustainability.
But he also spoke of the social side, a city that came through the Pulse massacre of 2016 to become socially stronger, more inclusive, and united.
"It seems like everywhere we look we're encouraged to define ourselves by what divides us: our political party, our race, our religion, our gender, our sexual orientation, where we were born, what language we speak or how much money we make," Dyer said in opening.
"Not in Orlando. No, not here in Orlando. In Orlando, we've proven there's a better way. Despite all of the national negativity and division, Orlando is defined by what unites us," he declared. "We do this because we know that unity, collaboration and partnership are the keys to opening the doors of prosperity for all of us. And we do this because we know that unity, collaboration and partnership are the rock-solid foundation from which our community will not only continue to succeed but will own the future."
Yet there also is a technology economy infrastructure to build, seeking to diversify Orlando away from the low-wage tourism economy that has dominated the city for decades.
To that end, Dyer touted that Orlando is:
— Pursuing its goal to have 100 percent renewable energy for municipal buildings by 2030, zero waste by 2040, and 100 percent renewable energy citywide by 2050.
— Adding 100 electric vehicle charging stations next year to city parks, community centers, and garages.
— Administering what he said was a first-of-its-kind initiative to expedite 5G wireless permitting, so Orlando benefits sooner from the jobs and economic opportunities brought by this technology.
— Investing more than $2 million annually to encourage small businesses to locate, expand, or redevelop in the city.
– Creating an Office of Multicultural Affairs to encourage and tap into the city's diversity.
– Hoping to support and pass the countywide one-cent sales tax increase proposed last month by Orange County Mayor Jerry Demingsto provide money for increased transportation options, including expansion of commuter rail and bus service, and more bicycle and pedestrian paths.
— Pursuing partnerships to address the city's significant affordable housing shortage and homelessness.
"No one knows for sure what the future holds," Dyer said. "All we can do is put ourselves and our city in the best position possible to be 'future ready.'"