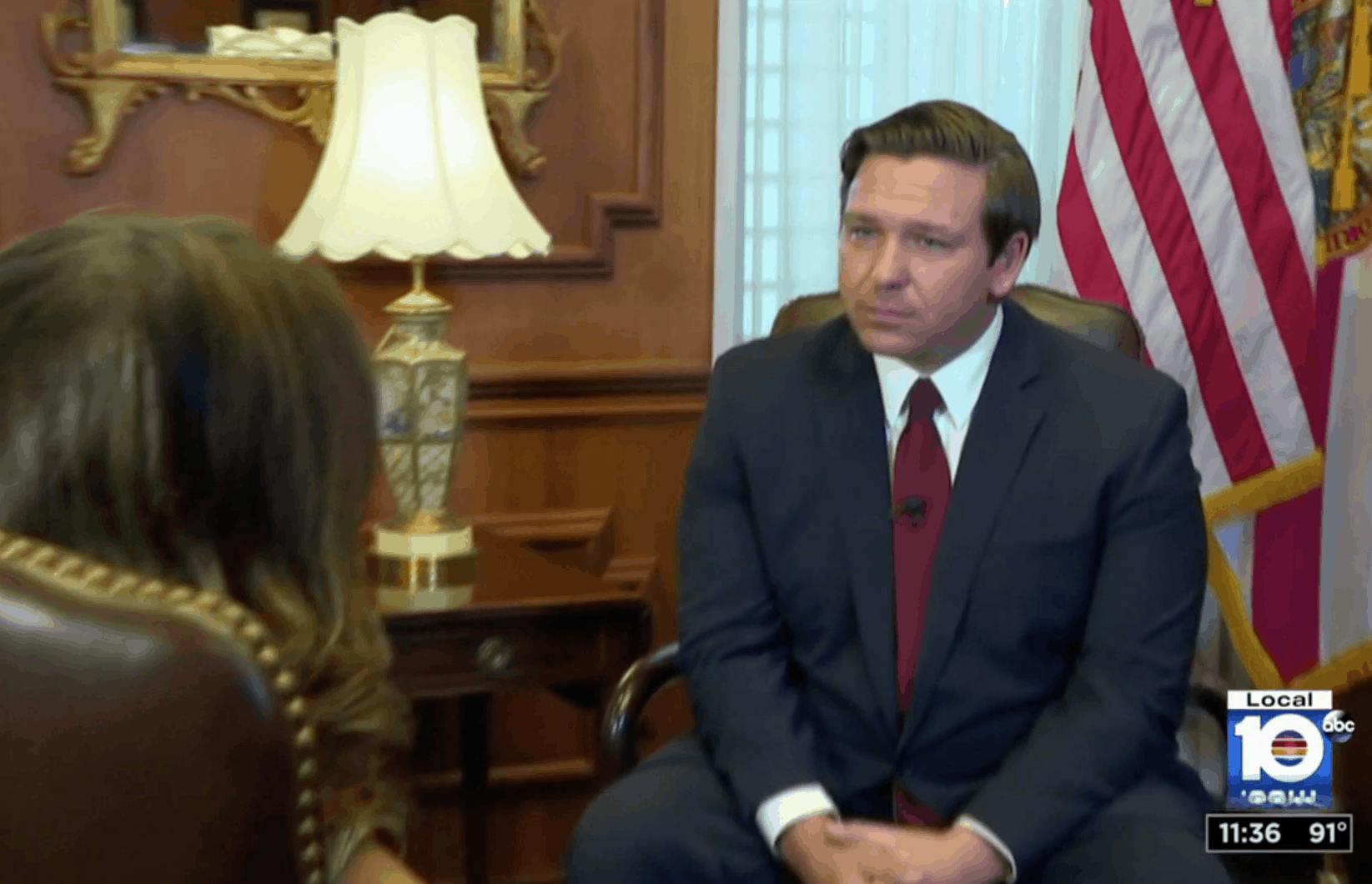 DeSantis also thinks financial requirements for Amendment 4 'will be upheld in court.'
In an appearance on Miami's WPLG Local 10 "This Week" show, Gov. Ron DeSantis said he was not satisfied with the teacher bonuses in the 2019-20 state budget and will be pursuing more for teachers.
DeSantis made that pledge during a 20-minute interview with WPLG's Glenna Milberg during which he also repeated his assurances that he would sign the controversial SB 7086 setting financial requirements for felons to vote, defended  his removal of former Broward County Sheriff Scott Israel, defended his signing of the Canadian drug importation bill, defended President Donald Trump, and pledged efforts to address sea level rise.
DeSantis cited the teacher bonuses as his disappointment with the $90.9 billion state budget he signed last week. He had sought $432 million for a new teacher bonus program, and the budget included $284 million and a different kind of program.
DeSantis said the state's teachers' salaries, among the lowest in the country, need to come up. He said his administration is working on a new plan now and will be rolling something out in the fall.
"I'm not fully satisfied that we achieved what we need to achieve. It's a good budget. But you know going forward I want to be able to position for Florida to retain and recruit good people to go into teaching. Because it's probably the single biggest factor of whether students will succeed, the quality of the teachers," he said.
"I do think the starting salary needs to go up, and the state should help with that," he said.
DeSantis offered no qualms about SB 7086, which sets financial obligation parameters on the new voting rights issued to felons when Florida voters approved Amendment 4 last fall. The bill stipulates that felons must pay all fees, fines, restitution before they are able to register to vote. Amendment 4 backers and Democrats passionately objected, saying that amounted to unreasonable financial burdens on many, almost equivalent to a poll tax. But the Republican majority in the Florida Legislature argued that backers knew the financial obligations going in last year, and DeSantis agreed.
SB  7086 hasn't come to his desk yet. But when it does, he will sign it, he said.
"The controversy to me is not really substantive," DeSantis said.
The controversy almost certainly will be decided in Florida courts, and the Governor knows that.
"I think it will be upheld in court," he said.
Among other items Milberg and DeSantis discussed during the interview:
– DeSantis contended that Israel, whom he removed from office earlier this year, has conceded some responsibility for failures by his department during and after the 2018 massacre at Marjory Stoneman Douglas High School in Parkland. DeSantis was interpreting testimony that Israel gave last week to a special master in his efforts to be reinstated.
"I think the fact that he accepted that responsibility really justified my decision because nobody can argue that this was handled well," he said.
– DeSantis dismissed warnings from Democratic U.S. Rep. Donna Shalala of Miami, a former Secretary of the U.S. Department of Health and Human Services, that the plan for Florida to be able to receive imports of prescription drugs from Canada is unworkable.  Shalala said that neither the U.S. bureaucracy nor Canada will go for it.
DeSantis, who signed HB 19 two weeks ago, said Trump has promised him that he would make it happen. "He said, 'I want you to get those drugs from Canada,'" DeSantis said.
– The governor cited that pledge as well as other actions from Trump, including his reluctant and late agreement to support $200 million for Everglades restoration, money for the Tamiani Trail, and his late agreement to support disaster relief money following Hurricane Michael, as examples of how DeSantis' close relationship with the President is helping Florida.
However, DeSantis skirted a question from Milberg about Trump's border policies and treatment of refugees, and how that might be playing with Florida Hispanics. DeSantis switched to talk about Trump's strong opposition to the regime of Venezuelan dictator Nicolás Maduro, and of Cuba, as efforts that appeal to Florida Hispanics, particularly in Miami.
– On sea level rise and climate change, DeSantis noted that he is currently hiring a state resilience officer to protect coastal communities, an effort that a group last week suggested in a new report could cost Florida $76 million.
"We are probably going to be focusing on Miami more than any place to start and then we are going to look at some of the other places that are sensitive," DeSantis said. "I mean, I've been in places like Aventura where you just go outside one morning and there's this much water on the street."