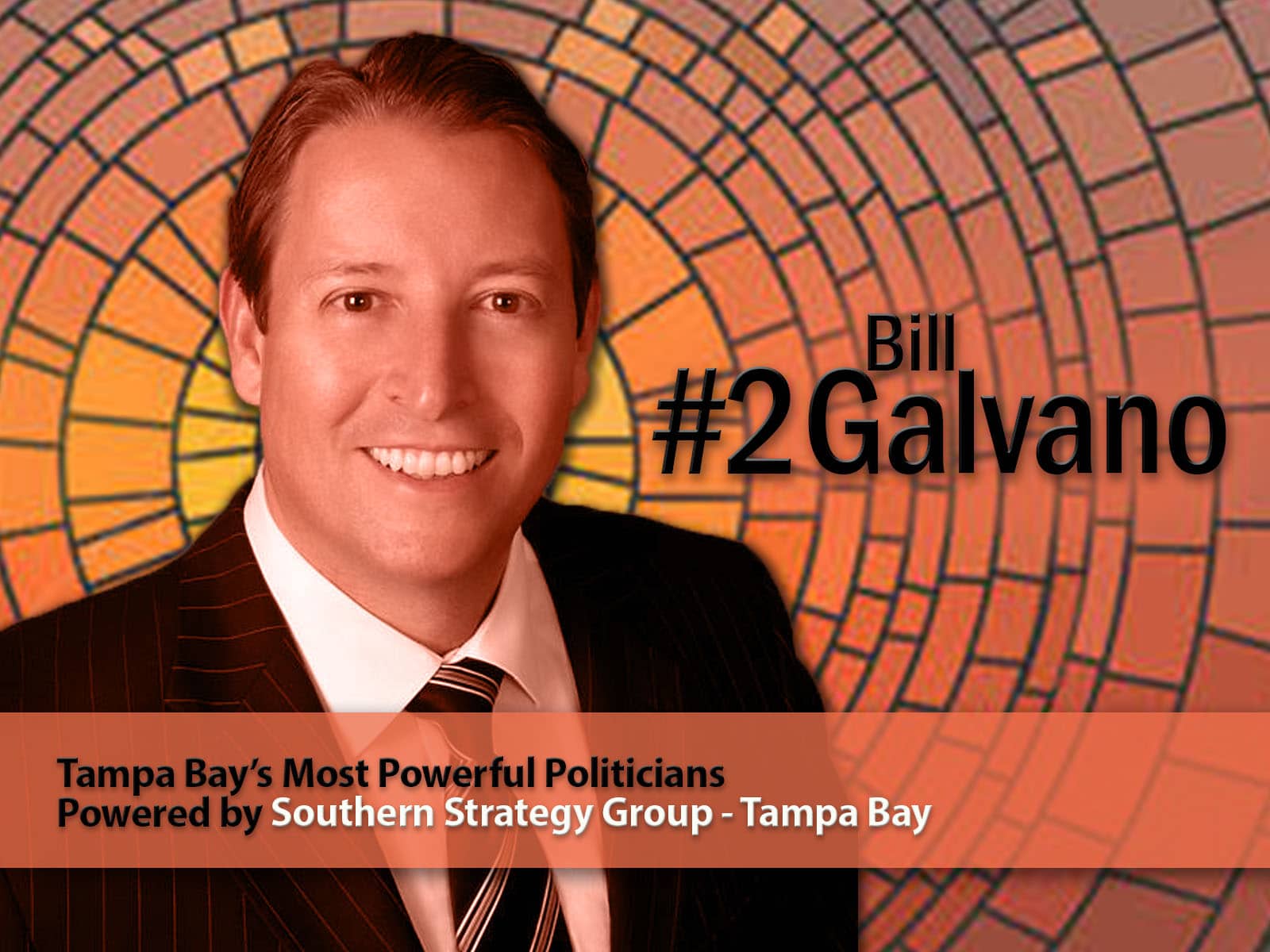 As Senate President, Galvano wields influence over Florida legislative priorities.
Florida Senate President Bill Galvano, entering his second and final year as the chamber's top member, climbed from No. 3 last year, narrowly missing this year's top ranking.
The Bradenton Republican representing Senate District 21, will lead his chamber in the 2021 Legislative Session by determining legislative priorities and setting the tone between the more conservative House and the Governor. 
"Having served along-side President Galvano, I know first-hand his character, integrity and his deep commitment to public service.  He's a statesman in the truest sense of the word.  His influence has touched countless lives and organizations throughout our region but our entire state is frankly a better place because of Bill Galvano's leadership," said Southern Strategy Group lobbyist Seth McKeel.
Galvano was first elected to the House in 2002, where he served until his term ended in 2010. Two years later he was elected to the Senate where he served as Majority Leader from 2014 to 2016.
"Anyone who has been on the political scene over the past two decades, has at some point had to say the name Bill Galvano," said Republican strategist Anthony Pedicini. "Always the statesman, Galvano has shaped and directed almost every Florida policy during his tenure." 
One of Galvano's biggest wins this Legislative Session was securing funding and getting the go ahead for a more-than-350-mile toll road project connecting the Tampa Bay area north to the Georgia state line, another connecting the Florida Turnpike to Tampa and one building a new highway connecting Polk and Collier counties. 
Galvano made the project one of his top legislative priorities this Session. The controversial plan puts $128 million in the 2019-2020 budget to further evaluate the project and move forward with planning. 
The bill was such a priority for Galvano, Florida Gov. Ron DeSantis signed it in Galvano's district despite the bill being technically sponsored by Sen. Tom Lee from Thonotosassa. As Senate President, Galvano cannot sponsor bills but has broad authority to prioritize them.
Galvano also brought home huge wins for his district including funds for the University of South Florida and its Sarasota-Manatee campus as well as the State College of Florida's Manatee-Sarasota campus. He also helped secure funding for an $18 million red tide initiative prioritized by the Tampa Bay Legislative Delegation.
The USF Sarasota-Manatee $5 million operations funding included in the budget was a huge win for Galvano's district. He applauded its inclusion as a way to ensure the regional campus' autonomy as the school moves forward with plans to consolidate its three campuses into a singular accreditation. 
Additionally, lawmakers approved a bill that solidifies into state law language that preserves both USF Sarasota-Manatee and USF St. Petersburg as regional campuses rather than branch campuses, a move local lawmakers said was necessary to ensure they maintained the ability to operate independently while enjoying the benefits of joining the larger Tampa campus' accreditation. 
"His ability to work within his own party and across the aisle is unmatched and his legislative experience will leave a void in the Legislature when he is ultimately termed out. Galvano has made a career out of keeping his word," Pedicini said. "On the political scene, his record-setting war chest for Senate campaigns helped his party keep power in that chamber and set a new bar for the level of campaigns that Republicans will need to run to win the state."
Joe Henderson's take: He championed the controversial toll road expansion and won, but he also secured money for area colleges and the Red Tide Institute to study causes and possible prevention.
Follow the entire list here, on Facebook, and on Twitter with #Top25InTB.