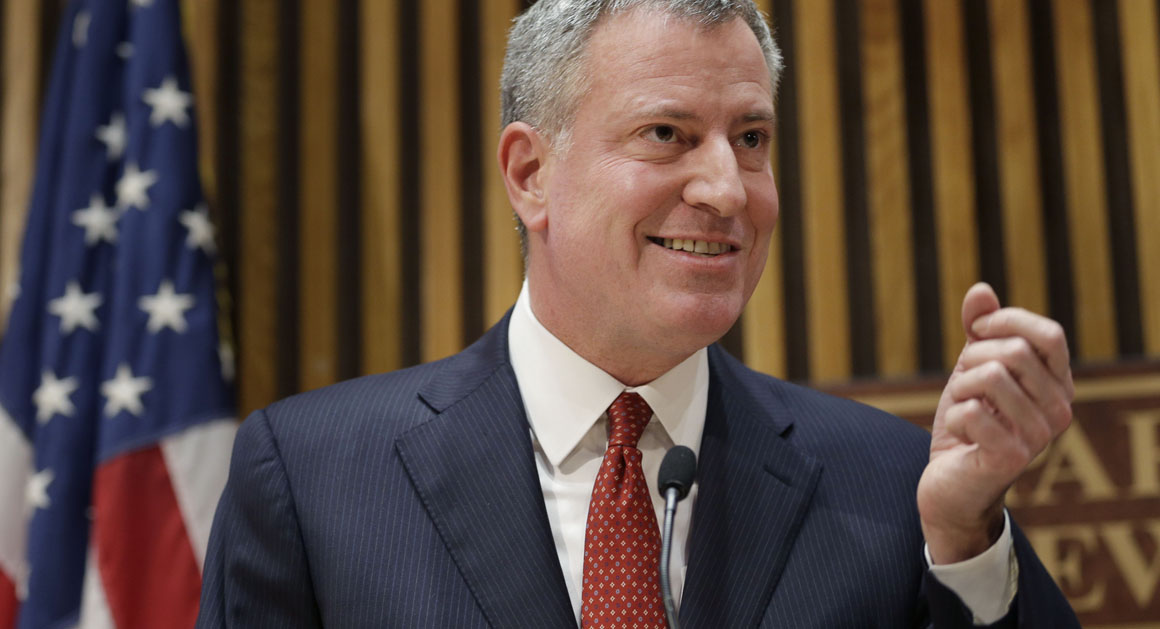 "This is completely unacceptable!"
New York City Mayor Bill de Blasio is earning push back from a slew of Florida lawmakers after quoting Che Guevara during an appearance alongside striking airport workers.
Now, de Blasio is apologizing.
"I did not know the phrase I used in Miami today was associated with Che Guevara & I did not mean to offend anyone who heard it that way," de Blasio wrote on Twitter.
"I certainly apologize for not understanding that history. I only meant it as a literal message to the striking airport workers that I believed they would be victorious in their strike."
De Blasio, a Democratic candidate for President in 2020, was one of several politicians to appear at Miami International Airport Thursday as ramp workers there protested unsafe work conditions.
As first noted by the Miami Herald's Taylor Dolven, de Blasio quoted Guevara while speaking to those workers, saying, "Hasta la victoria siempre."
Dolven didn't capture the statement on video. But Liz Roldan of CBS 4 followed up with footage of de Blasio citing the famous Guevara phrase.
That phrase means, "Until victory, always." It was used by Guevara during his time as a revolutionary allied with former Cuban leader Fidel Castro.
State Sens. Jose Javier Rodriguez and Annette Taddeo also appeared at Thursday's worker strike. They say they left the rally before de Blasio spoke and did not hear the comments in person.
Still, both took to Twitter to strongly condemn de Blasio's remarks.
"Quoting a murderer responsible for death & oppression in communist Cuba and throughout Latin America is not acceptable," Rodriguez wrote. "Please apologize. Many on strike are Cuban btw."
"This is completely unacceptable!" Taddeo added.
"How can anyone wanting to be the leader of the free world quote a murderous guerrilla — in Miami no less! A community filled with his victims!"
She ended with a hashtag, "#DeleteYourCampaign."
The Miami-Dade Democratic Party also joined in, lumping de Blasio's comments in with previous remarks from President Donald Trump.
"Elected officials need to stop glorifying mass murderers. Whether it's @realDonaldTrump praising Kim Jong-un and [Vladimir] Putin or @BilldeBlasio quoting Che Guevara today," read a statement from the group on Twitter.
De Blasio attempted to stake out a claim in the progressive wing of the Democratic Party Wednesday night during the Democrats' first debate. He's faced criticism for his previous support of the socialist Sandinista government in Nicaragua.
A round-up of the bipartisan local criticism against de Blasio, including comments from U.S. Sen. Sens. Marco Rubio and Rick Scott, U.S. Rep. Donna Shalala and Florida Democratic Party Chair Terrie Rizzo can be seen below:
Bill DeBlasio went to a rally at the #Miami airport today & ended his speech by quoting from the murderous Che Guevara's farewell letter to Fidel Castro.

But how dare anyone call him or any democrat candidate a socialist. https://t.co/IjIOTSI9GV

— Marco Rubio (@marcorubio) June 27, 2019
In case there was any doubt about the Democrats running for President embracing socialism, @BilldeBlasio is in Miami quoting…Che Guevara.

You can't make this up. https://t.co/y0Z7bfKgbC

— Rick Scott (@ScottforFlorida) June 27, 2019
https://twitter.com/RepShalala/status/1144343697947074560
Mayor Bill DeBlasio does not speak for Floridians or the Florida Democratic Party and he would be wise to apologize.

— Terrie Rizzo (@TerrieRizzo) June 27, 2019
Neither @Annette_Taddeo nor I were present when @BilldeBlasio spoke, didn't speak w him & only learn of this now. Quoting a murderer responsible for death & oppression in communist Cuba and throughout Latin America is not acceptable. Please apologize. Many on strike are Cuban btw https://t.co/sqxdkHQizV

— José Javier Rodríguez (@JoseJavierJJR) June 27, 2019
I am utterly disgusted! Both @JoseJavierJJR and I left before @BilldeBlasio spoke. This is completely unacceptable! How can anyone wanting to be the leader of the free world quote a murderous guerrilla -in Miami no less! A community filled with his victims! #DeleteYourCampaign https://t.co/deDoNPFZxm

— Annette Taddeo (She/Her/Ella) (@Annette_Taddeo) June 27, 2019
Elected officials need to stop glorifying mass murderers. Whether it's @realDonaldTrump praising Kim Jong-un and Putin or @BilldeBlasio quoting Che Guevara today.

— Miami-Dade Democrats (@MiamiDadeDems) June 27, 2019
This was not a mistake. Regrettably it is not extraordinary in primary politics today. As both parties continue to radicalize, our politics further deteriorate and our social fabric is further damaged. Shame on De Blasio who is a massive demagogue. https://t.co/NxqgHsLSBx

— Carlos Curbelo (@carloslcurbelo) June 27, 2019