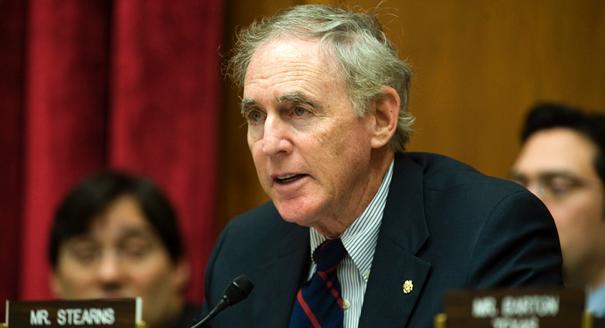 Stearns is still keeping the account active, using it to pay for self-storage, internet, and electronics.
Editor's note: This is the eighth in a series of stories looking at what former Florida politicians are doing with campaign accounts they never shut down.
___
Since he was accused nearly two years ago of violating federal election law by using old campaign funds for personal purposes, former Florida Congressman Cliff Stearns has reformed his ways. Gone are the campaign expenditures on expensive meals, cellphone bills, and undisclosed gifts.
Yet the Ocala Republican, out of office since January 2013 and without a campaign since 2012, still sits on an active campaign account with $1.4 million in old donations in it.
While Stearns isn't leaning on the campaign account as much to cover daily expenses and checks to members of Congress he's lobbying, he is still keeping the account active, using it to pay for self-storage, internet, and electronics.
Stearns also spends campaign funds for memberships to Washington's exclusive Congressional Club and Capitol Hill Club, which he's said he uses to lobbying his former colleagues.
Except, Stearns' campaign doesn't call the expenses "membership fees" anymore, as it had previously; in 2019, the campaign's federal filing started calling its annual payment to the Capital Hill Club a "donation."
Stearns is also still paying his wife from his campaign account, an arrangement that seems like one of the best in politics. Joan Stearns is getting paid $3,000 a quarter to file a short compliance report and balance a bank account that cuts only about a dozen checks a quarter.
There may be a reason Stearns' campaign remains active, but not as active as before.
The Federal Election Commission may still have an open investigation into Stearns' post-career spending, stemming from the 2017 complaint filed by the Campaign Legal Center (CLC). By law, FEC enforcement matters are confidential until they're concluded.
And while the FEC suggests former lawmakers shut down campaign accounts within six months of their final campaign or day in office, as reported in the Tampa Bay Times/WTSP Zombie Campaign investigation, the agency has also reportedly told campaigns not to shut down while under investigation. It's not clear if Stearns' campaign still is.
"(Twenty months) is still within the normal range of time for a complaint," said CLC's Senior Director for Trial Litigation and Strategy, Adav Noti. "The agency might be investigating, or they might be trying to reach a settlement agreement with him, or they might be just sitting on the complaint doing nothing."
Stearns did not respond to a voicemail left on his cellphone this week. In January 2018, his attorney said the federal complaint was without merit, but Stearns later reimbursed the campaign for several of the questionable expenditures out of "an abundance of caution."
___
This is the eighth in a series. If you have tips or requests to investigate former candidates with zombie campaigns still open, email [email protected].