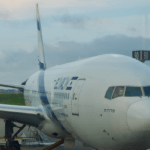 As Gov. Ron DeSantis sought Tuesday to portray new El Al Israel Airlines direct flights between Orlando and Tel Aviv as evidence of growing ties between Florida and Israel, Consul General of Israel in Florida Lior Haiat declared Florida as "the most pro-Israel place on Earth."
"When I came here just over three years ago, I was surprised to see how close Israel is to Florida. How Floridians look at Israel, how Floridians love Israel. And I thought it couldn't get any better than that," Haiat said Tuesday, shortly before he, DeSantis and others cut a ribbon inaugurating direct flight service between Orlando International Airport and Ben Gurion Airport.
"Thank you Gov. DeSantis for proving me wrong," Haiat continued. "Because it got a lot better than that. And for Floridians to send a historic delegation to Israel and signed a historical number of agreements… every time we look around we see Israel is getting closer and closer to Florida, as we speak."
In and of itself, Tuesday's official announcement, of the first El Al direct flight from Orlando to Tel Aviv, is both old and modest news. Negotiations for the service began a year or two before DeSantis even launched his run for governor. Those talks resulted in an agreement between the Greater Orlando Aviation Authority and El Al officials in early winter, around the time DeSantis was taking office. The news first broke in February, and was first discussed by DeSantis in May during his administration's big trade mission to Israel
El Al's direct service to Orlando is the airline's second to Florida, following a round-trip flight that began between Tel Aviv and Miami in the fall of 2017. Now, Orlando will be getting one round-trip flight per week, and only seasonally, with the current seasonal service ending August. 20. In fact, the first El Al flight from Tel Aviv arrived in Orlando a week ago. On Tuesday the first return flight from Orlando took place.
But the new airline service was discussed Tuesday more as an example of what DeSantis, Haiat and others touted as a strong and strengthening Florida-Israel relationship. That included several references by Haiat, DeSantis, and VISIT FLORIDA President Dana Young to the big trade trip that DeSantis, the Florida Cabinet and dozens of other Florida officials and business representatives to Israel in May.
"I think we're going to see more economic relationships build as we move forward," DeSantis said.
He also predicted more friendship building, as more Floridians travel to Israel.
"I think as word gets out that this is an option both here in Central Florida and in Israel, I think you're going to see more and more people doing it," he said.
DeSantis sought some credit for the Orlando flight. He said his initial discussions with Israeli officials included a mention of El Al adding Orlando service on top of the Miami service, and "literally within a couple days" it was coming together.
"Really, that [Miami] is an important part of Florida but I think we really want to have a connection with a different part of Florida and I think Central Florida was really the perfect spot," DeSantis said. "Having the non-stop flight I think is very, very significant."