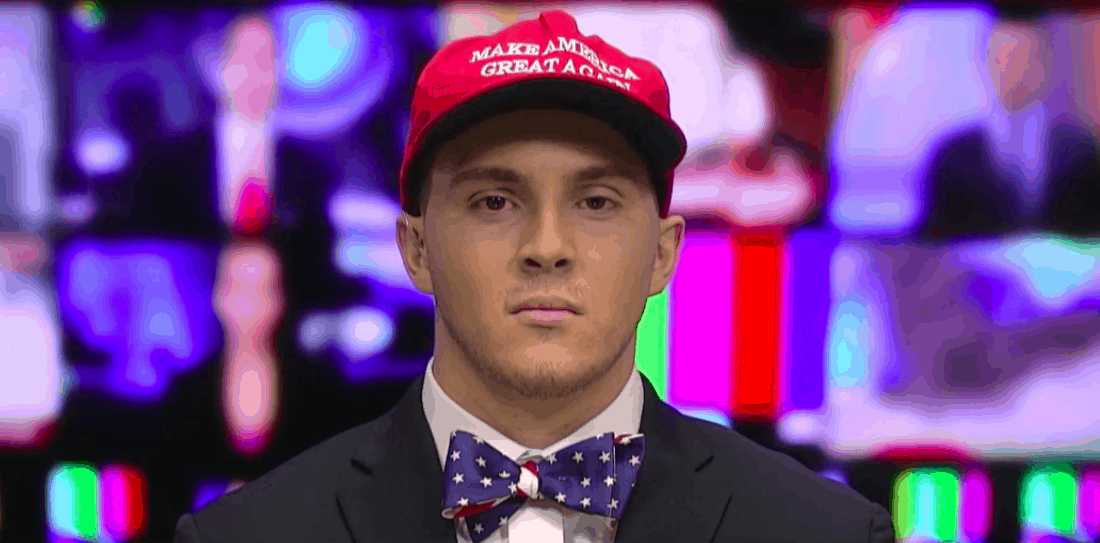 Impeachment proceedings will begin soon for Daniel Weldon.
The Florida Federation of College Republicans (FFCR) could soon remove chair Daniel Weldon over accusations of favoritism, dishonesty and verbal abuse, sources within the organization say.
They added that impeachment proceedings are "imminent."
The move comes amid accusations Weldon made up a story about a fight breaking out over his "Make America Great Again" hat, a story he recounted on Fox Business.
Weldon has also angered FFCR leaders over management decisions with the organization. That included severing ties with one campus College Republicans chapter and allegedly verbally abusing a pregnant state officer.
All this prompted three individuals to resign from their positions at FFCR: Executive Director Lindsey Dickerson, Second Vice Chair Megan Springer and Secretary Jordan Foster all quit from their posts.
"Over the last several months, I have been personally disrespected and deceived by Daniel," Dickerson wrote in a resignation letter. "I have witnessed his behavior and level of disrespect toward myself and other dedicated members of the board become increasingly more flippant and contemptuous, leading to board members emotionally distraught or threatening to resign."
Weldon, a former linebacker with the University of Florida, has taken a number of actions within the organization that spurred specific criticism.
That includes Weldon de-federating the Florida International University's College Republicans chapter through an executive order. A number of members said any such a decision should have been made through a vote of the state board.
Some have also accused Weldon of pushing for CCFR to name Alex Abdul, a close friend, to a chief of staff position.
First Vice Chair Sarah Gibson outlines concerns raised about Weldon in a memo. There, Gibson said Weldon encouraged any hiring to decision to be made discounting Abdul's and his friendship.
"There was not much discussion as everyone agreed that he (Abdul) was qualified for the role," she wrote.
Regardless, critics have argued no vote was taken so Abdul was never actually hired.
Weldon was also accused of hand-picking his own supporters to serve as delegated to the College Republican National Convention and to sit on FFCR's Constitutional Revision Committee.
He also canceled the traditional chairman's retreat this year.
Gibson wrote in her memo that was based on financial concern, and that training for chairman would take place at a different event.
In her memo, Gibson made clear she had no intention of resigning her position and worried talk of impeachment would consume time and resources.
"I am disappointment that so much of out time is going to be taken by these events, as it takes away from the mission of FFCR," she said.
But sources within the organization said Weldon's leadership and antics have proven disruptive. Members want to focus on the effort of getting Republicans elected, but cannot do so under Weldon.
"The board's top leadership has proven to be lacking in interpersonal skills and self-responsibility," Foster wrote in her resignation letter.
She said Weldon made disparaging comments about whether her pregnancy impacted her work. When she raised concerns about the inappropriate remark, the board dismissed the concern.
"I began the road to a position with FFCR knowing about my pregnancy, and the restrictions that would come along with it and was still graced with support from the rest of the campaign," she wrote.
"The support has continued through the majority of the board, but after blatant statements from you saying that you do not care about me or my daughter I realized that this is the last straw for me."
Multiple sources within the organization say the greatest concern with Weldon ultimately is an interest in self-promotion.
Weldon spoke on Fox Business in July about an alleged attack at the Pita Pit in Gainesville. He said a group of seven individuals accosted him about the hat, and one woman actually took off his hat and 'Trump 2016' pin.
He said the confrontation was unprovoked: "I really just walked up and they surrounded me," he said.
But the restaurant's owners told the Washington Examiner the story didn't line up with surveillance footage. Police are investigating.
Last updated on July 24, 2019