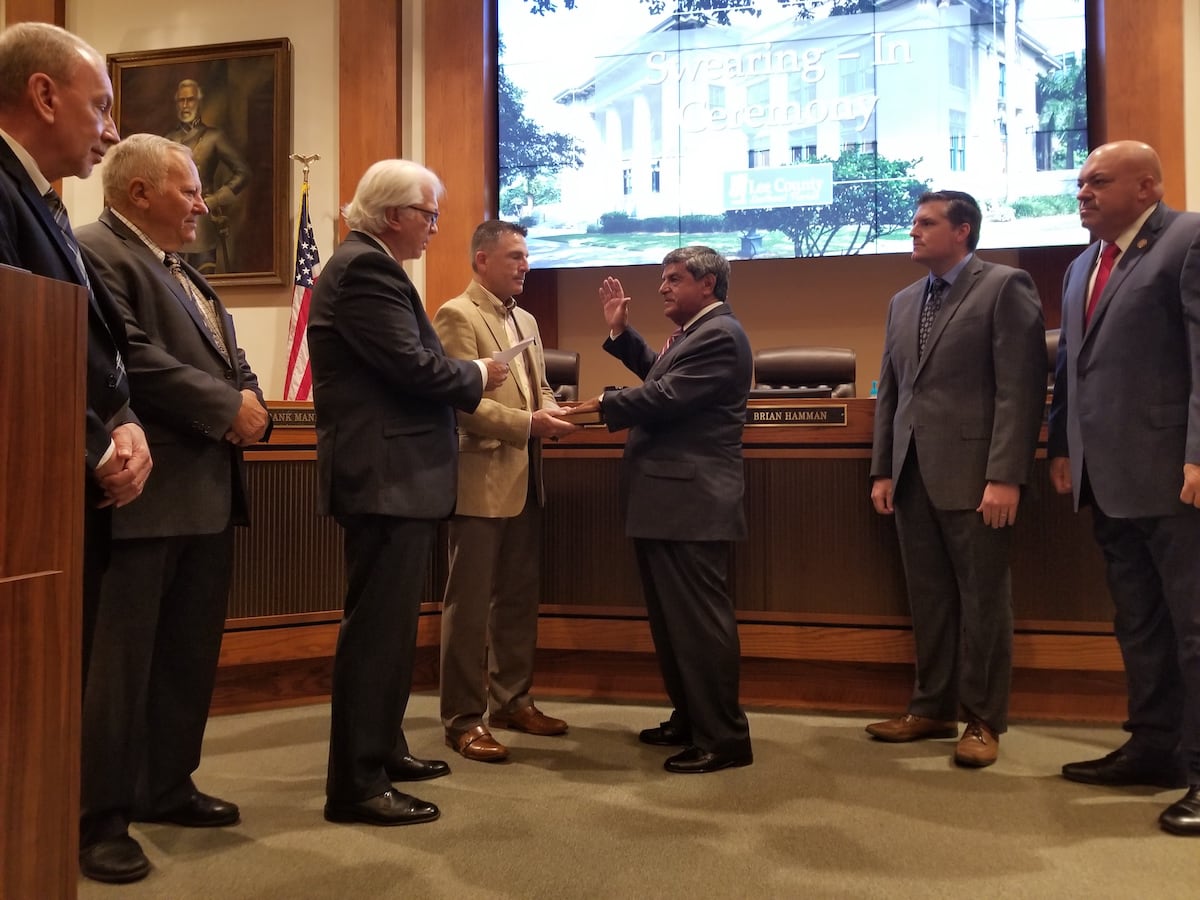 Gov. Ron DeSantis appointed real estate broker last week.
Moments after being sworn onto the Lee County Commission, Raymond Sandelli cast his first, extraordinarily noncontroversial vote. He joined a 5-0 vote passing a 32-part consent agenda with nary an item pulled.
"How'd I do?" he joked.
Those gathered to watch the installment of a new commissioner, who replaces the late Larry Kiker, chuckled at the remark.
But more eyes will surely turn to Sandelli as he weighs in on development and policy matters.
The Bonita Springs has yet to announce if he will run for a full term on the Commission, though many expect Gov. Ron DeSantis appointed the commissioner anticipating he would run.
"I'm just getting started here," he said.
Two candidates already filed for the District 3 seat, Republican Paula Kiker and Democrat Todd Truax, both could be found in the chambers.
They were there ostensibly there to welcome Sandelli, but neither seemed interested in stepping aside from the race.
Kiker, widow to the late Commissioner, said it was bittersweet to her husband's name taken off the office signs on dais plaques.
"It brings up great memories; we made great friends here," she said, "but of course it's sad inside as well."
She has no intentions of leaving the race, and notes Sandelli still has yet to jump in the race. "There isn't an incumbent unless he says he's going to run."
She confirmed that while she applied for the open seat, DeSantis never interviewed her for the job. She will be focused on attainable housing as she runs for the seat.
Truax, who ran in the Democratic primary for Congress in Florida's 19th Congressional District last year, wants to offer an alternative to aggressive growth.
"The theme of the day seems to be develop, develop, develop. I'm for planned development," he said. "I'm more of a green space protector and for further expenditures for 2020 land conservation.
"I moved to Florida 20 years ago and bought a canoe, not a motorboat."
The crowd included others who had their eye on the seat at one point. Attorney Matt Roestorff could be spotted in the crowd. The GrayRobinson attorney was at one point considered a likely choice for DeSantis. But he praised Sandelli as a solid pick.
"I think he'll do a great job," Roepstorff said. He has not announced any plans to run.
Next year, the District 3 seat will be one of three up for a vote in Lee County.