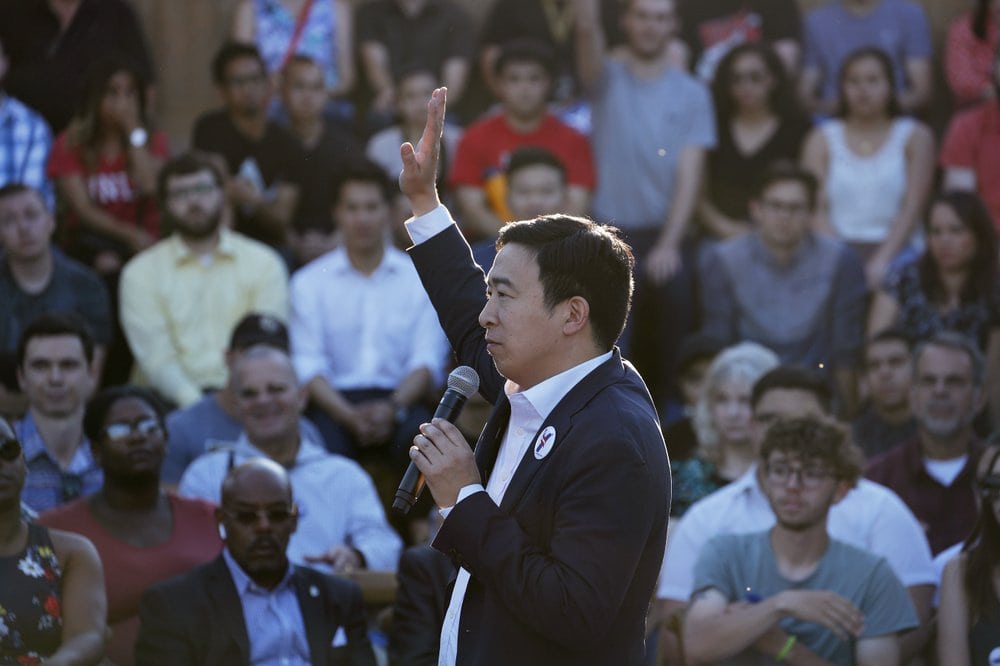 "We've seen Yang supporters orchestrating an online effort to drive votes for their candidate."
An online straw poll conducted by Progress Florida has former tech executive Andrew Yang leading the field of 2020 Democratic presidential candidates.
As of Tuesday afternoon, Yang is on top with 28 percent support, followed by U.S. Sen. Elizabeth Warren of Massachusetts at 22 percent.
Trailing those two are U.S. Sen. Bernie Sanders of Vermont at 16 percent, former Vice President Joe Biden at 13 percent and South Bend Mayor Pete Buttigieg at 6 percent.
Online surveys may not be the best indicators of future performance, as they can be susceptible to supporters of one individual or cause spamming the results.
That's exactly what Yang's supporters, known as the "Yang Gang," have done in an effort to show love for their candidate of choice.
Mark Ferrulo, director of Progress Florida, said Yang trailed some of the more well-known candidates up until Monday.
"After five days of voting, our straw poll had Warren, Sanders and Biden as the top vote-getters," Ferrulo said.
"However, in the last 24 hours, we've seen Yang supporters orchestrating an online effort to drive votes for their candidate which has vaulted him to the front. It will be interesting to see if other candidates' supporters launch a similar push."
The signature issue of Yang's campaign has been his push for a universal basic income — or, as he calls it, a "freedom dividend." The idea would be to grant Americans $1,000 per month, regardless of their income status.
Yang argues those payments will be needed as the American economy transitions toward more automation. Guaranteeing Americans $12,000 would help reduce economic anxiety as more workers lose their jobs, Yang says.
The money would replace traditional welfare programs, such as food stamps. That means tax dollars which now go toward those programs would instead be shifted to help give Americans a blanket $1,000 per month. By granting the dividend to all Americans, poor families don't have to worry about failing to qualify for the money in the event they begin generating more income on their own.
Some programs such as Medicaid, Medicare and Social Security would continue to be paid out in addition to the dividend. Yang says a 10 percent value-added tax would pay for the added cost of program.
While the idea sounds revolutionary to some, it's actually been discussed and studied for decades. Martin Luther King, Jr. was a fan. Experiments in the U.S. and other countries have shown good and bad results, though there are few high-quality studies to go by.
And in 2016, Switzerland voters actually decided on a referendum to create a UBI program in that nation. The vote failed, however, earning only 23 percent support.
Studies typically do show a slight dip in workforce participation. How rampant that would be in a national program remains to be seen. And, of course, the idea has a snowball's chance of passing in a Congress where Republicans have any say on the matter. Democrats would need 60 votes in the Senate to even attempt to push the proposal forward.
Yang is polling in the low single-digits both nationally and in Florida. But he said late last month he has qualified for the third and fourth Democratic debates. The Democratic National Committee has not yet officially announced the field.
Those looking to vote in the Progress Florida survey can click here, though you'll be required to submit your contact information to Progress Florida before voting. Once your vote is cast, you can view the most current results of the survey. Voting ends on Aug. 13.