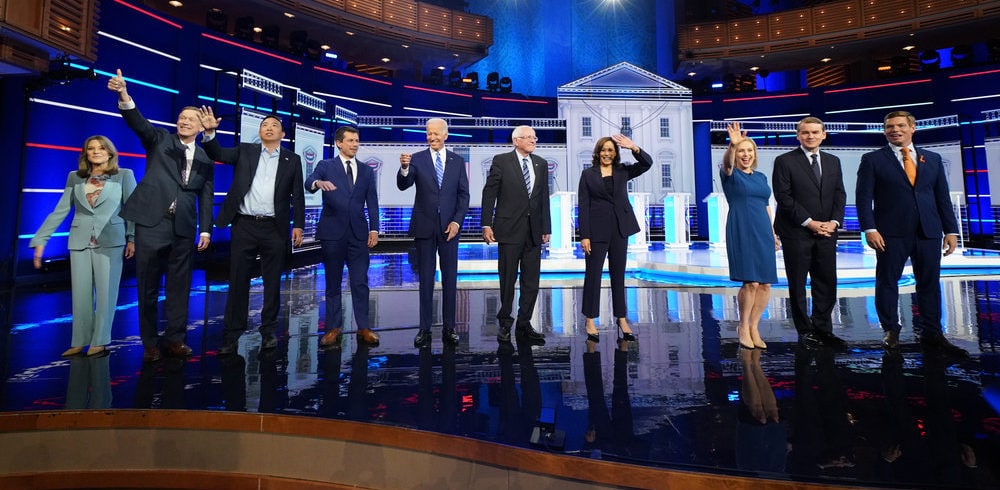 The online survey now shows Yang with 35 percent support.
Former tech executive Andrew Yang has managed to grow his lead in an ongoing Progress Florida straw poll of the 2020 Democratic presidential candidates.
The online survey shows Yang with 35 percent support as of Friday morning.
In second place is U.S. Sen. Elizabeth Warren of Massachusetts at 20 percent.
She's followed by U.S. Sen. Bernie Sanders of Vermont at 14 percent, former Vice President Joe Biden at 12 percent and South Bend Mayor Pete Buttigieg at 5 percent.
Yang took over the lead in that survey earlier this week, after his online cohort of supporters decided to push Yang to the top.
Online polls are not considered scientific, due to their susceptibility to such manipulation. But so far, Yang's supporters seems to have been the main ones to take advantage.
"It will be interesting to see if other candidates' supporters launch a similar push," said Mark Ferrulo, director of Progress Florida. But Ferrulo made those comments Tuesday, after Yang had first taken over the lead.
At the time, Yang was ahead of Warren by 6 percentage points. Now, his lead has grown to 15 points.
Yang has gained attention due to his unique push for a universal basic income — or, as he calls it, a "freedom dividend." The idea would be to grant Americans $1,000 per month, regardless of their income status.
Yang argues those payments will be needed to serve as a safety next for workers as the American economy transitions toward more automation.
Americans who take the payout would receive it in lieu of some traditional welfare programs, such as food stamps. But other programs such as Medicaid, Medicare and Social Security would continue to be paid out in addition to the dividend.
A 10 percent value-added tax would pay for the added cost of program, according to Yang.
Yang is polling in the low single-digits both nationally and in Florida. But he has now qualified for the third and fourth Democratic debates.
After the Democrats' most recent debate, Yang's team says he earned more than $1 million in donations in the following four days. For comparison, he raised $1.7 million through the entire first quarter of 2020, followed by $2.8 million in the second quarter.
Those looking to vote in the Progress Florida survey can click here, though you'll be required to submit your contact information to Progress Florida before voting.
Once your vote is cast, you can view the most current results of the survey. Voting ends Aug. 13.