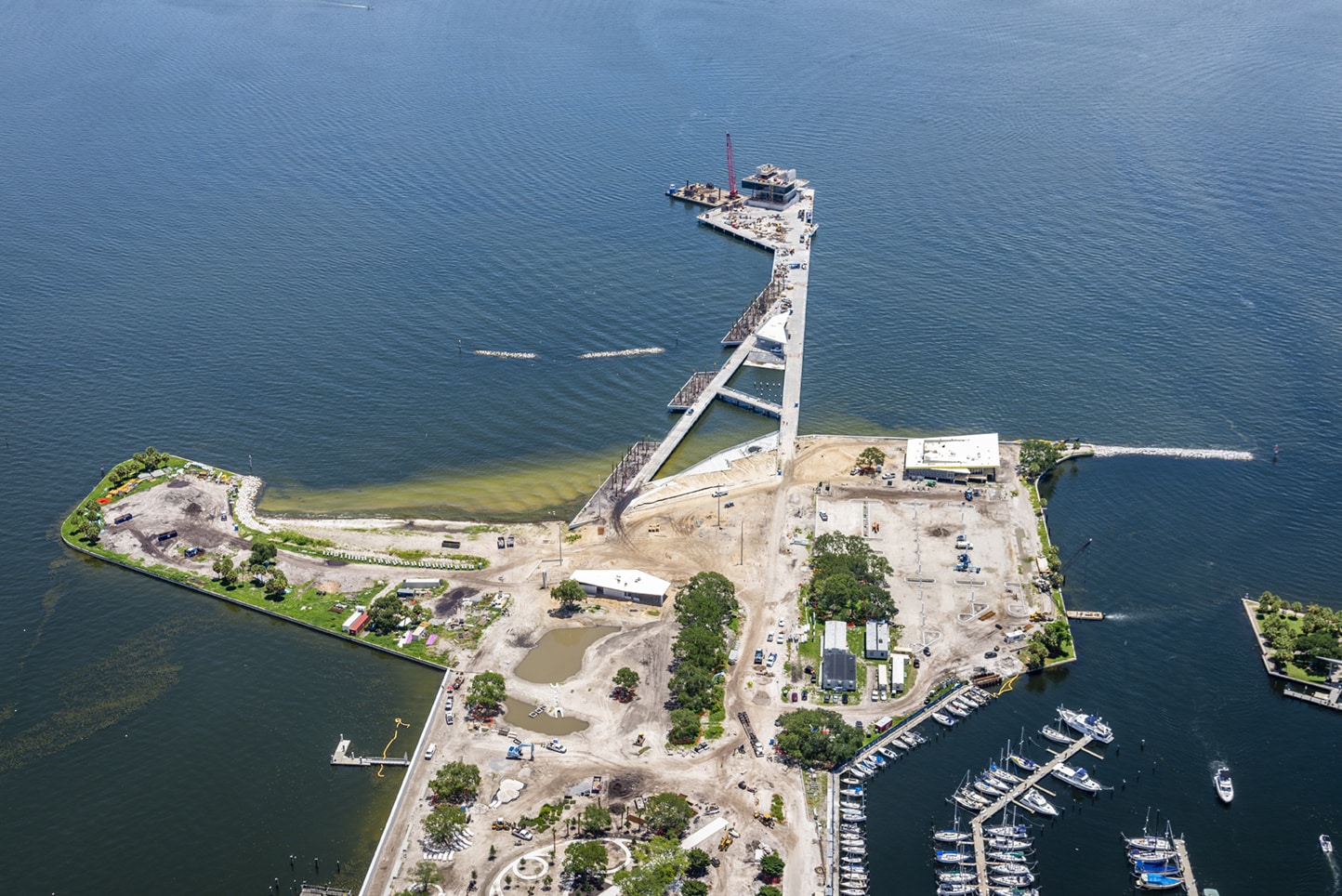 The shell of the main structure is almost entirely complete.
The new St. Petersburg pier is nearing completion. The main building at the pier head looks, mostly, as it will when it's done. The shape of the pier approach is in order. Trees are sprouting up all over the entire project.
A quick stroll past the construction site shows a glimmer of what's to come next Spring when the district opens.
So far construction crews have placed all 427 pilings necessary for the pier structure and bridge.
The city has secured all of its major tenants including Tampa Bay Watch for the Discovery Center, Doc Ford's for the pier restaurant, Teak, Inc. for several smaller restaurants throughout the pier head and United Park Services to operate the Pavilion Cafe at Spa Beach and Gator Jim's Tackle and Bait Shop and retail gift shop at the main building.
The sidewalk is set on the project's tilted lawn, a planned expanse of grass that slopes upward toward the bay where visitors can enjoy views of the downtown skyline.
Crews have also completed the two breakwaters near Spa Beach to protect that shoreline.
The city ha also purchased 12-passenger trams that will carry up to 35 passengers each as well as two 11-passenger wheelchair accessible electric shuttles. The vehicles will serve four stops along the pier district from Bayshore Drive NE to the pier head. The shuttles and trams will run at five to 10 minute intervals.
All of the public art for the pier has also been selected including Nick Ervinck of Belgium, Xenobia Bailey of New York City and Nathan Mabry of Los Angeles. Janet Echelman's billowing net structure will also be installed as a main focal point near the St. Petersburg Museum of History.
The main building at the pier head has all of its floors poured, which means what onlookers see now represents the size and overall shape of the final result. Glass has already been installed on the west side of the building as well as half of the north and south sides.
The Discovery Center is also taking shape. The steel structure is in place with framing underway.
Doc Ford's is almost done. The building's roof is complete and the building is now safe from the elements. Restaurant owners will soon have access to the building to begin retrofitting it for their use.
The city has begun installing solar panels at the pier.
The coastal thicket, a lush walkway with Florida-friendly landscaping, is well underway. Two planters for the thicket are done with the third about half done. Landscaping crews will continue planting smaller plants throughout the area in the coming weeks.
The city is still accepting applications to lease space in the Pier Marketplace area. There will be seven market stalls available as well as ten 10-foot by 10-foot tents. Applications are due August 19.
Photos below: City of St. Petersburg