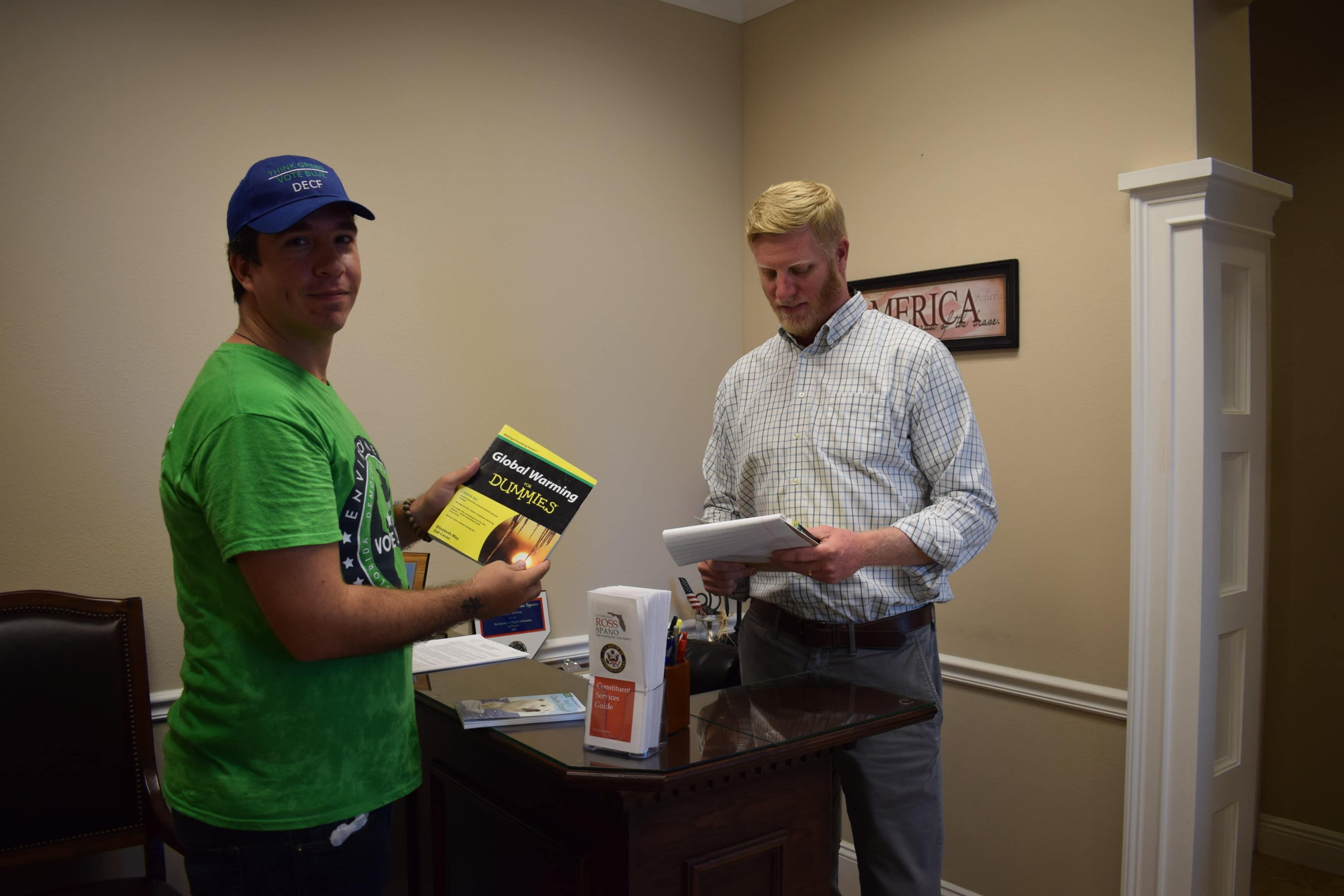 Spano said he shouldn't be called an "idiot" for questioning climate change.
A group of local activists descended upon Congressman Ross Spano's Brandon office Monday morning to deliver some light reading material on climate change. 
The group dropped off two books — "Global Warming for Dummies" and "Environmental Science for Dummies." They also left a children's book titled "What is Climate Change?"
"At the end of the day, who's at fault matters less to me than actually addressing the climate issues we face," said Hillsborough Democratic Environmental Caucus chair Russ Conn. "Rep Spano's refusal to educate himself does a disservice to the county and his community because his refusal to listen to established scientific facts."
The move came after more than a week of ongoing criticism toward Spano, the Republican incumbent in Congressional District 15, after an interview in which he denied climate change was caused by human activity.
He also questioned the science behind climate change in general. Spano rejected the consensus among 98 percent of climate scientists who say climate change is a human-induced problem that needs to be addressed immediately. 
The book titles delivered to Spano mock his statements, especially considering Spano himself argued people shouldn't call those who question the validity of climate change "idiots." But it also served as an impromptu lesson for the conservative lawmaker.
In "Global Warming for Dummies," readers are expected to learn to "understand the science behind climate change, recognize the causes of global warming, consider the consequences for the planet — both immediate and long-term and reduce your carbon footprint."
The book also includes the top ten myths about global warming.
"We wrote this book assuming that you know zero, nil, zilch about global warming. You don't have to look up the definitions of big, ridiculous words or drag out your high school science textbook to read this book," the book's introduction reads. 
That's good news for climate activists delivering the message. 
"We also assume, however," the book continues in not-so-good news. "That you know global warming exists, that you recognize humans contribute to this problem, and that you want to understand why global warming is happening."
"Environmental Science for Dummies" takes a slightly different approach to the issue. It aims to teach readers to apply concepts of environmental science to life, supplement classroom learning with confidence, explore issues surrounding natural resources and sustainability and understand how the choices people make impact the environment.
It does not exclusively focus on climate change or global warming, but does include relevant chapters including a chapter entitled: "Is it getting warm in here? Modern Climate Change" with sections on how to recognize human influence, how to mitigate human influence and a look at how climate change affects human society. 
Other sections include pro-climate environmental policy and information on how to measure human impacts on the environment.