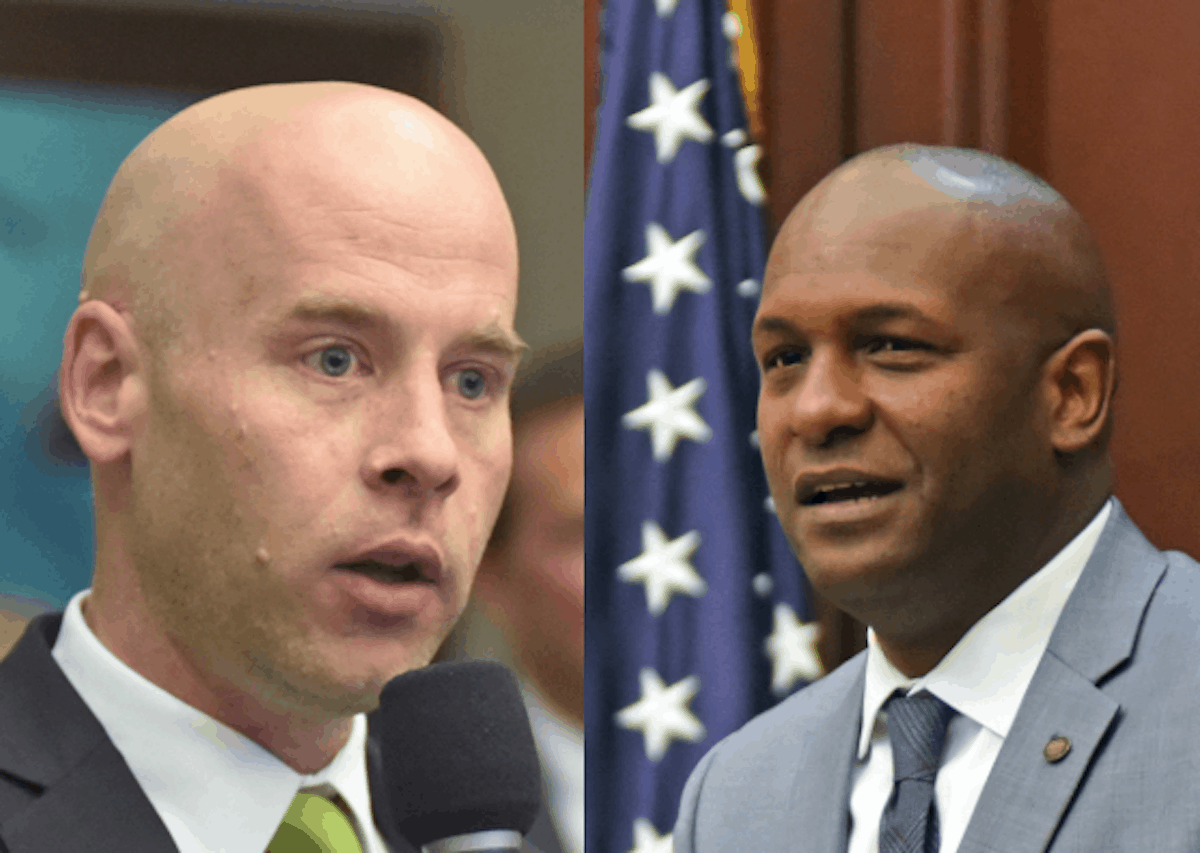 There's already rumblings about a new leadership election.
Were incoming Democratic leaders in the Florida House even elected to their caucus positions?
Some colleagues are now raising that very question.
Amid lingering tensions about the termination of the House victory consulting team, some Democrats have started to openly wonder if a new election needs to take place before anyone steps into the role of leading House Democrats after the 2020 elections.
Reps. Evan Jenne and Bobby DuBose in April announced they would share power after the 2022 elections instead of force a leadership vote.
That came after a lengthy day of debate, and it seemed to cut off at the pass a protracted selection process and battle over the title of Democratic Leader.

The move to share power was presented as historic, but the reason such an agreement may be unprecedented is that foregoing an actual vote avoided — or even violated — the rules.
Article VII of the "Standing Rules for the Caucus of Democratic Members of the Florida House of Representatives" lays out leadership election processes. That includes a nominating process, and if there are opponents seeking the same office, there is explicit mention of ballots.
There's even a winnowing process, detailed where multiple votes are taken with the lowest vote-getters knocked off the ballot each round.
None of that happened when Jenne and DuBose announced they would share duties instead, with Jenne leading policy efforts and DuBose focusing on politics.
Rep. Al Jacquet said that, at the time, the move bothered him.
"I was in the room, just shocked," the Riviera Beach Democrat said. He recalls, "looking around to see if no one was seeing this hijack."
Other caucus members confirm they took no vote about Jenne's and DuBose's deal. There were nominations, but then DuBose and Jenne stood in front of the crowd and embraced.
"No vote was cast by any members for either Jenne or DuBose," said state Rep. Anika Tene Omphroy, a Lauderdale Lakes Democrat.
Jenne said that's what he remembers too, though he recalls nobody upset at the time.
"Even the people you talked to, whoever they are, gave us a standing ovation," Jenne said.
By his account, current House Democratic Leader Kionne McGhee thanked Jenne and DuBose for avoiding a divisive leadership fight.
As far as Jenne is concerned, the power-sharing agreement passed through unanimous consent. While Jenne doesn't know how that works with caucus rules, he assumed at the time nobody had any problems.
"Leader McGhee said at the meeting it was OK," he said.
But not everybody felt the same way.
The sudden questioning of leadership's legitimacy comes amid continued frustration with a decision for House Victory to part ways with consultants Reggie Cardozo and Janee Murphy.
Schisms between members were apparent following a contentious conference call among Democratic state representatives; sources said tension and anger marked the conversation over the unexpected termination of the relationship.
House Victory since announced new hires — Political Director Laurie A. Watkins and Finance Director Gretchell Trochez-Triguero — to do the work the prior consultants performed.
But Omphroy still considers firing Cardozo and Murphy a betrayal of members' trust. Also, it was bad politics, she said, suggesting firing Murphy send a particularly bad message to other black women.
"Let's talk numbers," she said. "Fifty-five percent of black women voters cast ballots in November 2018, a full six-percentage points above the national turnout. Black women are the most reliable Democratic vote nationally and in Florida.
"Our House Victory Director(s) and staff, from a strategic perspective, should reflect this strength and be a reflection of our base's diversity and it currently does not," she added. "My grandpa taught me how you spend your money reflects what you value."
Jenne, for his part, said he believes the high emotions have started to die down within the caucus, he doesn't feel any challenge of the leadership agreement has significant backing.
But a high-ranking source within the caucus said that while the termination of Cardozo and Murphy pushed friction in the caucus into view, problems have lingered for months. And much of that stems with the way they bulldozed through the power-sharing agreement.
One member said at least six members submitted write-in ballots after the fact supporting another member besides Jenne or DuBose.
While a handful of caucus members continue to question decisions, Jenne and DuBose have spoken to over 40 members personally who still support the co-Leader-designates.
But other sources contradict that — saying more than half the caucus remains upset by the leadership decisions being made by DuBose and Jenne. Some have demanded a new election take place, and if that occurred, it's no clear either Jenne or DuBose would come out.
But those still angry, express strong feelings.
Jacquet and Omphroy both feel Rep. Ben Diamond, the Leader-designate expected to lead the caucus after the 2022 elections, was the only designate chosen by ballot and therefore the only person in the caucus who deserves that name.
Diamond, who was also part of the decision to part ways with Cardozo and Murphy, referred questions to DuBose and Jenne about the controversy surrounding their sharing agreement.
Jacquet said he's also upset at the process disruption. He just filed legislation to ease financial burdens for returning citizens.
To see rules about voting discarded, at a time when Democrats set themselves up as champions of the disenfranchised, chaffs Jacquet all the more.
"We're fighting for voters' rights, and that's how we do our own elections?" Jacquet said. "You think they will help immigrants, blacks, and poor people against voter suppression? I don't."