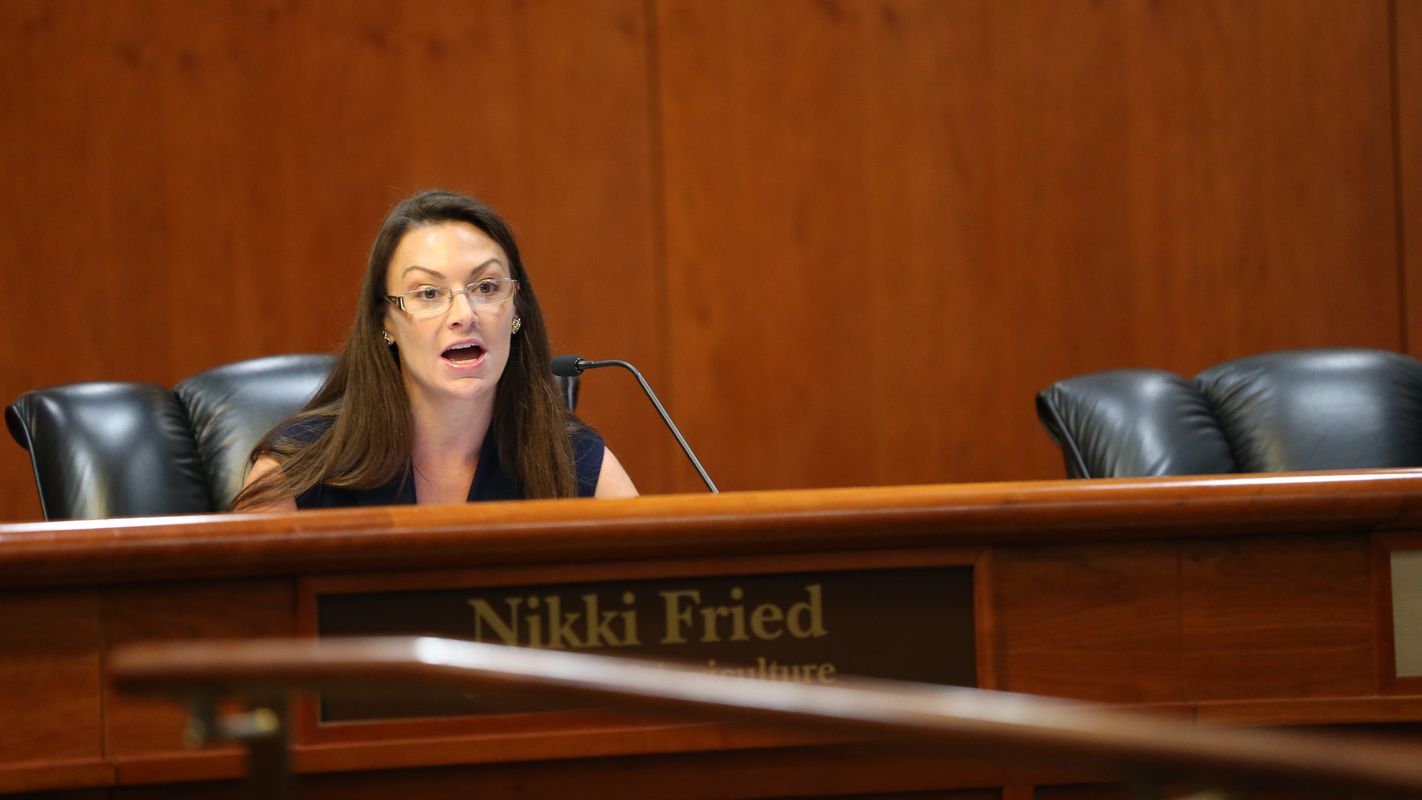 "Neither Floridians nor OFR's employees should expect to wait" any longer, she said.
Agriculture Commissioner Nikki Fried is calling for an interim Commissioner of the Office of Financial Regulation (OFR) to be named in the wake of the suspension and later firing of the former head, Ronald Rubin.
Rubin was fired last month at a Florida Cabinet meeting after accusations of sexual harassment, followed by complaints of strange and inappropriate comments in the workplace. Rubin was on the job only five months.
OFR "has been without a Commissioner for over 100 days," Fried said in a statement released Monday.
Rubin had been placed on administrative leave beginning May 10. The OFR regulates banks, credit unions, other financial institutions, finance companies, and the securities industry.
"At our previous Cabinet meeting on July 25, CFO (Jimmy) Patronis called for the appointment of an Interim Commissioner at the next Cabinet meeting," she added. "Unfortunately, both August meetings of the Cabinet have been cancelled.
"I have already met with OFR's Chief of Staff and General Counsel, and my senior staff has interviewed several qualified candidates for Interim Commissioner. Neither Floridians nor OFR's employees should expect to wait yet another month for this appointment to be made.
"Given the urgency of the situation, I am calling for a special meeting of the Cabinet to appoint much-needed leadership, and I am placing into consideration Greg Oaks, OFR's Director of Consumer Finance and a trusted veteran of the agency for 26 years."
As the Governor and Cabinet, DeSantis, Patronis, Moody and Fried also sit as the state's Financial Services Commission, and collectively they can hire and fire the head of OFR.
Rubin's firing, after a motion by Patronis, was supported by Gov. Ron DeSantis and Attorney General Ashley Moody. Fried withheld her vote, saying she wanted to delay consideration on Rubin's continued employment till the next Cabinet meeting, citing public notice concerns.
Barbara Petersen, head of the First Amendment Foundation – the state's Sunshine Law watchdog – later told Florida Politics there was no violation of the public notice requirement.
Bloomberg Law has reported that 12 people "who once worked or had professional interactions with Rubin (said) the Florida allegations are consistent with what they said was inappropriate behavior in prior jobs, including at the Consumer Financial Protection Bureau and House Financial Services Committee."
The Bloomberg report added that the "pattern of allegations of inappropriate behavior toward female colleagues and an inconsistency in his employment history raises questions about how well Florida officials vetted Rubin before naming him the state's chief financial services regulator."