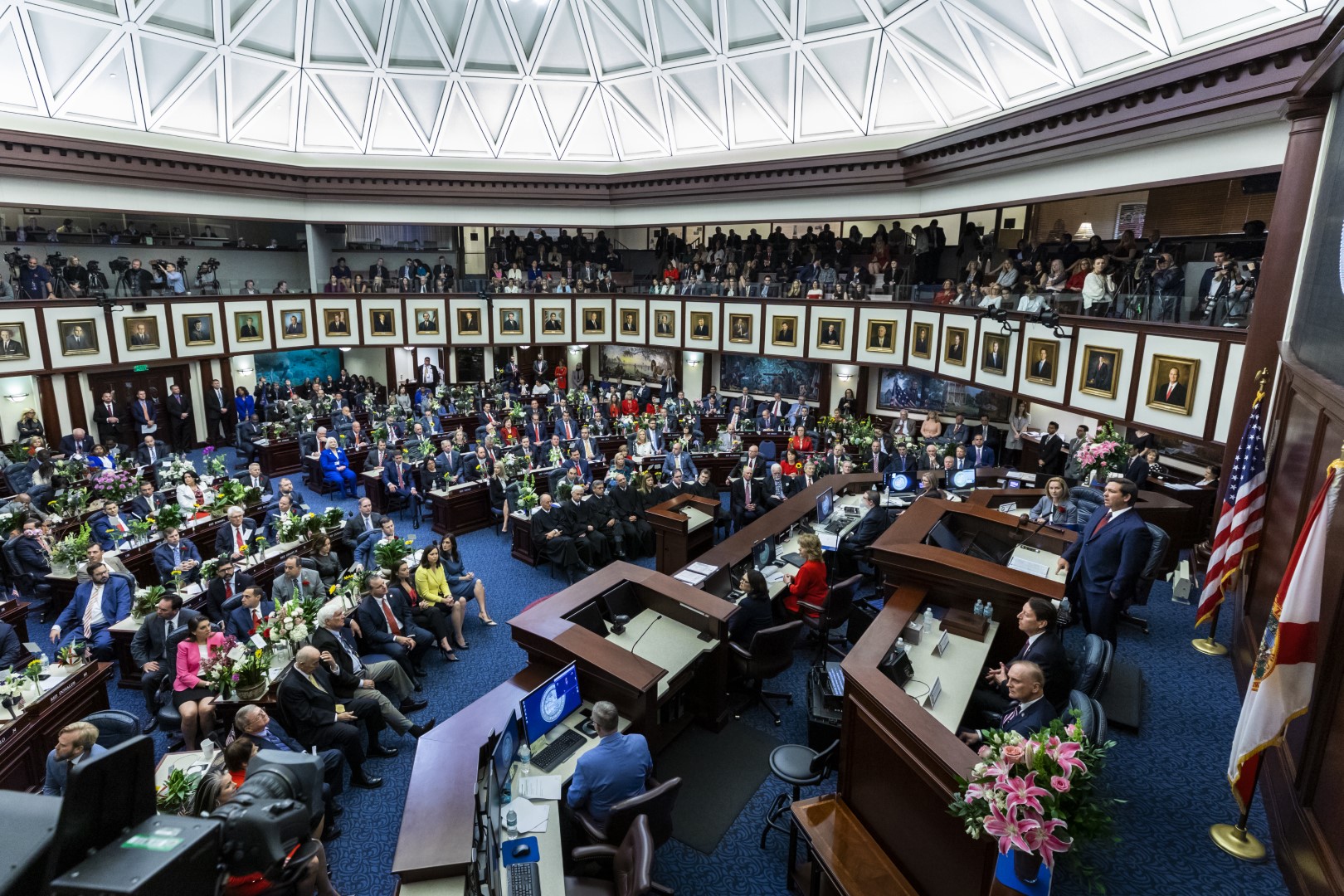 "Floridians want to see common-sense reforms to our state's gun laws."
After yet another spate of mass shootings across the country, the Florida House Democratic caucus on Tuesday called for a Special Legislative Session "to address the epidemic of gun violence in our state."
"The people of Florida deserve …to live in cities free from the plague of daily gun violence," said Rep. Javier Fernández, a Coral Gables Democrat, on behalf of the caucus.
"They deserve to attend gatherings, schools, and houses of worship without a looming fear for their lives and the lives of their loved ones," he added. "And they deserve a Legislature who will do all it can to protect them."
The call is unlikely to succeed, however: Republicans outnumber Democrats in the House 73-47, and in the state Senate 23-17.
The initiative comes after mass shootings earlier this month in El Paso, Texas, and Dayton, Ohio, which took 31 lives. A week before that, a gunman shot and killed three people – including a 6-year-old and a 13-year-old – and injured 13 others at the Gilroy, California, Garlic Festival.
Gov. Ron DeSantis later ordered flags at half staff across the state to honor the shooting victims.
Fernández said it was "too late for those (already) impacted by gun violence, but if we act quickly we can stem this tide and save lives."
House Speaker José Oliva, a Miami Lakes Republican, issued a statement that lawmakers, "in a bipartisan effort, created the risk protection order and its effectiveness is without question," referring to part of the legislative response after the 2018 Parkland high school shooting.
"While I'm sure this request for a Special Session is sincere and well-intentioned, we must always strive to do something right rather than just do something," Oliva said in a statement.
"We have committee weeks coming up and regular Session shortly thereafter," he added. "I have no doubt that there will be robust discussions about our Second Amendment rights, mental health, and their importance in our society.
"Lastly, I've always been particularly proud that we work on this issue in a bipartisan manner. I still believe it is the best way to do so."
Senate President Bill Galvano, a Bradenton Republican, "does not support calling a Special Session," said Katie Betta, his spokeswoman.
His "memo to Senators earlier this month reflects his view on how the Senate should proceed with addressing these serious issues," she added.
The House Democrats' proposal would include the following, according to a news release:
— Require background checks for the transfer of all firearms.
— Prohibit the sale, transfer or possession of large-capacity magazines.
— Reduce the duration of licenses required to carry concealed firearms.
— Revise requirements for the safe storage of weapons in the home.
— Expand the number of individuals who can petition a court for a risk-protection order where a gun owner is believed to be a risk to themselves or others.
— Establish an Urban Core Gun Violence Task Force focused on reducing day-to-day gun violence.
Under state law, if 20 percent of the 160-member Legislature — 32 lawmakers — send letters to Secretary of State Laurel Lee requesting a Special Session, then a poll of the entire body is conducted.
At that point, three-fifths of each chamber — a total of 96 members — must vote "yes" for a Special Session to be called.
As of Tuesday afternoon, more than 20 percent of members had sent letters, according to the House Democrats.
State Department spokeswoman Sarah Revell late Tuesday provided the list of senders (at bottom) and said the poll had been sent to all lawmakers. The deadline to respond is 5 p.m. on Aug. 27.
In their press release, the Democrats said the "majority of Floridians want to see common-sense reforms to our state's gun laws, but year after year the Legislature refuses to take the action necessary to save lives.
"Members of the House Democratic Caucus consistently file bills to improve our gun laws, but they rarely receive a committee hearing, quietly failing without ever garnering the attention and discussion this issue deserves."