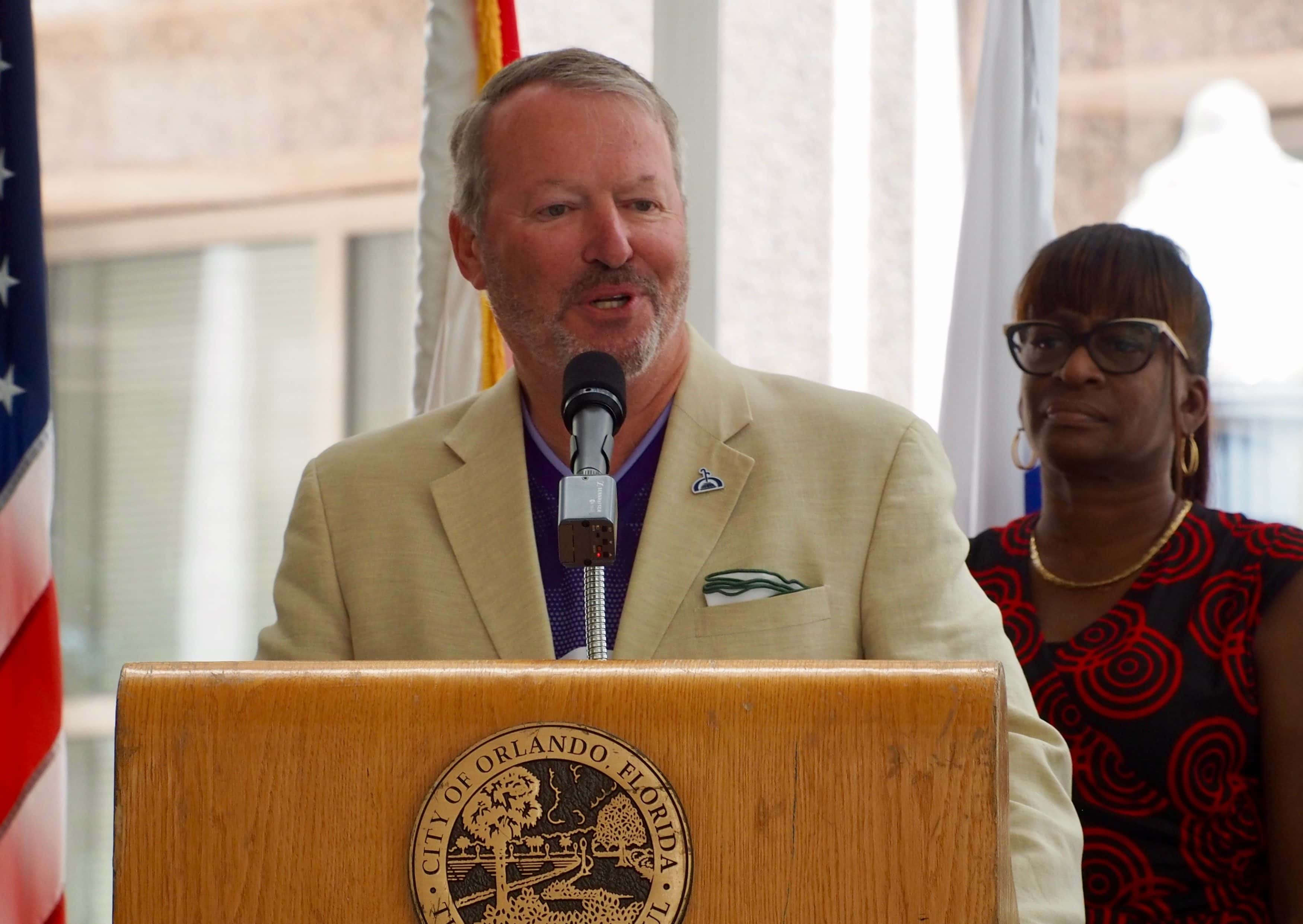 Dyer's campaign picks up $56K, Sam Ings' challenge, $6K
Orlando Mayor Buddy Dyer added $56,176 to his re-election campaign's coffers during the month of July, keeping his re-election fund at a level about 10 times that of any of his opponents.
Dyer's July campaign contributions brought his total to $459,053 since he filed in February seeking re-election in the Nov. 5 election. The campaign has spent about $97,830 through July.
Orlando City Commissioner Sam Ings reported raising $6,400 in July, putting his total raised at $43,475. Retired Navy veteran Aretha Simons collected $1,622 in July for a total of $43,641 raised. Shantele Bennett did not report any campaign finance activity in July and has raised just $443 in her mayoral bid.
As seen in previous months' reports, Dyer's collection included more than 30 maximum $1,000 contributions from developer interests, lobbyists, and businesses and individuals that do business with the city of Orlando, including Berman Construction, Ron Book, the Central Florida Fair, Orlando Magic principal Richard DeVos Jr., GrayRobinson, Charles Gray, Marchena and Graham, MV Transportation, Southern Strategy Group, and the Tap Room at Dubsdread. Dyer's campaign also received $500 donations from former Greater Orlando Aviation Authority Chair Frank Kruppenbacher and from that board's departing general counsel, Marcos Marchena.
Ings received one $1,000 check in July, from Orlando real estate developer CINO International.
To date there is only one competitive race, for the District 6 seat in southeastern Orlando, which Ings is vacating,  among the three Orlando City Council seats available in the November election.
In that District 6 race, former state Sen. Gary Siplin reported raising $19,250 in July, bringing his campaign total to $120,875 collected. Philanthropist Jim Pugh, the law firm of Shutts & Bowen, water consultant John Miklos, ABC Liquors, and the Central Florida Hotel and Lodging Association's two political committees were among a dozen donors who gave him maximum $1,000 checks in July.
Bakari Burns, president of Orange Blossom Health, reported raising $2,086 in July, and $37,286 to date in his campaign for the District 6 seat.
Community activist Lawanna Gelzer raised $1,750 and lent $1,500 to her campaign for the District 6 seat, bringing her campaign total to $9,080 raised.
Orlando City Commissioner Tony Ortiz in District 2 and Patty Sheehan in District 4 are running for reelection unopposed.