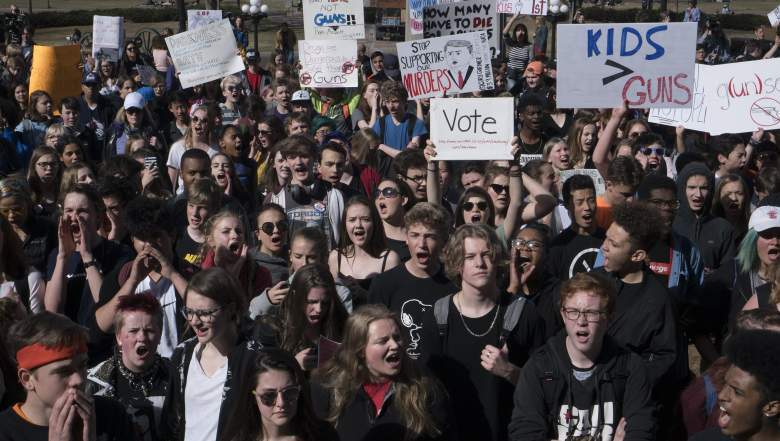 Parkland survivors spearhead new round of gun control proposals.
The March For Our Lives movement, born from the 2018 Parkland mass shooting, just unveiled new gun control proposals.
"A Peace Plan For a Safer America," unveiled Wednesday, serves as a proposed reform and a call to action ahead of the 2020 presidential election.
"We know this seems ambitious given Washington's apathy to decades of bloodshed in our schools, neighborhoods, and even our houses of worship," wrote March For Our Lives activist David Hogg on Twitter.
"It's okay to disagree with us – but we know video games aren't to blame. So I ask you @GOP @DNC what are your plans to end this?"
The plan itself explicitly interjects itself into the conversation around the 2020 presidential race.
"The next President must act with a fierce urgency to call this crisis what it is: a national public health emergency," reads the new plan.
The plan announces a six-step strategy for addressing gun violence, dubbed, CH.A.N.G.E.
Change standards of gun ownership: This calls for a national licensing and registry system for gun ownership. It also includes a complete ban on assault weapons, high-capacity ammunition magazines and "other weapons of war." This step explicitly aims to reduce the number of firearms in circulation through a buyback program and through policies of disarming those who pose a risk to themselves.
Halve the rate of Gun Deaths in 10 years: The organization wants a national emergency declared on gun violence and for the president to set a goal of reducing gun-related injuries and deaths by 50 percent, something that would save an estimated 200,000 lives.
Accountability for the gun lobby and industry: This step calls explicitly for a Federally Elections Commission and an Internal Revenue Service inquiry of the National Rifle Association. March For Our Lives always wants a push for the Supreme Court to overturn District of Columbia v. Heller, which ruled a D.C. gun control measure as unconstitutional and laid out the modern interpretation of the Second Amendment related to personal firearm ownership.
Name a director of Gun Violence Prevention: The group called for a new administration position who will report directly to the President. This official would oversee cooperative efforts of the Bureau of Alcohol, Tobacco, Firearms and Explosives, Department of Health and Human Services and Centers for Disease Control related to gun violence issues.
Generate community-based solutions: Focused on urban violence, this step looks to support local efforts aimed at preventing shooting deaths. That includes suicide prevention, domestic violence prevention and mental health programs. The group also specifically calls for action on police-related shootings.
Empower the next generation: The final step relates more to voting. March For Our Lives, a youth-driven movement itself, wants a federal law automatically registering every 18-year-old to vote. The organization also calls for a Safety Corps, similar to the Peace Corps, where young people volunteer to be involved in efforts to prevent gun violence. "The younger generations are disproportionately affected by gun violence. They should have a say in how their country solves this epidemic," the plan reads.
March For Our Lives formed in the immediate aftermath of a shooting that left 17 dead at Marjory Stoneman Douglas High School. Many of the survivors of the shooting, including Hogg became nationally prominent gun control advocates in the wake of the event.