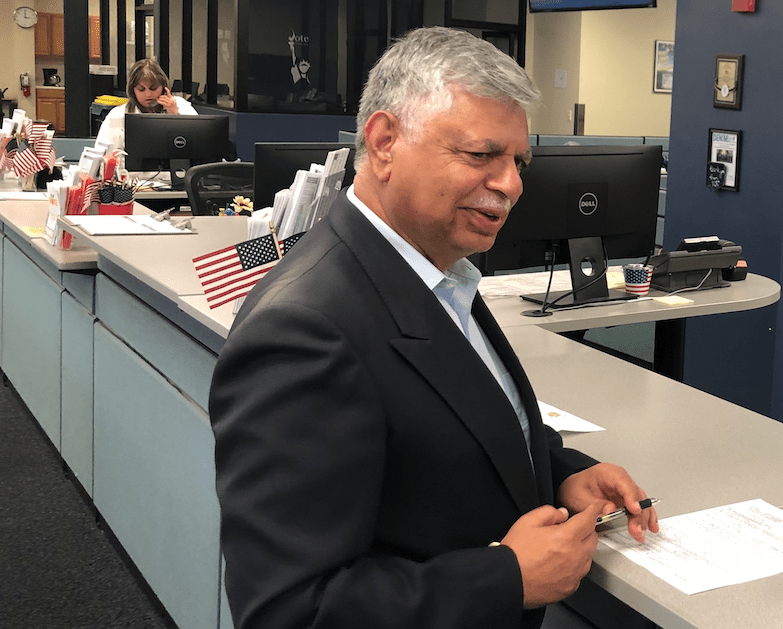 'Credibility and trustworthiness are what is lacking right now," Muneer said.
Democrat Khalid Muneer, a real estate broker and prominent civic activist, has filed to challenge Orange County Property Appraiser Rick Singh in the 2020 Democratic primary.
Muneer, 68, of Orlando, is a former banker who is president at Jupiter Properties, a commercial real estate brokerage, and Monessar & Muneer Consulting. He has served on numerous boards and area chambers of commerce in Central Florida.
Muneer is targeting Singh in part because of a series of scandals the Democratic property appraiser has gone through in recent years, which have led to lawsuits alleging sexual harassment and financial irregularities, and a probe by the Florida Department of Law Enforcement. Singh has denied all the allegations.
"Credibility and trustworthiness are what is lacking right now," Muneer said of the current office. "It's been in the newspapers so it's public knowledge. Also, he has not been very kind to our biggest employer in the area, which is Disney."
The latter assertion is over long-running disputes that Walt Disney World, and other big property owners including Universal Orlando, have had with his office's appraisals. So far, Singh has won those battles at the appellate and circuit court levels.
Singh filed for re-election on Aug. 1. There are no Republicans in the contest yet. In the 2016 election, Singh won a second term with a 60-40 victory over Republican Edward DeAguilera.
Muneer is a Pakistan native who was educated in England and has lived in Central Florida for 27 years. Before starting Jupiter Properties, he worked in treasury operations in international banking. He touted the experiences as "assets that I bring to the office to bring back the highest integrity and professionalism, which is not there right now, is nonexistent right now."
Muneer has served as president of the Asian American Chamber of Commerce in Central Florida; founder and president of the American Muslim Chamber of Commerce; co-chair of the Hispanic Chamber of Commerce Ambassadors Committee, and on the Florida Brazilian American Chamber of Commerce and the Puerto Rican Chamber of Commerce.
He also has served as an executive committee member of the Orlando Economic Development Commission [now part of the Orlando Economic Partnership], as chair of Orlando Mayor Buddy Dyer's City Certification of Minorities Board, and on the board for Harbor House, an Orlando domestic violence shelter organization.
Muneer is a first-time candidate. He said he wanted to wait until he could serve, not to seek an office as a steppingstone.
"This is something I've considered doing for a while now. Appraising property requires close attention to detail, trustworthiness, and a deep knowledge of the local market," Muneer stated in a news release announcing his candidacy. "This is something we can be more effective at here in Orange County."