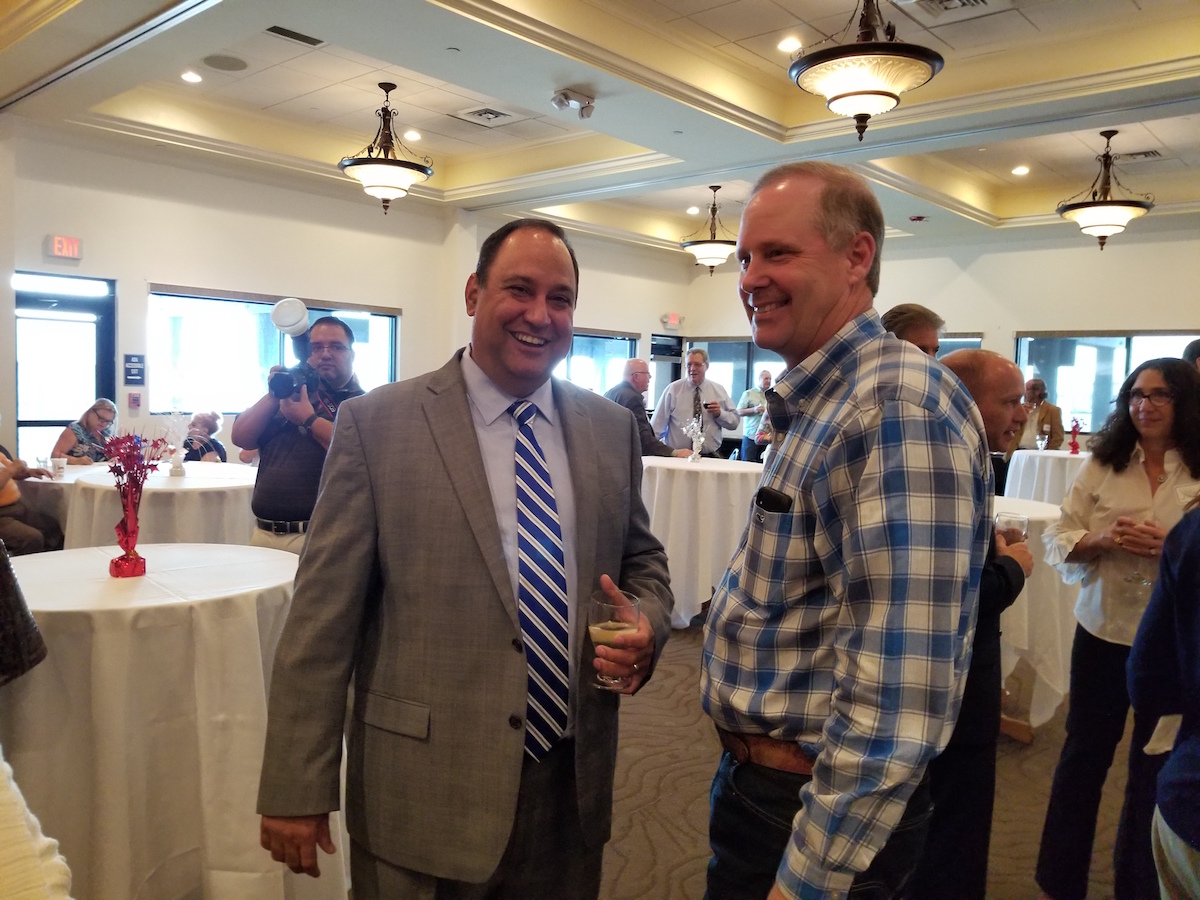 Estero Republican hopes mountains of money deter late-entry spoiler for Senate race.
The fundraising continues to rise for state Rep. Ray Rodrigues. The Estero Republican through August pulled in more than $500,000 to support his state Senate bid.
"Our hope is that we continue to be successful in fundraising, anyone who would considering running would rather find an easier race in which to engage," Rodrigues said.
Reporting dollars has become a bit of a monthly ritual for Rodrigues, who thus far has scared off potential challengers.
For August, Rodrigues' campaign raised $64,896. That's on top of $45,500 raised through his long-standing political committee Free Markets for Florida and $19,000 raised for the new-this-year committee Friends of Ray Rodrigues.
Since June, Friends has raised $48,000. Since Rodrigues filed in May, Free Markets raised $232,500 and Rodrigues' campaign raked in $254,716.
But in Southwest Florida, Rodrigues said you never take anything for granted. This is, after all, home to such self-funded political spoilers as Rep. Francis Rooney, former Rep. Curt Clawson and Gov.-turned-Sen. Rick Scott.
Could some affluent executive file in Florida Senate District 27? With a Republican primary a year away, it's still possible.
"At any time, a primary challenger could jump in the race," said state Sen. Wilton Simpson.
The Republican Leader-designate for the Florida Senate, Simpson backed Rodrigues early and attended the candidate's kickoff in Fort Myers.
"When you see the strength he brings there, his work ethic, his humbleness and his concern for issues in Southwest Florida, anyone who decided to challenge him would have to look at all of that," Simpson said.
Rodrigues said he's preparing for anything. But he thinks solid fundraising can stand as a bulwark against a serious and expensive primary.
And he hopes the region sees value in sending a freshman Senator to Tallahassee who already has eight years of experience working in the House.
"There are some who have never served in the House, gone to the Senate and done a great job," he acknowledged.
"But the flip side is a number of Senators did begin in the House. Having gone through eight Legislative Sessions, I know the process inside and out. And I understand the challenges that exist at home from representing my House district for eight years."
So Rodrigues knows not only that water issues remain a priority issue today in Southwest Florida, but that for the first time the issue remains hot more than a year after a serious blue-green algal bloom or breakout of red tide.
He knows the pulse of the district on issues like life and school safety.
Simpson obviously would prefer resources for keeping the Senate in Republican control be spent in purple districts.
But he will pay attention to every open Senate seat in Florida next year, along with Democratic Sen. Jose Javier Rodriguez's District 37 seat.
"We can focus on more than one district at a time," Simpson said.
But an unopposed race in District 27 would be nice.
Rodrigues hopes to raise $2 million in combined hard and soft money.
"Some might suggest I can do this with less than $2 million. I don't have an answer," he said. "But if we hit $2 million, that will be the number that convinces folks.
"Anybody will come to a conclusion there are easier places to run."