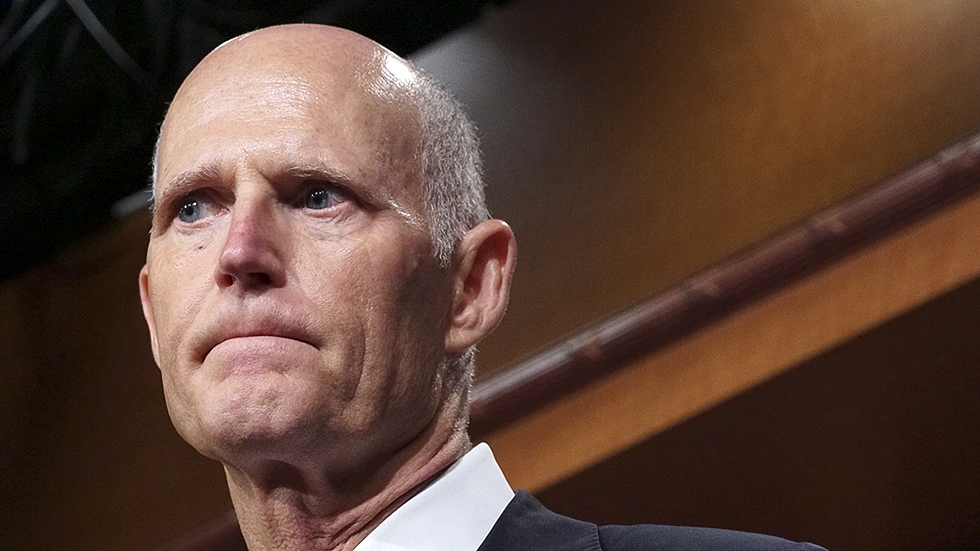 Florida saw infections soar after $54 million for medicine rejected.
At a time when medical advancements have reduced the spread of HIV in America, Florida stood alone in recent years, seeing double-digit growth in infection rates. One possible explanation, according to an investigation released Wednesday by The Guardian's Benjamin Ryan: the Rick Scott administration's blocking of $70 million in federal funds to combat HIV. 
Much like Scott's opposition to expanding federal Medicaid programs during the majority of his time in Florida's Governor's Mansion, his Department of Health quietly let $54 million for prescription drug reimbursements for low-income HIV patients go unspent between 2015 and 2017.
During those years, Florida erased recent progress it had made in reducing the spread of HIV; after at least five straight years of declining numbers, the state saw diagnosis jump again in 2014, the same fiscal year the federal funds were first rejected.
Of the 10 U.S. states with the highest number of HIV diagnoses, Florida was the only one that saw an increase in new cases between 2010 and 2017. Similarly-sized New York, which spent aggressively on HIV prevention, saw a decrease of 30 percent.
"I think Rick Scott fueled the epidemic in Florida," former Department of Health administrator Marlene LaLota told The Guardian. "How many infections could have been prevented with that money? How many lives could have been saved? Shame on them."
To capture the awarded federal funds, Florida's DOH simply needed to request the Joint Legislative Budget Commission (LBC) approve the appropriation — a common accounting procedure. For his investigation, Ryan spoke to multiple DOH employees who said they were prohibited from communicating with lawmakers about the topic during the period in question.
Ryan also reported the Scott administration blocked CDC grant applications from Miami and Broward counties, which have among the highest HIV diagnosis rates in the U.S.
Scott's laser-focus on opposing Obamacare helped carry him to the Governor's Office in 2010, and he continued to oppose the expansion of federal health care programs for most of his eight years in office, rejecting tens of millions of additional dollars in ACA grants.
Scott also made headlines his first year in office by rejecting more than $2 billion awarded to Florida by the Obama administration for high-speed rail.
A spokesperson for now-U. S. Sen. Scott said the unspent grants were the fault of the Legislature, but the Guardian confirmed the allocations were never referred to the Legislature from 2014 to 2017.
Florida Politics also spoke to a handful of LBC members during those years, including two in positions of leadership, and none said they were ever made aware of federal HIV grants that were available to the state.
Following the report's publication, LGBTQ civil rights organization Equality Florida released a statement condemning Scott's actions.
"This is outrageous and irresponsible. This reporting indicates that Senator Scott purposefully worked against public health, directly endangering Floridians and keeping Florida among the highest states for HIV transmissions in the nation," Equality Florida HIV Advocacy Project Director Alejandro Acosta said in a news release. "We cannot afford silence when it comes to HIV.  Florida should be using every tool at its disposal to combat its HIV epidemic, both through the state budget and state policy."
On Thursday, Gov. Ron DeSantis announced his support for funding HIV prevention and treatment, earning praise from Equality Florida.
"Governor DeSantis' announcement on funding a 'robust program' to address HIV in Florida is a proactive and encouraging first step toward decreasing the consistent number of transmissions in the state, which is nearly 5 thousand new transmissions each year," Acosta said.
"We need to use every tool we have to combat the epidemic. We look forward to engaging with Governor DeSantis and his team on how we can do that —through both policy and budget."
Read or share the Guardian's in-depth investigation, which runs approximately 2,000 words and takes about 15 minutes to read.